Selfies and Sufis: The alchemy of human happiness according to Ibn 'Arabi
Seminar/Forum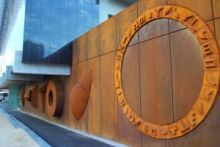 Room 321, Level 3
Sidney Myer Asia Centre

Map
The quest for happiness lies at the very heart of human life, whether one believes in religion or not. This talk will explore the notion of human happiness in Sufism, and its relation to 'spiritual alchemy', the transformation of the soul. In particular, Stephen will focus on a long chapter in the Futuhat al-Makkiyya of Ibn 'Arabi (d. 1240) which discusses two primary methods of realisation, one intellectual and rational, the other mystical and cardiac.
Stephen Hirtenstein's' talk is presented in collaboration with Beshara Australia, Anqa Publishing, the Muhyiddin Ibn 'Arabi Society and the Asia Institute.
A light lunch will be provided at the conclusion of the event.
Presenter
Stephen Hirtenstein

Stephen Hirtenstein is a senior editor for the Encyclopaedia Islamica, editor of the Journal of the Muhyiddin Ibn ʿArabi Society, author and coowner of Anqa Publishing which is dedicated to the publication in English of works by Ibn ʿArabi and his school. He directs the MIAS Archiving Project which has been compiling a database and digital copies of Ibn ʿArabi's historic manuscripts from libraries around the world. Hirtenstein has published a range of books, translations and articles and gives talks and seminars on Ibn 'Arabi's thought and philosophy across the world.