Asia Institute Postgraduate Conference 2017
Conference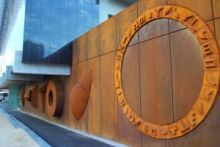 Gryphon Gallery
1888 Building

Map
The theme for the 2017 Asia Institute Postgraduate Conference is Asia and the Middle East: Culture, Politics, and the Formation of Identity.
Similar to last year, the Asia Institute Postgraduate Student Group (AIPG) welcomes proposals from research students from relevant disciplines in the Asia Institute, and other Schools and Faculties both at the University of Melbourne and other universities. Together, we can share ideas, build connections and potential collaborations, and more importantly, have fun!
Abstracts of 150 to 250 words should be submitted to aipostgrad@gmail.com by 5pm Sunday 15 October.
We look forward to having you join us!
Why Culture, Politics, and the Formation of Identity in Asia and the Middle East? The contemporary world is often a confusing place. Globalisation has led to the meshing of people and ideas, which in turn has often led to a resurgence of primordial nationalist feelings that seek to replace the lost sense of identity that some have felt. One of the reasons for this newfound nationalism is that members of the community feel they are losing their culture: their political power has been eroded so they were powerless to object, and ultimately this has had a detrimental effect on their sense of identity. This highlights that culture, politics, and identity are some of the most powerful forces in the modern world.
A simple google search reveals that culture involves: 'the arts and other manifestations of human intellectual achievement regarded collectively' or 'the ideas, customs, and social behaviour of a particular people or society.' Politics is said to be: 'the process of making decisions applying to all members of each group. More narrowly, it refers to achieving and exercising positions of governance — organized control over a human community, particularly a state.' While identity is said to be: 'the qualities, beliefs, personality, looks and/or expressions that make a person (self-identity) or group (particular social category or social group). The process of identity can be creative or destructive.' These definitions are not necessarily complete, nor do they capture the vast experiences of those who find themselves living in, or coming from, the areas that are generally referred to as Asia and the Middle East. Each 'culture' views 'politics' and political power differently, just like each 'culture' views how we perceive our own 'identity' differently. It is only through a more holistic interpretation of what 'culture', 'politics', and 'identity' are that we can truly begin to understand and appreciate the complexities in each of these seemingly innocuous terms.
To consider this, the AIPG cordially invites anyone and everyone to their 2017 conference to discuss these issues and how they relate to people in Asia and the Middle East.