Force and Fraud: A Tale of the Bush
Launch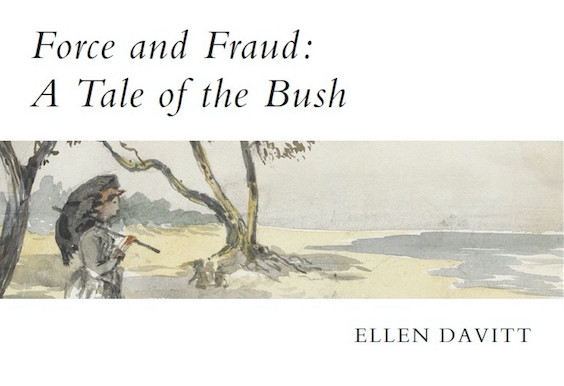 Arts Hall, Level 2
Old Arts

Map
Ellen Davitt's Force and Fraud: A Tale of the Bush is a feisty account of a murder investigation in the colonies that takes the twists and turns of English sensation fiction in a uniquely Australian direction. The novel brings an innovative forensic eye to its crime, reinventing the squatter romance as it takes its characters from country to city and from public house to courthouse.
Grattan Street Press proudly invites you to celebrate the launch of Ellen Davitt's Force and Fraud: A Tale of the Bush, edited by Ken Gelder and Rachael Weaver.
Launched by award-winning crime fiction writer Cath Ferla.
Force and Fraud was serialised in the popular, long-running Australian Journal from 2 September to 18 November 1865. With an introduction by Ken Gelder and Rachael Weaver, this edition introduces this Australian classic to a new generation.
Grattan Street Press is a start-up trade publisher based in Melbourne, and is staffed by graduate students, who receive hands-on experience of every aspect of the publishing process. An initiative of the Publishing and Communications program, the Press is run by Aaron Mannion, and supported by Associate Professor Mark Davis, Dr Sybil Nolan and Dr Beth Driscoll.
The Colonial Australian Popular Fiction series is an ongoing collaboration between Grattan Street Press and the Australian Centre, both based within the School of Culture and Communication at the University of Melbourne.
Presenters
Cath Ferla

Author


**Cath Ferla** is a multiplatform writer with a background in screenwriting and script editing, print and online journalism, educational publishing and long and short form fiction. She is also a secondary school­ qualified teacher, with teaching experience and qualifications in the area of EAL (English as an Acquired Language). Cath recently won the Sisters in Crime Australia, Davitt Award for debut novel *Ghost Girls*. Set in Sydney's Chinatown, *Ghost Girls* richly evokes the sights, smells, tastes and sounds of the city's underbelly, and imagines dark exploitative demands behind closed suburban doors.

Dr Rachael Weaver

The University of Melbourne

**Rachael Weaver** is an ARC Senior Research Fellow in English at the Australian Centre at the University of Melbourne. She is the author of *The Criminal of the Century* (2006) and coeditor with Professor Ken Gelder of a number of colonial anthologies and collections. Rachael and Ken's new monograph, *Colonial Australian Fiction: Character Types, Social Formations and the Colonial Economy*, has recently been published by SUP. In 2016 Rachael was awarded a Hugh Williamson Foundation Fellowship through the University of Melbourne Archives to examine the papers of William Gosse Hay.

Professor Ken Gelder

Australian Centre

Ken Gelder is Professor of English and codirector of the Australian Centre at the University of Melbourne. His books include *Popular Fiction: The Logics and Practices of a Literary Field* (Routledge, 2004), *Subcultures: Cultural Histories and Social Practice* (Routledge, 2007), *New Vampire Cinema* (British Film Institute, 2012), and with Rachael Weaver, *The Colonial Journals, and the Emergence of Australian Literary Culture* (UWA Press, 2014). He is also editor of *New Directions in Popular Fiction: Genre, Distribution, Reproduction* (Palgrave Macmillan).