Digital Workshop (Multi-purpose room)
This room is suitable for collaboration or small lectures/seminars. It seats 20 people around two large tables
2 video projectors—one per table (Can show different content or mirror displays)
White boards (3)
12 keypad lockers
Digital Lab (Conference Facility and Research Laboratory)
This flexible room seats 30 people and is suitable for conferences, lectures, group meetings and collaboration. All tables and chairs can be reconfigured or moved.
1 large projection screen
3 small projection screens
Screens can all show independent content or mirror
Two large screens on trolleys also available
Collaborative spaces with video-conferencing and recording facilities
These rooms are suitable for small meetings and project work. Collaborative Rooms I and II can be combined into one larger room.
These two rooms can record video and audio of the whole room. Cameras are controlled from PCs.
211: Collaborative Room I

Seats 6-10

212: Collaborative Room II

Seats 4-6

306: Collaborative Room III

Seats 6-10

307: Collaborative Room IV

Seats 4-6
An exhibition space with wall and floor projection
Portable control panel
Three digital signage players (also the two LCD screens in e-teaching area)
Floor projection
3 x headphones, 8-channel audio. Audio can be broken into three zones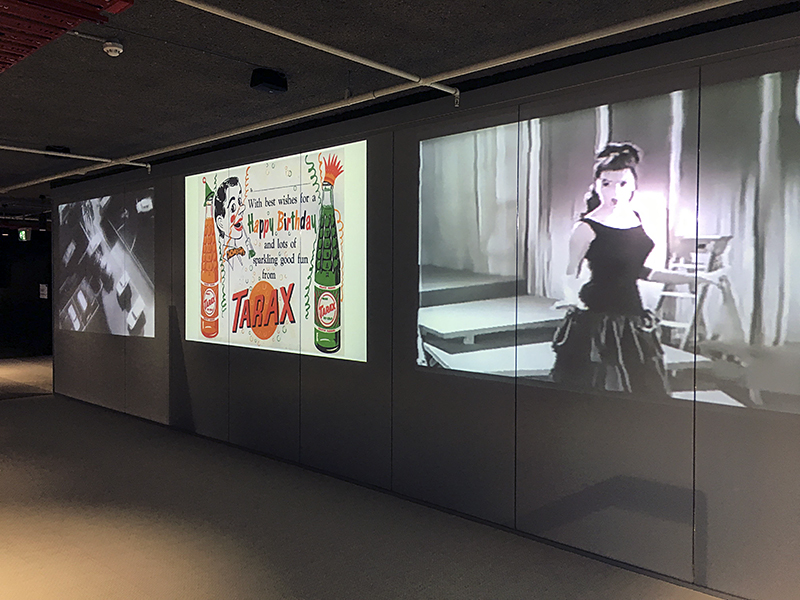 Two immersive rooms with 180° screens
Immersive Space I
Display one single image, or two overlapping
Connect two laptops
Two USB extenders to the rack PCs
Immersive Space II
Display two images side-by-side
Otherwise same setup as Immersive Space I
Informal project spaces
6 sets - 4 powerpoints, 4 USB ports, 2 ethernet ports
2 sets - 2 round tables, 4 chairs
5 x 2-person couches with 2 small round tables
1 x orange couch with powerpoint and USB port
Zeta book scanner
It's easy to scan historical and new books, magazines, files, ring binders, contracts, balance sheets and more. Delivering high-quality data with the highest resolution quickly, the Zeta allows staff and students to output to print, email, USB, ftp or the cloud.