2016
Hitchcock, Louise; Maeir, A. and Dagan, A. "Entangling Aegean Ritual in Philistine Culture," in F. Blakolmer et al (eds). Metaphysis: Ritual, Myth and Symbolism in the Aegean Bronze Age (Aegaeum). Peeters, 2016
In Aegean prehistory, questions of ritual behaviour and underlying 'metaphysical' beliefs have become a widespread and multifaceted field of research based on a large variety of methodological approaches. At the METAPHYSIS conference a large range of issues of ritual, myth and symbolism in the Aegean Bronze Age were addressed, such as ritual places and ritual landscapes, sacral and sepulchral rituals, social and political ceremonies, ritual acts and performances, the supernatural realm, liminality, irrationality and magic, mythology, hybrid creatures, heroes/heroines, divinities, symbols, emblems and iconography, images of power, and cosmology. Thus, METAPHYSIS was dedicated to the complex relationship between humans and 'the other' - the broad scholarly interface between a popular ritual belief and the cult of deities, i.e. religion in its proper sense. More information...
Jamieson, Andrew and Kanjou, J. "Tell Qumluq (Aleppo)," in Kanjou, Y. and Tsuneki, A. (eds). A History of Syria in One Hundred Sites. Archaeopress, 2016
This volume presents the long history of Syria through a jouney of the most important and recently-excavated archaeological sites. The sites cover over 1.8 million years and all regions in Syria; 110 academics have contributed information on 103 excavations for this volume. Based on these contributions the volume offers a detailed summary of the history of Syria, a history as important as any in terms of the development of human society. It is hoped that this knowledge will offer not only an increased understanding of the country but also act as a deterrent to the destruction of Syrian cultural heritage and facilitate the protection of Syrian sites. More information...
2015
Chong-Gossard, K.O. "Thais Walks the German Streets: Text, Gloss, and Illustration in Neidhart's 1486 German Edition of Terence's Eunuchus," in Turner, A. and Torello-Hill, Giulia (eds.,). Terence between Late Antiquity and the Age of Printing. Koninklijke Brill NV, 2015.
Terence between Late Antiquity and the Age of Printing investigates the Medieval and Early Renaissance reception of Terence in highly innovative ways, combining the diverse but interrelated strands of textual criticism, illustrative tradition, and performance. The plays of Terence seem to have remained unperformed until the Renaissance, but they were a central text for educators in Western Europe. Manuscripts of the plays contained scholarship and illustrations which were initially inspired by Late Antique models, and which were constantly transformed in response to contemporary thought. The contributions in this work deal with these topics, as well as the earliest printed editions of Terence, theatrical revivals in Northern Italy, and the readership of Terence throughout the Early Middle Ages. More information...
Kim, Hyun Jin The Huns (Peoples of the Ancient World). Routledge, 2015
This volume is a concise introduction to the history and culture of the Huns. This ancient people had a famous reputation in Eurasian Late Antiquity. However, their history has often been evaluated as a footnote in the histories of the later Roman Empire and early Germanic peoples. Kim addresses this imbalance and challenges the commonly held assumption that the Huns were a savage people who contributed little to world history, examining striking geopolitical changes brought about by the Hunnic expansion over much of continental Eurasia and revealing the Huns' contribution to European, Iranian, Chinese and Indian civilization and statecraft. By examining Hunnic culture as a Eurasian whole, The Huns provides a full picture of their society which demonstrates that this was a complex group with a wide variety of ethnic and linguistic identities. More information...
2014
Kim, Hyun Jin. "Korean Responses to Historic Narratives of Sino-Korean Relations and China's New International Relations Thinking," in Horesh, Nov and Kavalski, Emilian (eds.,). Asian Thought on China's Changing International Relations. Palgrave Macmillan, 2014, pp. 173-191.
At the end of the Cold War, commentators were pondering how far Western ideas would spread in an international environment defined by 'the end of history'. Today, the debate seems to be how far Chinese ideas will reach. This innovative edited volume goes beyond the conventional focus on China's bilateral relations, in a bid to identify the extent to which China's nascent rise has provoked fresh geo-strategic and intellectual shifts within Asia. Offering a unique discussion of the evolution of Chinese schools of International Relations and the reactions of China's Asian partners to the practices of its international interactions, the contributors to this volume seek to explain and understand the relational nature of China's international outreach in the full spectrum of its unabridged complexity, contingency, and contradictions. More information...
Vervaet, Frederik J. The High Command in the Roman Republic: The Principle of the summum imperium auspiciumque from 509 to 19 BCE. Franz Steiner Verlag GmbH, 2014.
While the terminology has long been noted, the republican principle of the summum imperium auspiciumque, the high command and the prevailing auspices, has never been subject to comprehensive scrutiny. This enquiry for the first time identifies this principle as a coherent concept in Roman constitutional and administrative practice, being the senatorial oligarchy's foremost instrument to reconcile collegiate rule with the necessity of a unified high command. After defining the relevant terms and the scope of the high command both in Rome and in the field, a number of case studies yield striking new insights into the constitutional ramifications for the allocation of public triumphs, the position of the consuls in the provinces, and the official hierarchy in combined commands, highlighting the fascinating interplay between these largely customary rules of engagement and the nobility's own code of honour. This study also casts a provocative new light on how the high command was gradually monopolized by dynasts in the tumultuous period between Sulla's dictatorship and the emergence of the Augustan monarchy. Finally, a postscript addresses the vexed question of the lex curiata de imperio. More information...
Jamieson, Andrew. "Late Reserved Slip Ware," and "Cyma-Recta Cups," in Lebeau (ed.,). Arcane Interregional: Ceramics. Brepols, 2014, pp. 95-108 and pp. 111-121.
The first interregional volume of the ARCANE collection gathers twenty-two contributions concerning ceramic fabrics that were produced from Egypt to Iran and from Thrace to Southern Mesopotamia across the third millennium BCE. These contributions, written by senior scholars and advanced doctoral students, are based primarily on complete vessels from secure stratigraphical contexts. They present the most recent and complete update on Near and Middle Eastern ceramic wares throughout the Early Bronze Age. More information...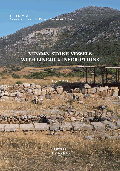 Davis, Brent. Minoan Stone Vessels with Linear A Inscriptions. Peeters Publishers, 2014.
Inscribed Minoan stone vessels are ritual gifts that index their dedicants' intention that both their gift and their name should survive permanently at the place of dedication. These vessels contained offerings, yet the vessels themselves were also offerings, serving as permanent records of a ritual act. These rituals were most likely communal, incorporating group feasting and drinking. The seasonality of these rituals suggests that they were focused on the cycle of life: fertility, birth, death and renewal. As for Linear A itself: the language behind the script appears to contain a fairly standard phonemic inventory, though there are hints of additional, more exotic phonemes. The morphology of the language appears to involve affixation, a typical mode of inflection in human languages. The presence of significant prefixing tends to rule out PIE as a parent language, while the word-internal vowel alternations typical of Afroasiatic verbal inflection are nowhere to be found in this script. In the end, Linear A appears most likely to represent a non-IE, non-Afroasiatic language, perhaps with agglutinative tendencies, and perhaps with VSO word order. More information...
Hitchcock, Louise. "Conspicuous desctruction and the economy of sacrifice in the Bronze and Early Iron Age East Mediterranean," in Houtman, A., Poorthuis, M., Schwartz, J. and Turner, Y. (eds.,). The Actuality of Sacrifice: Past and Present. Brill, 2014.
Sacrifice is a well known form of ritual in many world religions. Although the actual practice of animal sacrifice was largely abolished in the later history of Judaism, Christianity and Islam, it is still recalled through biblical stories, the ritual calendar and community events. The essays in this volume discuss the various positions regarding the value of sacrifice in a wide variety of disciplines such as history, archaeology, literature, philosophy, art and gender and post-colonial studies. In this context they examine a wide array of questions pertaining to the 'actuality of sacrifice' in various social, historical and intellectual contexts ranging from the pre-historical to the post-Holocaust, and present new understandings of some of the most sensitive topics of our time. More information.
Lee-Stecum, Parshia. "Roman Elite Ethnicty," in McInerney, Jeremy (ed.,). A Companion to Ethnicity in the Ancient Mediterranean. Wiley-Blackwell, 2014.
A Companion to Ethnicity in the Ancient Mediterranean presents a comprehensive collection of essays contributed by Classical Studies scholars that explore questions relating to ethnicity in the ancient Mediterranean world. * Covers topics of ethnicity in civilizations ranging from ancient Egypt and Israel, to Greece and Rome, and into Late Antiquity. The Companion features cutting-edge research on ethnicity relating to Philistine, Etruscan, and Phoenician identities; reveals the explicit relationships between ancient and modern ethnicities; introduces an interpretation of ethnicity as an active component of social identity; and represents a fundamental questioning of formally accepted and fixed categories in the field. More information...
Kim, Hyun Jin; Horesh, N. and Mauch, P. Superpower, China? Historicizing Beijing's New Narrative of Leadership and East Asia's Response Thereto. World Scientific Publishing Company, 2014.
This book sets out to answer how China's rise can best be understood from both East Asian and Western perspectives. It also assesses the prospect of realignment away from the US hegemony in East Asia in light of persistent regional rivalries. Throughout the book, the authors show that for China's neighbours, as well as for its own intellectuals, historicizing the country's rise provides one way of understanding its current ascendant trajectory, on the one hand, and acute social problems, on the other. More information...
2013
Kim, H.J. The Huns, Rome and the Birth of Europe. Cambridge University Press, 2013.
The Huns have often been treated as primitive barbarians with no advanced political organisation. Their place of origin was the so-called 'backward steppe'. It has been argued that whatever political organisation they achieved they owed to the 'civilizing influence' of the Germanic peoples they encountered as they moved west. This book argues that the steppes of Inner Asia were far from 'backward' and that the image of the primitive Huns is vastly misleading. They already possessed a highly sophisticated political culture while still in Inner Asia and, far from being passive recipients of advanced culture from the West, they passed on important elements of Central Eurasian culture to early medieval Europe, which they helped create. Their expansion also marked the beginning of a millennium of virtual monopoly of world power by empires originating in the steppes of Inner Asia. The rise of the Hunnic Empire was truly a geopolitical revolution. More information...
Chong-Gossard, K.O. "Mourning and Consolation in Greek Tragedy: the Rejection of Comfort," in Baltussen H (ed.,). Greek and Roman Consolations: Eight Studies of a Tradition and its Afterlife. The Classical Press of Wales, 2013.
In the Ancient World death came - on average - at a far earlier age than in today's West, and without the authoritative warnings given by modern medicine. Consolation for the trauma of loss had, accordingly, a more prominent role to play. This volume presents eight original studies on consolatory writings from ancient Greek, Roman, early Christian and Arabic societies. The authors include internationally recognised authorities in the field. They offer insight into the ancient experience of loss and the methods used to palliate it. They explore how far there was a consolatory 'genre', involving letters, funerary oratory, epicedia, and philosophical prose. Focusing on responses to grief in numerous ancient authors, this volume finds elements of continuity and of individual variety in modes of consolation, and reveals instructive tensions between the commonplace and the personal. More information...
Sagona, Antonio. "Wagons and Carts of the Trans-Caucasus," in Konyar,Erkan; Hamdi Sayar, Mustafa and Tekin, Oguz (eds.,). Tarhan Armagani: Essays in Honour of M. Taner Tarhan / M. Taner Tarhan'a Sunulan Makaleler. Zero Prod. Ltd, 2013.
A collection of writings published in honor of a scholar, namely Taner Tarhan, professor of ancient history of Istanbul University, who has 37 essays presented to him. Four articles are in English and the rest are in Turkish. They focus on archaeology and history of ancient Turkey. More information...
Hitchcock, Louise and Nikolaidou, M. "Gender in Greek and Aegean Prehistory," in Bolger, D. (ed.,). A Companion to Gender Prehistory. Wiley-Blackwell Publishing, 2013.
An authoritative guide on gender prehistory for researchers, instructors and students in anthropology, archaeology, and gender studies. The Comapnion provides the most up-to-date, comprehensive coverage of gender archaeology, with an exclusive focus on prehistory; offers critical overviews of developments in the archaeology of gender over the last 30 years, as well as assessments of current trends and prospects for future research; focuses on recent Third Wave approaches to the study of gender in early human societies, challenging heterosexist biases, and investigating the interfaces between gender and status, age, cognition, social memory, performativity, the body, and sexuality; and features numerous regional and thematic topics authored by established specialists in the field, with incisive coverage of gender research in prehistoric and protohistoric cultures of Africa, Asia, Europe, the Americas and the Pacific. More information...
Lee-Stecum, Parshia. "Tibullus in first place (with Lygdamus)," in Thorsen, S. (ed.,). The Cambridge Companion to Latin Elegy. Cambridge University Press. 2013.
In this volume leading international scholars offer a comprehensive, critical and engaging presentation of the genre of Latin love elegy. Opening with an outline of Greek elegy and Latin precursors, the volume challenges the conception of Gallus as the 'inventor' of Latin love elegy, highlights how Sulpicia, the only woman whose poetry is extant, makes the genre unique in the history of Augustan literature in terms of gender, and provides fresh presentations of the canonical Latin elegists. Five chapters visit the world of Latin love elegy, the time, place and political background, the stock figures and the slavery of love and erotic campaigning. A whole section treats the limits of Latin love elegy, which seem to be inherent to the genre itself. Nevertheless, the volume closes with a series of investigations into the reception of Latin love elegy, which attests to its vital influence on the history of Western literature. More information...