2015
Darian-Smith, Kate and Edmonds, Penelope (eds.,). Conciliation on Colonial Frontiers: Conflict, Performance and Commemoration in Australia and the Pacific Rim. Routledge, 2015.
Spanning the late 18th century to the present, this volume explores new directions in imperial and postcolonial histories of conciliation, performance, and conflict between European colonisers and Indigenous peoples in Australia and the Pacific Rim, including Aotearoa New Zealand, Hawaii and the Northwest Pacific Coast. It examines cultural "rituals" and objects; the re-enactments of various events and encounters of exchange, conciliation and diplomacy that occurred on colonial frontiers between non-Indigenous and Indigenous peoples; commemorations of historic events; and how the histories of colonial conflict and conciliation are politicised in nation-building and national identities. More information...
Creak, Simon. Embodied Nation: Sport, Masculinity, and the Making of Modern Laos. University of Hawaii Press, 2015.
This strikingly original book examines how sport and ideas of physicality have shaped the politics and culture of modern Laos. Viewing the country's extraordinary transitions - from French colonialism to royalist nationalism to revolutionary socialism to the modern development state - through the lens of physical culture, Simon Creak's lively and incisive narrative illuminates a nation that has no reputation in sport and is typically viewed, even from within, as a country of cheerful but lazy people. Creak argues that sport and related physical practices - including physical education, gymnastics, and military training - have shaped a national consciousness by locating it in everyday experience. These practices are popular, participatory, performative, and, above all, physical in character and embody ideas and ideologies in a symbolic and experiential way. More information...
2014
Creak, Simon. "Rituals of the Masculine State: Sports Festivals, Gender and Power in Laos and Southeast Asia," in Hargreaves, Jennifer and Anderson, Eric (eds.,). Routledge Handbook of Sport, Gender and Sexuality. Routledge, 2014, pp. 112-120.
The Routledge Handbook of Sport, Gender and Sexuality brings together important new work from 68 leading international scholars that, collectively, demonstrates the intrinsic interconnectedness of sport, gender and sexuality. It introduces what is, in essence, a sophisticated sub-area of sport sociology, covering the field comprehensively, as well as signalling ideas for future research and analysis. Wide-ranging across different historical periods, different sports, and different local and global contexts, the book incorporates personal, ideological and political narratives; varied conceptual, methodological and theoretical approaches; and examples of complexities and nuanced ways of understanding the gendered and sexualized dynamics of sport. It examines structural and cultural forms of gender segregation, homophobia, heteronormativity and transphobia, as well as the ideological struggles and changes that have led to nuanced ways of thinking about the sport, gender and sexuality nexus. This is a landmark work of reference that will be a key resource for students and researchers working in sport studies, gender studies, sexuality studies or sociology. More information...
Zika, Charles. "Visual signs of imminent disaster in the sixteenth-century Zurich archive of Johann Jakob Wick," in Juneja, Monica and Schenk, Gerrit (eds.,). Disaster as Image. Iconographies and Media Strategies across Europe and Asia. Schnell und Steiner, 2014, pp. 43-53.
The publication brings together studies from different disciplinary perspectives of the production and reception of images of disaster - across epochs and continents. The chosen studies focus on disasters with a 'natural core', such as earthquakes, floods and hurricanes, to the exclusion of phenomena such as major epidemics on which extensive research exists. The violences unleashed by natural disasters exposes human beings to the most elemental of borderline situations. Such extreme situations bring forth culturally formed patterns of action, ways of comprehension and coping that perforce transcend responses at the individual level in order to be effective. Thus, the volume introduces important scientific investigations of the representation, mediation and interpretation of disaster. More informaton...
Zika, Charles. "Images and Witchcraft Studies: A Short History," in Nenonen, Marko and Toivo, Raisa Maria (eds.,). Writing Witch-hunt Histories: Challenging the Paradigm. Brill Academic Publishers, 2014, pp. 41-85
This book gives an analytical review of the history of witch-hunt historiography. So far not much attention has been paid to how the European witch-hunts have been studied and explained in some 150 years of academic research on the issue. The history of the approaches and explanations in witch-hunt research fundamentally contributes not only to our understanding of the bizarre phenomenon in European history but also contributes to understanding of cultural as well as academic trends which heavily direct any research even when scholars are not cognisant of their underlying premises. How and why the picture of witch-hunts has been changing in scholarly works and text books is as illuminating an issue as the proper explanations offered by the research works. More information...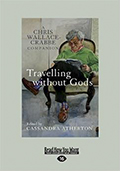 Darian-Smith, Kate. "Student, Teacher, Friend," in Atherton, Cassandra (ed.,). Travelling Without Gods: A Chris Wallace-Crabbe Collection. Melbourne University Publishing, 2014, pp. 89-97.
Wide - ranging in theme and context, it explores the imaginative effects of his writing. A tribute to Chris on the occasion of this eightieth birthday, in many ways it suggests an alternative cultural history of Australia since the 1950s. Containing biographical and critical pieces, poems (including new work by Chris) and essays that respond to his career Travelling without Gods takes account of the decades in which he has written. It illuminates, celebrates and critiques his work in its various contexts. Travelling without Gods also offers, importantly, a sample of Chris Wallace - Crabbe's unpublished journals, as well as photography that displays both his life and his relationship with the visual arts. The contributors are all established writers and artists who have had important links with Chris. More information...
Keys, Barbara. Reclaiming American Virtue: The Human Rights Revolution of the 1970s. Harvard University Press, 2014
The American commitment to international human rights emerged in the 1970s not as a logical outgrowth of American idealism but as a surprising response to national trauma, as Barbara Keys shows in this provocative history. Reclaiming American Virtue situates this novel enthusiasm as a reaction to the profound challenge of the Vietnam War and its tumultuous aftermath. Instead of looking inward for renewal, Americans on the right and the left alike looked outward for ways to restore America's moral leadership. More information...
Vervaet, Frederik. The High Command in the Roman Republic. The Principle of the summum imperium auspiciumque from 509 to 19 BCE. Franz Steiner Verlag, 2014.
While the terminology has long been noted, the republican principle of the summum imperium auspiciumque, the high command and the prevailing auspices, has never been subject to comprehensive scrutiny. This enquiry for the first time identifies this principle as a coherent concept in Roman constitutional and administrative practice, being the senatorial oligarchy's foremost instrument to reconcile collegiate rule with the necessity of a unified high command. After defining the relevant terms and the scope of the high command both in Rome and in the field, a number of case studies yield striking new insights into the constitutional ramifications for the allocation of public triumphs, the position of the consuls in the provinces, and the official hierarchy in combined commands, highlighting the fascinating interplay between these largely customary rules of engagement and the nobility's own code of honour. More information...
Damousi, Joy, Rubenstein, Kim and Tomsic, Mary (eds.,). Diversity in Leadership: Australian Women, Past and Present. ANU Press, 2014.
Diversity in Leadership: Australian women, past and present provides a new understanding of the historical and contemporary aspects of Indigenous and non-Indigenous women's leadership in a range of local, national and international contexts. It brings interdisciplinary expertise to the topic from leading scholars in a range of fields and diverse backgrounds. The aims of the essays in the collection document the extent and diverse nature of women's social and political leadership across various pursuits and endeavours within democratic political structures. More information...
Finnane, Antonia. "Sartorial Boundaries on the Chinese Frontier," in Marzel, S-R. and Stiebel, G.D. (eds.,). Dress and Ideology: Fashioning Identity from Antiquity to the Present. Bloomsbury Academic, 2014.
Dress and fashion are powerful visual means of communicating ideology, whether political, social or religious. From the communist values of equality, simplicity and solidarity exemplified in the Mao suit to the myriad of fashion protests of feminists such as French revolutionary women's demand to wear trousers, dress can symbolize ideological orthodoxy as well as revolt. With contributions from a wide range of international scholars, this book presents the first scholarly analysis of dress and ideology through accessible case studies. Chapters are organized thematically and explore dress in relation to topics including nation, identity, religion, politics and utopias, across an impressive chronological reach from antiquity to the present day. More information...
Keys, Barbara. "Emotions in Intercultural Relations," in Johnson, R.D. (ed.,). Asia Pacific in the Age of Globalization. Palgrave Macmillan, 2014.
Asia Pacific in the Age of Globalization examines United States-East Asian relations in the framework of global history, incorporating fresh insights that have been offered by scholars on such topics as globalization, human rights, historical memory, and trans-cultural relations. It brings the history of trans-Pacific relations up to date, both chronologically and conceptually. As the wider Pacific is destined to play an increasingly crucial role in the world's strategic, political, economic, and cultural affairs, this volume will be of invaluable help to readers seeking to understand such a development in a global historical framework. More information...
Pennell, Richard. "How did the Moroccan Monarchy Survive the "Arab Spring"?," in Friedman B. and Maddy-Weitzman, B. (eds.,). Inglorious Revolutions: State Cohension in the Middle East after the Arab Spring. The Moshe Dayan Center, 2014.
The Middle East state system, which was largely an artificial construct of the post-World War I international order, has faced enormous challenges since Arab uprisings erupted in December 2010. The collection of essays in this volume, based on a seminar held by the Moshe Dayan Center for Middle Eastern and African Studies during the 2012–2013 academic year, examines the state in the Middle East in the aftermath of the uprisings, and seeks to explain how the region has slipped sideways since 2010, and what it might mean for the existing framework of states. How are the individual states coping with these challenges? Are they succeeding? If not, what are the potential consequences for the cohesion of states, societies, and the region? What kinds of broad patterns are emerging? How are these transformations manifesting themselves? The essays presented in this volume address these issues and more, and attempt to analyze the meaning of the momentous change that has taken place across the region since December 2010. More information...
2013
Darian-Smith, Kate and Pascoe, Carla. Children, Childhood and Cultural Heritage. Routledge, 2013.
Children, Childhood and Cultural Heritage explores how the everyday experiences of children, and their imaginative and creative worlds, are collected, interpreted and displayed in museums and on monuments, and represented through objects and cultural lore... The essays in this book span the experiences of children from classical Rome to the present moment, and examine the diverse social and historical contexts underlying the public representations of childhood in Britain, Europe, North America, Australia, North Africa and Japan. Case studies examine the heritage of schools and domestic spaces; the objects and games of play; the commemoration of child Holocaust survivors; memorials to Indigenous child-removal under colonial regimes; children as collectors of objects and as authors of juvenilia; curatorial practices at museums of childhood; and the role of children as visitors to historical sites. More information...
Manion, Margaret and Zika, Charles. Celebrating Word and Image 1250-1600. Illuminated Manuscripts from the Kerry Stokes Collection. Perth: Australian Capital Equity & Fremantle Press, 2013.
The Kerry Stokes Collection is one of the most significant and respected private collections of art and historical material in Australia. Celebrating Word and Image 1250-1600: Illuminated Manuscripts from the Kerry Stokes Collection features a select group of twelve handmade books or 'manuscripts'. Each makes a distinct contribution to the history of the book itself. With a generous number of colour illustrations and written by experts in the field, Celebrating Word and Image 1250-1600 makes these important historical artefacts available to the public for the very first time. More information...
Blacker, Uilleam; Etkind, Alexander and Fedor, Julie (eds.,). Memory and Theory in Eastern Europe. Palgrave Macmillan, 2013.
In the last decades of the twentieth century, the humanities and social sciences in Western Europe and North America experienced a 'memory boom' that gave rise to new research agendas and provoked interdisciplinary exchange. Less known are the ways in which academic practices of Memory Studies have been applied, adapted, and transformed in the countries of East-Central Europe and the former Soviet Union. Proceeding from a clear-eyed interrogation of the 'memory boom' paradigm itself - and its theoretical portability into a new cultural context - this volume collects new and varied perspectives on the challenges of post-catastrophic memory, offering a novel approach to a paradigm that has become canonical and crystallised. More information...
Rutten, Ellen; Fedor, Julie and Zvereva, Vera (eds.,). Memory, Conflict and New Media: Web Wars in Post-Socialist States. Routledge, 2013.
This book examines the online memory wars in post-Soviet states - where political conflicts take the shape of heated debates about the recent past, and especially World War II and Soviet socialism. To this day, former socialist states face the challenge of constructing national identities, producing national memories, and relating to the Soviet legacy. Their pasts are principally intertwined: changing readings of history in one country generate fierce reactions in others. In this transnational memory war, digital media form a pivotal discursive space - one that provides speakers with radically new commemorative tools. Uniting contributions by leading scholars in the field, Memory, Conflict and New Media is the first book-length publication to analyse how new media serve as a site of political and national identity building in post-socialist states. The book also examines how the construction of online identity is irreversibly affected by thinking about the past in this geopolitical domain. By highlighting post-socialist memory's digital mediations and digital memory's transcultural scope, the volume succeeds in a twofold aim: to deepen and refine both (post-socialist) memory theory and digital-memory studies. More information...
Damousi, Joy. "Legacies of war and migration: Memories of war trauma and Second Generation Greek-Australians," in Steiner, Niklaus; Mason, Robert and Hayes, Anna (eds.,). Migration and insecurity: citizenship and social inclusion in a transnational era. Routledge, 2013.
In this edited volume, contributors discuss new understandings of individual and community security in a world where legal borders and definitions of citizenship no longer adequately capture the reality of migration. Distinguished contributors approach questions of social belonging and inclusion from diverse perspectives. Drawing its primary examples from Australia, Migration and Insecurity is framed by the wider experience of the Global North, with examples from Europe, the United Kingdom and United States woven throughout the collection. An inter-disciplinary approach to migration studies, this book integrates local, national and transnational spaces in its discussion of new constructs of inclusion and security. It considers questions of historical memory, ontological security, transnational communities, the role of civic institutions and social relationships in local spaces to guide the reader towards the wider conceptual questions of migration studies using expertise from the fields of sociology, gender, historical and political studies. More information...
Goodman, David and Smulyan, Susan. "Portia Faces the World: Re-Writing and Re-Voicing American Radio for an International Market," in Loviglio, Jason and Hilmes, Michele (eds.,). Radio's New Wave: Global Sound in the Digital Era. Routledge, 2013.
Radio's New Wave explores the evolution of audio media and sound scholarship in the digital age. Extending and updating the focus of their widely acclaimed 2001 book The Radio Reader, Hilmes and Loviglio gather together innovative work by both established and rising scholars to explore the ways that radio has transformed in the digital environment. Contributors explore what sound looks like on screens, how digital listening moves us, new forms of sonic expression, radio's convergence with mobile media, and the creative activities of old and new audiences. Even radio's history has been altered by research made possible by digital and global convergence. Together, these twelve concise chapters chart the dissolution of radio's boundaries and its expansion to include a wide-ranging universe of sound, visuals, tactile interfaces, and cultural roles, as radio rides the digital wave into its second century. More information...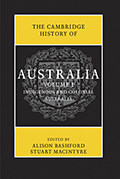 Goodman, David. "The gold rushes of the 1850s," in Bashford, Alison and Macintyre, Stuart (eds.,). The Cambridge History of Australia: Volume 1 Indigenous and Colonial Australia. Cambridge University Press, 2013.
Scalmer, Sean and Macintyre, Stuart. "Colonial states and civil society, 1860-90," and "Class," in Bashford, Alison and Macintyre, Stuart (eds.,). The Cambridge History of Australia: Volume 1 Indigenous and Colonial Australia. Cambridge University Press, 2013.
The Cambridge History of Australia offers a comprehensive view of Australian history from its pre-European origins to the present day. Over two volumes, this major work of reference tells the nation's social, political and cultural story. Volume 1 examines Australia's indigenous and colonial history through to the Federation of the colonies in 1901. Volume 2 opens with the birth of the twentieth century, tracing developments in the nation through to the present day. Each volume is divided into two parts. The first part offers a chronological treatment of the period, while the second examines the period in light of key themes, such as law, religion, the economy and the environment. Both volumes feature detailed maps, chronologies and lists of further reading. This is a lively and systematic account of Australia's history, incorporating the work of more than sixty leading historians. It is the ideal work of reference for students, scholars and general readers. More information...
Finnane, Antonia. "Changing Spaces and Civilized Weddings in Republican China," in So, Billy and Zelin, Madeleine (eds.,). New Narratives of Urban Space in Republican China: Emerging Social, Legal and Governance Orders. Brill Academic Publishers, 2013.
The nine empirical studies in New Narratives of Urban Space in Republican Chinese Cities, organized under the general framework of urban space, examine three critical dimensions of the great urban transformation in Republican China - social, legal and governance orders. Together these narratives suggest a new perception of this historical urbanism.
While modern economic development was a major drive for Chinese urban transformation, this volume highlights the dimension of the multilayered forces that shape urban space by looking into that less quantifiable, but equally important cultural realm and by exposing the ways in which these forces created new urban narratives, which became themselves shapers of urban space and of our perception of the Republican urbanity. More information...
Keys, Barbara and Burke, Roland. "Human Rights," in Immerman, R. and Goedde, P. (eds.,). The Oxford Handbook of the Cold War. Oxford University Press, 2013.
The Oxford Handbook of the Cold War offers a broad reassessment of the period war based on new conceptual frameworks developed in the field of international history. Nearing the 25th anniversary of its end, the cold war now emerges as a distinct period in twentieth-century history, yet one which should be evaluated within the broader context of global political, economic, social, and cultural developments. The editors have brought together leading scholars in cold war history to offer a new assessment of the state of the field and identify fundamental questions for future research. The individual chapters in this volume evaluate both the extent and the limits of the cold war's reach in world history. They call into question orthodox ways of ordering the chronology of the cold war and also present new insights into the global dimension of the conflict. More information...
Pennell, Richard. "Sovereignty Negotiated from Below and Above: Native Personalities and European Law," in Evans, Julie; Genovese, Ann; Reilly, Alexander and Wolfe, Patrick (eds.,). Sovereignty Frontiers of Possibility. University of Hawaii Press, 2013.
Unparalleled in its breadth and scope, Sovereignty: Frontiers of Possibility brings together some of the freshest and most original writing on sovereignty being done today. Sovereignty's many dimensions are approached from multiple perspectives and experiences. It is viewed globally as an international question; locally as an issue contested between Natives and settlers; and individually as survival in everyday life. Through all this diversity and across the many different national contexts from which the contributors write, the chapters in this collection address each other, staging a running conversation that truly internationalizes this most fundamental of political issues. More information...
Pennell, Richard. "Propaganda and its target: the venom campaign in Tangier during World War II," in Maghraoui, D. (ed.,). Revisiting the Colonial Past in Morocco. Routledge, 2013.
Exploring the concept of 'colonial cultures', this book analyses how these cultures both transformed, and were transformed by, their various societies. Challenging both the colonial vulgate, and the nationalist paradigm, Revisiting the Colonial Past in Morocco, examines the lesser known specificities of particular moments, practices and institutions in Morocco, with the aim of uncovering a 'new colonial history'. By examining society on a micro-level, this book raises the profiles of the mass of Moroccans who were highly influential in the colonial period yet have been excluded from the historical record because of a lack of textual source material. Introducing social and cultural history, gender studies and literary criticism to the more traditional economic, political and military studies, the book promotes a more complex and nuanced understanding of Moroccan colonial history. More information...
Kovesi, Catherine. "Luxury in the Renaissance: A Contribution to the Etymology of a Concept," in Israëls, Machtelt and Waldman, Louis (eds.,). Renaissance Studies in Honor of Joseph Connors: History, Literature and Music. Harvard University Press, 2013.
The 177 essays in these two richly illustrated volumes represent the cutting edge of Italian Renaissance scholarship in nearly every one of its fields and were gathered to honor Joseph Connors, Director of Villa I Tatti from 2002 to 2010. Demonstrating I Tatti's pivotal role as the world's leading center for Italian Renaissance studies, the essays cover all the branches of art history, as well as many aspects of political, economic, and social history, literature, and music, from the early Renaissance to the eighteenth century. Appropriately, the volumes also include a selection of contributions devoted to Bernard Berenson and his legacy as both a collector and a scholar. Each of the authors - a group representing dozens of countries - was a Fellow or associate of the Harvard University Center for Italian Renaissance Studies during the eight years in which Connors served as Director. More information...