Jewish Culture and Society
2015
Abramovich, Dvir. "Exiled Citizens: Holocaust remembrance in the first decade of Israeli statehood and the gradual shift in attitudes in the 1980s," in McConville, Chris (ed.,). HOPEFUL PLACES: Migration and belonging in an unpredictable era. Connor Court Publishing, 2015.
"Low income, poor education and related difficulties" diminish the lives of native-born and immigrant, and remain largely unaltered by an emphasis on cultural retention and national migration policy. Perhaps in the end, Gans's criterion remains the only useful measure of migration policy, and a sense of belonging; that regardless of official statements about multiculturalism or embrace of difference, and in the face of continued marginality, a successful settlement is one that survives as "by and large a good place to live". From the Introduction. More information...
2014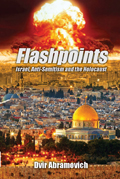 Abramovich, Dvir. Flashpoints: Israel, anti-Semitism and the Holocaust. Hybrid Publishers, 2014
Never one to shy away from controversy, Abramovich's thought-provoking collection of essays and intelligent writings are sure to arouse heated discussion. Mercilessly tackling everything from Mel Gibson's anti-Semitic rants, The Holocaust, Iran's pursuit of nuclear weapons and the UN's anti-Israel stance, Flashpoints offers unique perspectives on Israel, the Israeli-Palestinian conflict and the Jewish world. Whether you agree with him or not, one thing is certain: Abramovich's pieces will lead you on a journey of exploration and reflection, challenging what many people hold true about topics that are as relevant today as ever. More information...
2012
Abramovich, Dvir. Hebrew Classics: A Journey Through Israel's Timeless Fiction And Poetry. United States: Academic Press, 2012
In this book, Dvir Abramovich brings together a batch of timeless classical Hebrew novels, short stories, and poems, and furnishes readers with commentaries and critical readings of each landmark work. The selection of seminal texts include masterpieces from Yehuda Amichai, Haim Gouri, Amos Oz, Dvorah Baron, Shaul Tchernichovsky, Chaim Nachman Bialik, Hanoch Bartov, Shulamit Hareven and Aharon Megged. The collection will prove exceptionally useful for any teacher or lecturer who wishes to introduce their students to the treasures of contemporary Israeli fiction and are searching for reflective analyses and searching insights. Guaranteed to ignite discussion and debate, this informative and entertaining volume, written in an accessible and lively style, will appeal to a general and academic audience and will tempt readers to read or re-read these great works. More information...
Shavitsky, Ziva. The Mystery of the Ten Lost Tribes: A Critical Survey of Historical and Archaeological Records relating to the People of Israel in Exile in Syria, Mesopotamia and Persia up to ca. 300 BCE. Newcastle upon Tyne, United Kingdom: Cambridge Scholars Publishing, 2012.
There have been many legends and traditions regarding the ten lost tribes of the Northern Kingdom of Israel. This book draws upon extensive discoveries and information published regarding the movement of the People of Israel and Judah from Davidic times to the dawn of the Hellenistic period. The author has tested the biblical records against archaeological evidence, testimony and inscriptions found in Syria, Assyria, Babylon and Persia. In very many cases, the inscriptions excavated in these places coincide almost word for word with the biblical record.
The early chapters also investigate evidence of migrations and movement by people to neighbouring countries by reason of seeking sanctuary, trade, marriage or in times of famine. Evidence has been found supporting the theory that many of the Northern Captives joined the tribes of the South who continued to live independently until the destruction of the First Temple. Hence it is not just a matter of investigating the transfer of captives out of Judah and the Northern Kingdom but also additional evidence found in the Bible or documents that bear evidence to Jewish people who lived, traded or served in various capacities in other lands. There is also some clear indication that many of the later captives joined their brethren who had been exiled to other lands earlier. The later chapters mention some traditions and legends that exist among many tribes that to this day trace their origins to the Exiles who belonged to the twelve tribes of Israel and Judah. More information...
2011
Abramovich, Dvir. "Relationship Building in the Middle-East Among Adversaries: Israelis and Palestinians," in Anceschi, Luca et al (eds.,). Religion and Ethics in a Globalizing World. Palgrave Macmillan, 2011, pp. 117-140.
Around the world religion is an increasingly vital and pervasive force in both personal and public life. Though this trend has been widely noted, its long-term implications are as yet only dimly perceived. Will this be a force for healing or for violence? To express the question to its most dramatic, yet urgent form: can the world's major religious traditions respond constructively to contemporary challenges in the public sphere that are now, by definition, global? Religion and Ethics in a Globalizing World seeks to address this question, and to contribute to a greater understanding of the role of religion in the paradoxical context of a world that is increasingly unified, but which remains fundamentally plural. More information...