Language practices and language policies in multilingual contexts
Seminar/Forum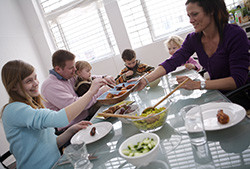 University House
Parkville Campus - Building 112

Map
This workshop is a collaboration between the Learning Program of the Australian Research Council Centre of Excellence for the Dynamics of Language (CoEDL) and the MultiFam Project of the Norwegian Research Council Centre of Excellence for Multilingualism in Society across the Lifespan (MultiLing).
The role of the family is crucial in language and cultural maintenance, as well as in language shift, but how families are defined in examining these processes has been under-examined, as are the ways in which these processes are manifested across multilingual settings.
We will focus on issues related to family and community language policy and issues related to the transmission of languages across generations.
Keynote lecture by Professor Kendall King, University of Minnesota.
Registrations close 30 March 2017.
Presenters
Professor Elizabeth Lanza,

Director, Norwegian Research Council Centre of Excellence for Multilingualism in Society across the Lifespan (MultiLing)

Professor Gillian Wigglesworth,

Node Leader, Australian Research Council Centre of Excellence for Dynamics of Language (CoEDL)