LAL Seminar: Prof. Tim McNamara
Seminar/Forum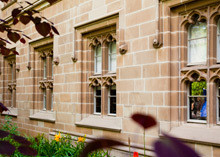 Room 407
Babel building (139)

Map
More information
T: 83441758
Join Prof. Tim McNamara for a seminar: Mapping applied linguistics
What does a mapping of the field of Applied Linguistics look like? It has a chronological as well as a spatial dimension, providing a guide to the evolution of thinking in the field as well as tracing its contemporary breadth, in terms of the topics it deals with, the professions to which it is relevant, its methodologies, and the disciplines from which it draws. The portrait is many faceted; no single perspective can do justice to the reality of applied linguistics. The paper proposes five mutually reflective vantage points for understanding the character and development of the field: Individuality, Interpersonality, Identity, Institutionality and Interculturality.
Presenter
Professor Tim McNamara

Professor in Linguistics and Applied Linguistics


Building on a career as an EFL/ESL teacher and teacher trainer in Australia and the United Kingdom, Tim McNamara has taught Applied Linguistics at Melbourne since 1987. He helped establish the graduate program in Applied Linguistics from 1987, and with Professor Alan Davies founded the Language Testing Research Centre. His language testing research has focused on performance assessment, theories of validity, the use of Rasch models, and the social and political meaning of language tests (he is currently researching the use of language tests in immigration and citizenship contexts, and in verifying the identities of asylum seekers). His work on language and identity has focused on the impact of poststructuralist approaches to identity and subjectivity, and he has a particular interest in the writings on language of the French philosopher Jacques Derrida.