Spanish and Latin American publications
2014
Favoretto, M. Charly en el país de las alegorías: Un viaje por las letras de Charly García. Buenos Aires: Gormet Musical Ediciones, 2014.
Allegory destroys our expectations that the words say what they mean. Although it has been studied in film, visual arts and literature, it has rarely been addressed in popular music . The work of Charly García, one of the most important figures in the history of Argentine and Latin rock, is an excellent way to understand the different ways of expressing ideas through lyrics. More information...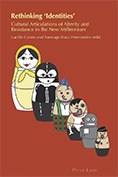 Martinez-Exposito, Alfredo. "Branding the Nation: Resistance and Authenticity in Garca Berlanga's París-Tombuctú," in Cairns, Lucille and Fouz-Hernández, Santiago (eds.,). Re-thinking 'Identities': Cultural Articulations of Alterity and Resistance in the New Millennium. Peter Lang Publishing, 2014.
This volume sets out to re-imagine the theoretical and epistemological presuppositions of existing scholarship on identities. Despite a well-established body of scholarly texts that examine the concept from a wide range of perspectives, there is a surprising dearth of work on multiple, heterogeneous forms of identity. Numerous studies of ethnic, linguistic, regional and religious identities have appeared, but largely in isolation from one another. More information...
Lewis, Alison, Anderson, Lara and Benbow, Heather (eds.,). Other Encounters: European Writers and Gender in Transnational Context. Rohrig Universitatsverlag, 2014.
The nationalist projects of the long nineteenth century in Europe sought to define and contain the national self by positing concepts of national character and incommensurable national difference. Scholarship on European nationalisms has shown that national identity is inherently gendered, as can be seen from the gendered division of the public and private spheres, the exclusion of women from nation-building projects, the gendered politics of culture and from gendered allegories of the nation itself... This collection of essays, spanning the long nineteenth century from the revolutionary late-eighteenth century to the pre-WWI period in the twentieth century, explores the varied ways in which the transnational encounter contributed to or contested the gendered paradigm of nineteenth-century nationalisms. More information...
Martinez-Exposito, Alfredo. "Embodiments of class and nation in Eloy de la Iglesia's gay films," in Merida-Jimenez, R. (ed.,). Hispanic (LGT) Masculinities in Transition. Peter Lang, 2014, pp. 65-80
The objective of Hispanic (LGT) Masculinities in Transition is to investigate the cultural representations/intersections of masculinity and sexual minorities (lesbians, gays, and transgenders) in Spain between the passing of the Law of Social Dangerousness and Social Rehabilitation (1970) and the reform of the Penal Code in 1995... This volume is essential reading for professors and students of contemporary Spanish history and culture, as well as for those interested in lesbian, gay, transgender, and masculinity issues. More information...
Pérez de León, Vicente. "Mito y corrupcion historica en el final del Quijote," in Urbina, Eduardo and Maestro, Jesús G. (eds.,). Anuario de Estudios Cervantinos X: Cervantes y la Mitologia. Academia Editorial, 2014, pp. 141-154. More information...
La mitología presente en la obra literaria de Miguel de Cervantes convierte a sus novelas, poemas y piezas teatrales en un código de arte que exige una interpretación específica y en cierto modo también desbordante. Este volumen monográfico, el número 10 del Anuario de Estudios Cervantinos, está dedicado por entero al estudio de la mitología en la literatura cervantina, y examina de forma global la totalidad de su obra, desde la Galatea al Persiles, pasando por sus comedias, tragedia y entremeses, sus Novelas ejemplares, el Quijote y el Viaje del Parnaso. Casi una treintena de especialistas se ha ocupado de examinar al completo la presencia y significado de lo mitológico en la obra literaria de este autor clave en el Siglo de Oro español y en la literatura universal. More information...
Pérez de León, Vicente. "Sexo, mentiras y corte literaria en el teatre breve de Alonso de Castillo Solorzano," in Maestro, Jesús G. (ed.,). Theatralia: Sexo, adulterio y amor en el teatro. Academia Editorial, 2014, pp. 123-136
El sexo solo engaña, y solo se convierte efectivamente en una experiencia engañosa, cuando va acompañado del amor o del dinero. Cuando no es así, es decir, cuando vive emancipado de esta causa (la ilusión) y de aquella consecuencia (la prostitución), el sexo es lo que realmente es: pura razón práctica. La lógica del amor se disuelve en metáforas. La lógica del sexo se resuelve en la unión corporal y humana. More information...
Hearn, Adrian. "China and the Future of Cuba," in Brenner, P., Jimenez, MR., Kirk, J. and Leogrande, WM. (eds.,). A Contemporary Cuba Reader (2nd edition). Rowman and Littlefield, 2014.
Cuba has undergone dramatic changes since the collapse of European communism... This completely revised and updated edition focuses on Cuba since Raúl Castro took over the country's leadership in 2006. A Contemporary Cuba Reader brings together the best recent scholarship and writing on Cuban politics, economics, foreign relations, society, and culture in present-day Cuba. Ideally suited for students and general readers seeking to understand this still-contentious and controversial island, the book includes a substantive introduction setting the historical context, as well as part introductions and a chronology. More information...
2013
Favoretto, M. and Hortiguera, H. "Popular music and macho representation: the case of cumbia villera," in Rocha, Carolina (ed.,). Modern Argentine Masculinities. Bristol and Wilmington: Intellect Books. 2013, p. 279-293.
Favoretto, M. and Hortiguera, H. "Basic instincts, violence and sex-driven creatures: New Argentine masculinity or old 'macho' culture?" in Rocha, Carolina (ed.,). Modern Argentine Masculinities. Bristol and Wilmington: Intellect Books. 2013, p. 261-278.
Setting new standards in assessing how masculinity in Argentina has been represented in film, literature and music, this collection untangles Argentinian construction of masculinity, manhood and gendered difference from the nineteenth century to the present. More information...
Anderson, L. Cooking up the Nation: Spanish Culinary Texts and Culinary Nationalization in the Late-Nineteenth and Early-Twentieth Centuries. Tamesis, 2013.
This book looks at the textual attempts to construct a national cuisine made in Spain at the turn of the last century. At the same time that attempts to unify the country were being made in law and narrated in fiction, Mariano Pardo de Figueroa (1828-1918) and Jose Castro y Serrano (1829-96), Angel Muro Goiri (1839-1897), Emilia Pardo Bazan (1851-1921) and Dionisio Perez (1872-1935) all tried to find ways of bringing Spaniards together through a common language about food. In line with this nationalist goal, all of the texts examined in this book contain strategies and rhetoric typical of nineteenth-century nation-building projects. More information...
2012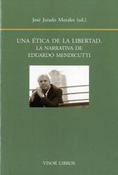 Martinez-Exposito, Alfredo. "Humor y narración gay en Los novios búlgaros y Fuego de marzo , de Eduardo Mendicutti," in Morales, Jurado (ed.,). Una Etica de la Libertad. La Narrativa de Eduardo Mendicutti. Visor Libros, 2012, pp. 171-190.
Constituye el primer estudio de conjunto dedicado a la narrativa de Eduardo Mendicutti y, desde luego, contribuye a una comprensión más ajustada de la misma. Se reivindica aquí una lectura de la obra del autor en la que se valore el relato homoerótico y la vertiente humorística, pero también lo que tiene de escritura intr ospectiva. More information...
Pérez de León, Vicente. "La observacion transcendental en La Galatea, como fundamento de la locura de amor presente en el resto de la obra cervantina," in Urbina, E. and Maestro, J. (eds.,). Anuario de Estudio Cervantinos VIII: La locura en la literatura de Cervantes. Academia Editorial, 2012, pp. 167-176.
El volumen 8 del Anuario de Estudios Cervantinos inaugura la serie de publicaciones que, en adelante, Editorial Academia del Hispanismo dedicará a las reuniones científicas celebradas anualmente en la Sociedad Cervantina de Madrid, en torno al 29 de setiembre de cada año. More information...