In My Blood it Runs: Screening and Panel Discussion
Film Screening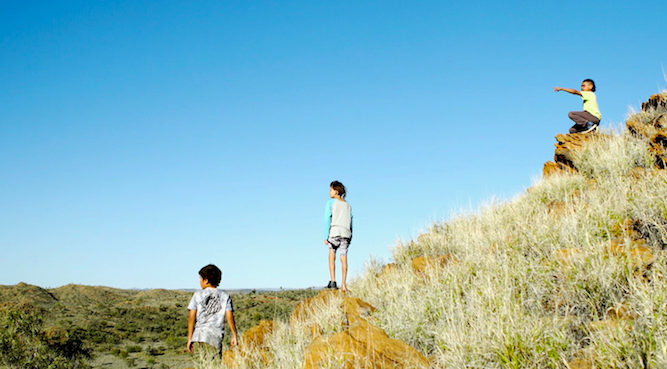 Forum Theatre
Arts West

Map
The Indigenous Settler Relations Collaboration (ISRC) presents an exclusive screening of In My Blood it Runs, followed by a panel discussion with Jane Vadiveloo and Dr Sana Nakata, facilitated by Professor Sarah Maddison.
Prescreening reception from 5.00 pm
Screening from 5.45pm
Panel discussion 7.30pm–8.30pm
On the film:
From the director of Gayby Baby and the producers of 52 Tuesdays, this documentary follows Dujuan, a 10-year-old Arrernte boy from Mparntwe (Alice Springs) in Australia.
"Full of life and exuberance, he learns, with the support of his loving mother and grandmother, to hunt, speak two Indigenous languages and become a healer. Dujuan is politically astute and a leader in the making. But within the westernised school system, his strength and intellect go unnoticed and the colonial approaches to education threaten him with failing grades. At the time of filming, 100% of the youth in Alice Springs detention centres were Aboriginal, and throughout the film it becomes increasingly clear that the system is set up to work against young boys like Dujuan. This powerful film, made in collaboration with Dujuan's family, is an emotional journey through the fight to mend an educational schism between traditional culture and colonial ideas and solidify a future for the youth." – Heather Haynes, Hot Docs Film Festival
For more information and to watch the trailer go to: https://inmyblooditruns.com/
Presenters
Dr Sana Nakata

,

Co-Director, Indigenous-Settler Relations Collaboration and Lecturer in Political Science

Dr Sana Nakata

Co-Director, Indigenous-Settler Relations Collaboration and Lecturer in Political Science
Univerisity of Melbourne

Dr Sana Nakata is Lecturer in Political Science and coDirector of the Indigenous Settler Relations Collaboration. Trained as a lawyer and political theorist, her research is centred upon developing an approach for thinking politically about childhood in ways that improve the capacity of adult decisionmakers to act in their interests. Her current project looks at representations of children in Australian political controversies, with particular focus upon Indigenous Australian children and child asylum seekers. She is the author of Childhood Citizenship, Governance and Policy (2015), and along with codirector Sarah Maddison, edits the Springer book series: Indigenous Settler Relations in Australia and the World.

Jane Vadiveloo

Founding CEO
Children's Ground

Jane Vadiveloo is the founding CEO of Children's Ground. She has a Masters in Forensic Psychology and has a 20year history leading reform and services provision with communities experiencing extreme disadvantage and trauma. She has lived in the Northern Territory for 19 years and has over 30 year connections with Arrernte people in Central Australia. In 2000 they founded Akeyulerre, one of the first organisations based on First Nations knowledge systems in traditional healing and wellbeing. Children's Ground was created as a 25 year approach to ensure that future generations of children are afforded equity, access and justice to determine their futures to have quality education, health, social and economic opportunities that privilege their first culture within a global context. Jane has consulted to Virgin Unite, the Northern Territory and Federal Governments, and Aboriginal Organisations in the Northern Territory. Jane was one of the Westpac Australian Financial Review 100 Women of Influence in 2014.

Professor Sarah Maddison

Co-Director, Indigenous-Settler Relations Collaboration and Professor of Politics
The University of Melbourne

Sarah Maddison is Professor of Politics in the School of Social and Political Sciences, and coDirector of the Indigenous Settler Relations Collaboration. She is also Deputy Dean of the Faculty of Arts. Sarah has published widely in international journals and is the author or editor of nine books including, most recently, The Colonial Fantasy: Why white Australia can't solve black problems (2019).