PhD Completion Seminar - Juan Manuel Valero Rodríguez - Bioremediation of nutrient-enriched coastal ecosystems using macroalgae.
Seminar/Forum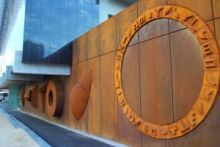 Room G26
BioSciences 1

Map
Coastal activities that involve the discharge of nutrients can result in deleterious environmental impacts, with harmful effects on marine biodiversity and nutrient cycles. The first part of this thesis focuses on sampling and testing of production and competition of local freshwater algae species to select the best candidate to remove nutrients from wastewater. The second part focuses on the link between antropic nutrient discharges and drift algal production and the environmental costs and benefits of drift algae harvesting for nutrient management.
Supervisors: Tim Dempster & Stephen Swearer.