Drug Discovery in the Ubiquitin Proteasome System
Seminar/Forum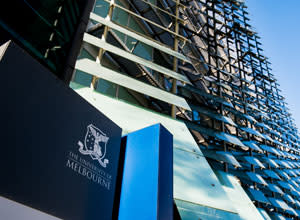 Bio21 Institute auditorium
David Penington Building
30 Flemington Road. Parkville
Map
More information
T: 9035-3015
The Ubiquitin Proteasome System is the main way for cells to dispose of damaged proteins. When the 'protein-garbage-disposal system' is blocked, researchers discovered that this was an effective treatment for bone cancer. This finding has led to further research and investment in drugs that target this system.
Presenter
Dr Larry Dick

Seofon Consulting, Natick, Massachusetts

Larry Dick has been studying the Ubiquitin Proteasome System for over 30 years. He began this work as a postdoctoral fellow with Drs. Clive Slaughter and George DeMartino at UT Southwestern Medical Center. He helped to start the biotech company MyoGenics, where he worked on the team that discovered the widely used proteasome inhibitor research compound, MG132, and the firstinclass proteasome inhibitor multiple myeloma drug, VELCADE. Subsequently, he led the proteasome inhibitor discovery team at Millennium Pharmaceuticals that produced NINLARO, the first oral proteasome inhibitor approved for relapsed refractory multiple myeloma. Additionally, at Millennium/Takeda, he led the team that discovered adenosine sulfamate analogs as potent inhibitors of ubiquitinlike protein activating enzymes and described their novel mechanism of action. To date those efforts have yielded three firstinclass investigational oncology drugs: pevonedistat (MLN4924), an inhibitor of NEDD8 activating enzyme in a phase 3 clinical trial for acute myeloid leukemia, TAK243 (MLN7243), an inhibitor of ubiquitin activating enzyme in phase 1 trials, and TAK981, an inhibitor of SUMO activating enzyme recently started in phase 1. Currently he is an independent drug discovery consultant and a member of a team working on proteasome inhibitors as antimalarials. This collaboration involves scientists from Medicines for Malaria Venture in Geneva Switzerland, Takeda Oncology in Cambridge Massachusetts, USA and the Tilley Group at Bio21.