Late Medieval and Early Modern Studies
Jointly directed by scholars from the University of Melbourne, the Arizona Center for Medieval and Renaissance Studies and published by Brepols, this series covers the historical period in Western and Central Europe from ca. 1300 to ca. 1650. It concentrates on topics of broad cultural, religious, intellectual and literary history.
Series Editors
Markus Cruse, Arizona State University Markus.Cruse@asu.edu
Catherine Kovesi, University of Melbourne c.kovesi@unimelb.edu.au
Ian Moulton, Arizona State University Ian.Moulton@asu.edu
Charles Zika, University of Melbourne c.zika@unimelb.edu.au
Jointly directed by scholars from the University of Melbourne, the Arizona Center for Medieval and Renaissance Studies and published by Brepols, this series covers the historical period in Western and Central Europe from ca. 1300 to ca. 1650. It concentrates on topics of broad cultural, religious, intellectual and literary history. The editors are particularly interested in studies that are distinguished by
their broad chronological range
their spanning of time periods such as late medieval, Renaissance, Reformation, early modern
their straddling of national borders and historiographies
their cross-disciplinary approach
Queries about possible submissions may be sent to any of the series editors.
Editorial Board
Jaynie Anderson, University of Melbourne
Susan Broomhall, University of Western Australia
Megan Cassidy-Welch, University of Queensland
Albrecht Classen, University of Arizona
Bob Gaston, University of Melbourne
John Griffiths, Monash University
Anthony Gully, Arizona State University
Paul Salzman, La Trobe University
Anne Scott, Northern Arizona University
Juliann Vitullo, Arizona State University
Emil Volek, Arizona State University
Retha Warnicke, Arizona State University
Languages and Cross-Cultural Exchanges in Renaissance Italy
Alessandra Petrocchi, Joshua Brown (eds)
(Late Medieval and Early Modern Studies, 30)
Although much work has been done in the field of Renaissance Studies, at present there is no book which offers a comparative overview of the linguistic interaction between Renaissance Italy and the wider world. The present volume is intended to fill this void, representing the first-ever collection of essays that deal with multiple types of language contact and cross-cultural exchanges in and with respect to Renaissance Italy (1300‒1600). We bring diverse disciplinary perspectives together: literary scholars, historians, and linguists with different regional expertise; we argue for multilingualism and language contact as products of a period of dynamic change which cannot be fully grasped through a single framework. The contributions present a variety of case-studies by often cross-fertilising their approaches with other disciplinary lenses. This book aims to provide a comprehensive picture of a truly global Renaissance Italy where languages, textual traditions, and systems of knowledge from different geographical areas either combined or clashed. It takes a fresh approach to the history of late medieval and early modern Italy by focusing on East/West linguistic and cultural encounters, transmission of ideas and texts, multilingualism in literature (various genres and various forms of multilingualism), translation practices, reception/adaptation of new knowledge, transculturalism and literary exchanges, and the relationship between languages and language varieties.
Disciplined Dissent in Western Europe, 1200–1600: Political Action between Submission and Defiance
Fabrizio Titone (ed.)
(Late Medieval and Early Modern Studies, 29)
This innovative collection explores the causes and effects of 'disciplined dissent' – forms of protest or political action positioned between the poles of submission and defiance. To identify the political influence of commoners, the emphasis is neither 'top down' nor 'bottom up' but on mutual influence and the interplay between rulers and ruled. Contributions concerning quite diverse polities show a careful opposition of non-elite people through an effort to respect the legislative system and to find common ground with the authorities. The aim was to emphasize aspects of the norms and institutions in favour of the benefit of the community, or to ensure adjustments of some aspects if found to be beneficial for the few and detrimental for many. The examination of non-violent pressure can help us to have a more exhaustive understanding of the protagonists, causes, and effects of socio-political changes in contexts of governmental development. The analysis includes cases of violent action that managed to secure royal approval. The premise of the book is that inequality, far from being accepted as normal and inevitable, was frequently questioned by less powerful people. When targeted by more or less evident forms of political marginalization, they laid claim to principles of justice and on this basis developed a critical comprehension of government, pursued a selective rejection of injustice, and gained recognition through negotiation.
Sedition: The Spread of Controversial Literature and Ideas in France and Scotland, c. 1550–1610
J. O'Brien, M. Schachter (eds.), 2021
(Late Medieval and Early Modern Studies, 28)
This collection of eleven essays by an international team of experts investigates the political, literary, gendered, and historical dimensions of sedition and seditious works in the French Renaissance.
This interdisciplinary collection examines the notion of sedition in the period of the French Wars of Religion (1560–1600) and focuses not only on France itself, but also on Scotland during the reign of the French-born Mary Queen of Scots. Composed of eleven chapters written by an international team of experts, this volume concentrates on the political aspects of sedition rather than religious heresy, and covers writings and publications in a wide range of fields: politics, history, law, literature, and gender. A complementary feature of this collection is the spectrum of writings studied; they include edicts and treatises, pamphlets, broadsides, legal documents, dialogues, and satirical prose and poetry. Several chapters also address visual representations of sedition.
An Introduction and a Conclusion provide synthetic analyses of the material studied in the individual chapters. This is a collection which will appeal to readers with interests in the history of political ideas and thought, the comparative study of monarchical government, and concepts of tyranny and resistance, discord, rebellion, and revolt.
John O'Brien is Emeritus Professor of French and Marc Schachter is Associate Professor of French at the University of Durham, UK. The epicentre of their joint research is Montaigne and La Boétie. Their previous collaboration, La première circulation de la 'Servitude volontaire' en France et au-delà, was published in May 2019 by Honoré Champion.
The European Contexts of Ramism
E. A. Wilson, S. Knight (eds.), 2019
(Late Medieval and Early Modern Studies, 27)
The book situates the works and reception of the French scholar Pierre de la Ramée (Petrus Ramus) in a variety of European cultural and educational contexts, from Britain and France to Eastern Europe, from Germany to the Iberian peninsula, and from Scandinavia to the Netherlands.
Pierre de la Ramée or Petrus Ramus (1515-1572) has long been a controversial figure in educational reform and innovation, from the moment of his first public academic statements in the 1530s, to his reception among scholars in the twentieth and twenty-first centuries. What is beyond dispute, however, is the vast reach of his influence throughout Europe. Ramus's ideas were disseminated through copious editions and translations of his own textbooks, and in wave after wave of adaptations and re-imaginings of his ideas that swept across the continent.
This volume embarks on a European tour of Ramism, using a wide range of previously unpublished or untranslated archival evidence from throughout the continent to examine the dissemination of Ramus's works and his intellectual influence in geographic and in disciplinary terms. The ten chapters explore the spread of Ramism from his home country of France to Protestant strongholds in Germany, Holland, and Britain, and in the Catholic context of the Iberian peninsula. The book also examines Ramism in the less familiar territories (to most Anglophone readers) of Scandinavia and Hungary, and considers the preceding and contemporary Dutch and German educational reform movements from which Ramus borrowed to forge his own distinctive intellectual method.
Vernacular

Translators in Quattrocento Italy: Scribal Culture, Authority, and Agency

A. Rizzi, 2017

(Late Medieval and Early Modern Studies, 26)

This study collapses the perceived divide between Latin and vernacular humanisms, and offers a fresh understanding of Quattrocento Italy as a period of immense dynamism and creativity in the history of translation.

This book provides a richly documented study of vernacular translators as agents within the literary culture of Italy during the fifteenth century. Through a fresh and careful examination of these early modern translators, Rizzi shows how humanist translators went about convincing readers of the value of their work in disseminating knowledge that would otherwise be inaccessible to many. The translators studied in this book include not only the well-known 'superstars' such as Leonardo Bruni, but also little-known and indeed obscure writers from throughout the Italian peninsula.

Rizzi demonstrates that vernacular translation did not cease with the rise of 'humanism'. Translations from Greek into Latin spurred the concurrent production of 'new' vernacular versions. Humanists challenged themselves to produce creative and authoritative translations both from Greek and occasionally from the vernacular into Latin, and from Latin into the vernacular. Translators grew increasingly self-assertive when taking on these tasks.

The findings of this study have wide implications: they trace a novel history of the use of the Italian language alongside Latin in a period when high culture was bilingual. They also shed further light on the topic of Renaissance self-fashioning, and on the workings of the patronage system, which has been studied far less in literary history than in art history. Finally, the book gives welcome emphasis to the concept that the creation and the circulation of translations (along with other literary activities) were collaborative activities, involving dedicatees, friends, and scribes, among others.
Women and Petitioning in the Seventeenth-century English Revolution: Deference, Difference, and Dissent
A. J. Whiting, 2015
(Late Medieval and Early Modern Studies, 25)
This book explores the genre and gender of petitioning in early modern English political culture.
During the English Civil Wars and Revolution (1640-;60), the affairs of Church and State came under a crucial new form of comment and critique, in the form of public petitions. Petitioning was a readily available mode of communication for women, and this study explores the ways in which petitioning in seventeenth-century England was adapted out of and differed from pre-Revolutionary modes, whilst also highlighting gendered conventions and innovations of petitioning in that period.
Male petitioning in the seventeenth century did not have to negotiate the cultural assumptions about intellectual inferiority and legal incapacity that constrained women. Yet just because women did not claim separate (and modern) women's rights does not mean that they were passive, quiescent, or had no political agency. On the contrary, as this study shows, women in the Revolution could use petitioning as a powerful way to address those in power, precisely because it was done from an assumed position of weakness. The petition is not simply a text, authored by a single pen, but a series of social transactions, performed in multiple social and political settings, frequently involving people previously excluded from participation in political discussion or action. To the extent that women participated in collective petitioning, or turned their individual addresses into printed artefacts for public scrutiny, they also participated in the public sphere of political opinion and debate.
Elisabetta Sirani 'Virtuosa': Women's Cultural Production in Early Modern Bologna
A. Modesti, 2014
(Late Medieval and Early Modern Studies, 22)
This publication presents the first monograph in English published on the successful Bolognese seventeenth-century artist Elisabetta Sirani (1638-1665).
This is the first monograph in English published on the successful Bolognese seventeenth-century artist Elisabetta Sirani (1638-1665). Modesti presents Sirani as a 'subject of her own genre', underlining the painter's innovative qualities, not only in artistic terms, but also from a socio-political and historical perspective. The author's discussion of the material context of women's artistic production and of the Bolognese seventeenth-century cultural world evidences how Sirani epitomized a new model of 'femininity' and a new rising social genre: the single professional woman. Having been rightly admitted to an artistic, social, and cultural world historically dominated by men, Sirani was an unmarried woman who chose a productive and rewarding career over the traditional role of wife and mother. An 'ultramodern artist', deemed by her contemporaries to be extremely talented and inventive, Sirani affirmed her professional status within a mostly male world thanks to her extraordinary cultural learning and virtuoso artistic skills, as well as the clever management of her public image and success.
Being a woman was not a hindrance to Sirani, but rather a positive element: by projecting her own image and identity onto the femme fortes of ancient history, and by inviting important guests to her studio so as to observe her painting, she organized her own 'public exhibition', thus becoming both the subject and the object of her own art. Modesti underscores Sirani's momentous role in the professionalization of Italian women's cultural production and artistic practice at the beginning of the modern era and highlights Sirani's role as an example for successive generations of professional women artists.
Medieval and Early Modern Performance in the Eastern Mediterranean
A. Öztürkmen, E. B. Vitz (eds.), 2014
(Late Medieval and Early Modern Studies, 20)
An exploration of traditional performances in the Eastern Mediterranean in the medieval and Early Modern periods.
This book brings to life an impressively broad array of performances in the Eastern Mediterranean. It covers many traditional types of performance, including singers, dancers, storytellers, street performers, clowns, preachers, shadow-puppeteers, fireworks displays, and semi-theatrical performances in folk and other celebrations. It explores performance of the secular as well as of the sacred in its many forms, including Sunni, Shiite, Sufi, and Alevi Muslims; Sephardic Jews and those in the Holy Land; and Armenian, Greek, and European Catholic Christians. The book focuses on the Medieval and Early Modern periods, including the Early Ottoman. Some papers reach backward into Late Antiquity, while others demonstrate continuity with the modern Eastern Mediterranean world.
The articles discuss evidence for performers and performance coming from archival sources, architectural and manuscript images, musical notation, historical and ethnographic accounts, literary works, and oral tradition. Across the broad range of issues, chronology, and geography, certain fundamental topics are central: concepts of drama and theatricality; varied definitions of 'performance' and related terms; the sacred and the profane, and their frequent intersection; and complex relations between oral and written traditions.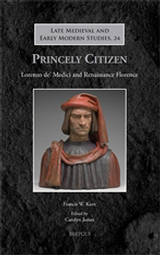 Princely Citizen: Lorenzo de' Medici and Renaissance Florence
F.W. Kent, 2013
(Late Medieval and Early Modern Studies, 24)
This collection of sixteen essays by F. W. Kent reassesses the political and cultural role of Lorenzo de' Medici, de facto ruler of Florence between 1465 and 1492.
Lorenzo de' Medici (1449-;92) was in his own time one of the most renowned of Renaissance figures. His myth has continued to fascinate both scholars and the many tourists who are drawn by it to explore what remains of the Medicean presence in Florence. Lorenzo's first English biographer, William Roscoe, described him as the most remarkable man who had ever lived in ancient or modern times. This collection of essays explores Lorenzo's apprenticeship as the de facto ruler of Florence and the means by which he exerted control over friends and clients to ensure the ascendancy of the Medici dynasty. The essays place the religious and artistic patronage of Lorenzo in the context of his political career and explore other important aspects of his emergence as the princely citizen of a still proud republic.
Francis W. Kent (1942-;2010) established his reputation as a cultural and social historian of Renaissance Florence with his first monograph, Household and Lineage in Renaissance Florence. He turned his attention to Lorenzo de' Medici in the late 1980s, producing a steady stream of essays, collected here for the first time, and a major study of Lorenzo's art patronage, Lorenzo de' Medici and the Art of Magnificence. After the death of Nicolai Rubinstein in 2002, the first general editor of the multi-volume critical edition of Lorenzo de' Medici's letters, Kent took charge of the ongoing project and oversaw the publication of several more volumes. His forthcoming biographical study of Lorenzo's early career will be published by Harvard University Press.
The Drama of Reform: Theology and Theatricality, 1461-1553
T. Atkin, 2013
(Late Medieval and Early Modern Studies, 23)
The Drama of Reform examines the relationship between drama and religion, between theatricality and theology in England before and during the Reformation.
The Drama of Reform establishes the impact of late medieval and early modern religious reform on dramaturgy. Taking an interdisciplinary approach, it examines the interactions between theatricality and theology across a range of different plays including the Croxton Play of the Sacrament, Jacke Jugeler, John Bale's Three Laws and Lewis Wager's Life and Repentaunce of Mary Magdalene. Tracing the development of arguments concerning the interpretation of the sacraments, the relationship between priests and players, and the use and abuse of imagery and drama in religious worship, The Drama of Reform draws on a rich variety of contextual materials including liturgical texts, heresy trial accounts, dramatic treatises, polemical tracts, and religious laws.
Focussed on the period between Archbishop Arundel's Constitutions in the fifteenth century and Archbishop Cranmer's second Book of Common Prayer in the sixteenth, The Drama of Reform explores the phenomenological similarities between drama and certain religious rites, notably the eucharist, and proposes that religious reform prompted attempts to reform dramaturgy. In presenting this analysis, the author argues that while drama continued to function as dramatic propaganda, efforts to initiate new modes of playing were only partially successful.
Middle English Religious Writing in Practice: Texts, Readers, and Transformations
N. R. Rice (ed.), 2013
(Late Medieval and Early Modern Studies, 21)
Although the Middle English texts broadly categorized as 'devotional literature' have received considerable scholarly attention in recent years, much work remains to be done on the cultural meanings and textual transformations of vernacular religious writing during the later medieval period and into the sixteenth century. During these years, popular (but still little-studied) late medieval works such as the Pore Caitif circulated in varied forms amid changing circumstances: the expansion of audiences for Middle English texts, the emergence and persecution of Lollardy, attempts at ecclesiastical censorship, the advent of printing, and the Henrician Reformation. How did Middle English religious texts answer changing cultural and practical needs and the requirements of orthodoxy? How did older texts find new readers; how did these readers alter and deploy them? This collection capitalizes on widespread current interest in these questions, gathering original essays that analyze the many forms, meanings, and legacies of Middle English religious writing.
Cases of Male Witchcraft in Old and New England, 1592-1692
E. Kent, 2013
(Late Medieval and Early Modern Studies 13)
This study explores cases in which men were accused of witchcraft in England and the British colonies of New England between 1592 and 1692. Using a series of case studies that begin in Elizabethan Norfolk and end with the Salem trials in Massachusetts, this book examines six individual male witches and argues they are best understood as masculine witches, not feminized men. Each case considers the social circumstances of the male witch as a gendered context for the accusations of witchcraft against him.
Instead of seeking to identify a single causal condition or overarching gendered circumstance whereby men were accused of witchcraft, this study examines the way that masculinity shaped the accusations of witchcraft made against each man. In each case, a range of masculine social and cultural roles became implicated in accusations of witchcraft, making it possible to explore how beliefs in witches interacted with early modern English gender cultures to support the religious, legal, and cultural logic of the male witch. The result is an approach to early modern English witchcraft prosecution that includes, rather than problematises, the male witch.
Affective Literacies: Writing and Multilingualism in the Late Middle Ages
Mark Amsler, 2012
(Late Medieval and Early Modern Studies, 19)
New Literacy Studies, close reading, and historical sociolinguistics inform Amsler's analyses of late medieval writing and textual cultures. Amsler argues that medieval reading and writing make sense not as individual expressions with discrete texts but as multilingual, sociocultural, and intertextual practices that 'make people up' and that sustain or challenge dominant ideologies and reading formations. Rather than a single Literacy, we find socially situated literacies within manuscript matrices. Bringing new historical dimensions to literacy studies, Amsler explores the intertextualities, affective relations, and social contests in these multilingual formations. Individual chapters examine literacies as cultural practice in schooling and in elite and popular texts by Chaucer, Christine de Pizan, Dante, Margery Kempe, devotional writers, Erasmus, and the Jewish convert Hermann von Sheda, along with grammatical writing, mythography, charms, drama, and educational texts. This volume illustrates the diversity of late medieval multilingual writings,textual performances, and embodied readings.
Dr Mark Amsler is senior lecturer at the Department of English of the University of Auckland, New Zealand.
Richard Rowlands Verstegan: A Versatile Man in an Age of Turmoil
R. Zacchi, M. Morini (eds), 2012
(Late Medieval and Early Modern Studies 14)
Employing a blend of historical, philological, literary and linguistic methods, Richard Rowlands Verstegan: A Versatile Man in an Age of Turmoil paints a full-bodied portrait of Richard Rowlands Verstegan (or Verstegen, 1550?-1640) -; a man whose multiple and variously-spelled name reflects a multi-faceted public personality.
Employing a blend of historical, philological, literary and linguistic methods, Richard Rowlands Verstegan: A Versatile Man in an Age of Turmoil paints a full-bodied portrait of Richard Rowlands Verstegan (or Verstegen, 1550?-1640) -; a man whose multiple and variously-spelled name reflects a multi-faceted public personality. English by birth and upbringing, Dutch by fatherly descent, Verstegan spent most of his life on the Continent, employed intermittently as a Catholic spy, poet, religious translator, polemicist, and philologist. While this many-sidedness is typical of the Renaissance period, some of Verstegan's interests and positions were innovative or extravagant -; witness his familiarization of the epigram in the Netherlands (1617), or his description of Teutonic England in the Restitution of Decayed Intelligence (1605).
In this collection of essays, Verstegan's life and works are both explored in themselves and as mirrors of his times. As each contributor investigates one or more aspects of Verstegan's careers, a wider perspective is created of English and Dutch religious politics, of the prevailing literary modes and fashions of the period, and of the picture that Europe was beginning to paint for itself. Conversely, this all-encompassing view demonstrates the centrality of a figure who has long been relegated to the margins of English, Dutch, and European history.
Servants of Satan and Masters of Demons: The Spanish Inquisition's Trials for Superstition, Valencia and Barcelona, 1478-1700
G. W. Knutsen, 2010
(Late Medieval and Early Modern Studies 17)
This book offers a systematic study of the trials for superstition in the Spanish Inquisition's two tribunals in Valencia and Barcelona in the period 1478-1700. One of the most intriguing contrasts between the trials in northern and southern Spain is that while both areas saw a large number of trials for superstition, Valencia did not conduct trials for demonological witchcraft. Catalonia, on the other hand, saw a large number of such trials, the majority of which occurred in secular courts.
These contrasts bring into focus significant differences in culture and mythology. The Barcelona Inquisition was unable to enforce its jurisdiction over trials for diabolical witchcraft, while the Valencian Inquisition was able to do just that because Valencians rejected the demonological concept of witchcraft. This was due mainly to the Valencians' own magical culture which emphasized man's ability to control and force demons, but also to the fact that Moriscos formed the majority of the rural population, which was the primary focus of witchcraft trials in Europe. By comparing the Catalan and Valencian tribunals, the book thus seeks to explain the absence in the southern half of Spain of brujas, witches who gave their souls to the devil, flew through the night, took part in wild orgies at the witches' sabbat, and caused death and destruction through magical means.
Mirrors of Revolution Conflict and Political Identity in Early Modern Europe
F. Benigno, 2010
(Late Medieval and Early Modern Studies 16)
From the English Civil War to the Fronde, from Masaniello to Robespierre, this book is one of the first attempts to create a European, transnational approach to the problems of the early modern age. It proposes a detailed reconstruction of the main interpretative tendencies that have developed around the English Civil War, the French Revolution, the so-called 'Seventeenth-Century Crisis': the Fronde and the Neapolitan revolt of Masaniello. And yet, Mirrors of Revolution agrees with neither the traditional social interpretations of the causes of revolt, nor with revisionist approaches that privilege the influence of discursive registers. Instead, it proposes an original interpretation of revolution based on the concept of political identity. In the terms of this analysis, revolutions do not reveal previously hidden social groups. Rather, revolutions become the central ground upon which new identities coalesce. With its usage of the Fronde and Masaniello as case-studies for extensive investigation, Mirrors of Revolution outlines a challenging and exciting reformulation of the concept, and causes, of revolution.
Old Worlds, New Worlds: European Cultural Encounters, c. 1000 - c. 1750
L. Bailey, L. Diggelmann and K. M. Phillips (eds), 2009
(Late Medieval and Early Modern Studies, 18)
Pre-modern European history is replete with moments of encounter. At the end of arduous sea and land journeys, and en route, Europeans met people who challenged their assumptions and certainties about the world. Some sought riches, others allies; some looked for Christian converts and some aimed for conquest. Others experienced the forced cultural encounter of exile. Many travelled only in imagination, forming ideas which have become foundational to modern mentalities: race, ethnicity, nation, and the nature of humanity. The consequences were profound: both productive and destructive. At the beginning of the third millennium CE we occupy a world shaped by those centuries of travel and encounter. This collection examines key themes and moments in European cultural expansion. Unlike many studies it spans both the medieval and early modern periods, challenging the stereotype of the post-Columbus 'age of discovery'. There is room too for examining cross-cultural relationships within Europe and regions closely linked to it, to show that curiosity, conflict and transformation could result from such meetings as they did in more far-flung realms. Several essays deal with authors, events, and ideas which will be unfamiliar to most readers but which deserve greater attention in the history of encounter and exploration.
Performing the Middle Ages from 'Beowulf' to 'Othello'
Andrew James Johnston, 2008
(Late Medieval and Early Modern Studies 15)
Performing the Middle Ages from 'Beowulf' to 'Othello' traces the dialogic nature of the relationship between the Middle Ages and modernity. Arguing that modern beliefs in the alterity of the Middle Ages stem from the Middle Ages' own processes of self-representation, Johnston explores varieties of nostalgia through a wide selection of texts. This volume spans an extensive chronological period with a view to demonstrating how our notions of the medieval have been crucially informed by the past itself. The study is focused on works which stage that popular literary archetype - the nostalgic figure of the aristocratic warrior - and argues that it is this image that provides a structural model for so many modern perspectives on the Middle Ages. And yet, in the Middle Ages this model was being deconstructed as it was also being generated. By moving from the self-consciously archaic heroism of Beowulf to the scathing comment on chivalric narrative presented in Chaucer's 'Knight's Tale', Johnston's analysis offers an intriguing insight into the way medieval texts engage in a continual aesthetic and ideological critique of their own cultural moment. Using Sir Gawain and the Green Knight and the Alliterative Morte Arthure as examples of an incisive critique of the cult of subjectivity and of a highly self-conscious desire for tradition, Johnston extends his analysis to the early seventeenth century, and explores the ways in which Shakespeare's Othello brilliantly deconstructs the very concept of 'Renaissance Man'. With its interest in issues of subjectivity, textual performance, and the ideological self-awareness of medieval culture, Performing the Middle Ages provides a scholarly and compelling investigation into the Middle Ages' ability both to understand itself and to shape (post)modern notions of the medieval.
Practices of Gender in Late Medieval and Early Modern Europe
Megan Cassidy-Welch and Peter Sherlock (eds), 2008
(Late Medieval and Early Modern Studies 11)
This collection argues that gender must be considered as both an approach to history, and as a reflection of the deep workings of the lived, historical past. The sixteen original essays explore social and cultural expressions of gender in Europe from the fourteenth to the eighteenth centuries. They examine theories and practices of gender in domestic, religious, and political contexts, including the Reformation, the convent, the workplace, witchcraft, the household, literacy, the arts, intellectual spheres, and cultures of violence and memory. The volume exposes the myriad ways in which gender was actually experienced, together with the strategies used by individual men and women to negotiate resilient patriarchal structures. Overall, the collection opens up new synergies for thinking about gender as a category of historical analysis and as a set of experiences central to late medieval and early modern Europe.
The Theatre of the Body: Staging Death and Embodying Life in Early Modern London
Kate Cregan, 2008
(Late Medieval and Early Modern Studies 10)
This study is a threefold investigation of understandings of embodiment -; as displayed in the playhouses, courthouses, and anatomy theatres of London between 1540 and 1696. These dates mark the waxing and waning of the Worshipful Company of Barber-Surgeons' domination of the practice of dissection in London. In 1540 Henry VIII gave them his approval and encouragement but by 1696 Edward Ravenscroft's The Anatomist: Or the Sham Doctor staged their loss of power. This loss of power, the book contends, is symptomatic of a major shift in the concept of embodiment. The book explains the changing understanding of the human body throughout this period by analysis of the interplay between the texts used in and the material practices of three specific public sites: the public playhouses, the Sessions House, and the Anatomy Theatre of the Worshipful Company of Barber-Surgeons of London. Using an approach which combines the socially textured understandings of fields of practice found in Bourdieu with the interpretations of progression across time found in Elias and Foucault, The Theatre of the Body demonstrates how the three fields of drama, law, and medicine are intimately inter-connected in that process.
In presenting this analysis, the author argues that the quality of embodiment begins to shift during this period from the mid-sixteenth century and throughout the course of the seventeenth century. In this shift one can observe how the earlier, 'traditional' interpretation of embodiment is intensified and resolidified into the beginnings of the medicalised 'modern' body.
The Politics of Exclusion in Early Renaissance Florence
F. Ricciardelli, 2007
(Late Medieval and Early Modern Studies 12)
No previous work has examined political exclusion in Early Renaissance Florence or its significance for the transition from Florentine popular government to oligarchy. Between the fourteenth and the first half of the fifteenth century, political exclusion became a normal feature of political life, regardless of the type of political regime; it was an essential instrument by which new governments consolidated their control over the city and the countryside in one of the largest and most powerful cities of Early Renaissance Europe. Exclusion from the Republic of Florence-;separation from friends and family, business and property, coupled with the degradation of public humiliation-;engendered a new outlook on life. In Early Renaissance Florence, excluded citizens across social classes became common outlaws, no different for common criminals prosecuted for heresy, blasphemy, gambling, or sexual deviance. By investigating these practices and attitudes of Early Renaissance Florence, this book shows the dark side of Renaissance republicanism: its fear of political dissent in any form and its means to crush it at all costs. This study of the other side of Renaissance republicanism presents a new and crucial chapter in Renaissance history.
The Censorship and Fortuna of Platina's 'Lives of the Popes' in the Sixteenth Century
S. Bauer, 2007
(Late Medieval and Early Modern Studies 9)
When Bartolomeo Sacchi ('Platina', 1421-1481) wrote his Vitae pontificum (Lives of the Popes) and presented it to Pope Sixtus IV in 1475, he surely could not have imagined how influential it would become over the centuries. His was the first papal history composed as a humanist Latin narrative and, as such, marked a distinct breakthrough in relation to the Liber pontificalis, the standard medieval chronicle of the papacy. Whatever Platina's intentions for the book, it soon came to be regarded as the official history of the Roman pontiffs. After the editio princeps of Venice 1479, updated and extended editions continued to be produced until late in the eighteenth century.
The largely untold story of Platina's Lives of the Popes and its fortuna is the focus of this book. The Lives were particularly popular because of Platina's frank criticisms of papal behaviour which did not live up to his humanist moral values. He reminded the popes that they were mere human beings and urged them not to indulge in luxury and nepotism. Catholics, whether or not they agreed with such indictments, read the Lives eagerly, while Protestants naturally appreciated Platina's fault-finding approach towards the papacy. The role which censorship played in the reception of the Lives was previously unknown. This book examines the censorship process (1587-1592) in detail, including a critical edition of the assessments and corrections by English and Italian censors newly uncovered in the Vatican and in Milan.
The Renaissance Pulpit: Art and Preaching in Tuscany, 1400-1550
N. B.-A. Debby, 2007
(Late Medieval and Early Modern Studies 6)
This volume examines the relationship between preaching and art, addressing with particular detail the use of works of art in preaching and the importance of the pulpit itself. A challenging issue in the field of sermon studies is the relationship between preaching and art, in particular the manner in which preachers used works of art in their preaching and described specific pictures in their sermons; and the pulpit itself.
The thesis of the book is that pulpits should be viewed in the context of the world of preaching in Renaissance Florence and in connection with sacred oratory. Indeed, like preached sermons, pulpits used rhetorical strategies to deliver religious messages. The author adopts an interdisciplinary approach to the topic by combining art history, historical analysis, and sermon studies; and she examines the pulpit's patronage, location, and function as well as its chronological development. This book combines a general survey of pulpits in Tuscany, with close analysis of five specific pulpits. Designed and executed by important artists located in Florence and Prato, these five pulpits are the most exquisite and impressive monuments of their type, and each has a complex and rich iconographic programme. The author reveals that the period between the fifteenth and early sixteenth centuries constitutes a distinct phase in the development of pulpits, different from the earlier tradition, and from pulpits constructed after the Council of Trent and during the Catholic Reformation.
Giulia Gonzaga and the Religious Controversies of Sixteenth-Century Italy
Camilla Russell, 2006
(Late Medieval and Early Modern Studies 8)
Giulia Gonzaga (1513-;66) was renowned throughout sixteenth-century Italy as a model of pious widowhood and of female beauty. Yet over three decades she sustained a risky friendship and personal correspondence with Pietro Carnesecchi (1508-;67), the one-time papal favourite who became infamous for his heretical religious beliefs and associations. Indeed, Carnesecchi was condemned to death by the Tribunal of the Roman Inquisition, implicated in part by evidence of his correspondence with donna Giulia.
This major new study traces the evolution of donna Giulia's unorthodox religious ideas and networks. Considered alongside inquisitorial trial records and contemporary religious treatises, donna Giulia's written dialogue with Carnesecchi and others, vividly reflects the religious tensions of mid-sixteenth-century Italy.
Giulia Gonzaga and the Religious Controversies of Sixteenth-Century Italy details donna Giulia's important contribution to the exchange and currency of reformist ideas amongst an intellectual elite of women and men, clergy and laity that extended through the Italian peninsula and beyond.
Rituals, Images, and Words: Varieties of Cultural Expression in Late Medieval and Early Modern Europe
F. W. Kent and Charles Zika (eds), 2006
(Late Medieval and Early Modern Studies 3)
This collection of essays by Australian scholars offers a wealth of contemporary perspectives on cultural communication amongst men and women in late medieval and early modern Europe. Essays dealing with Florence and Venice, with Rome, Lucca, Ferrara, and Bologna, as well as with Germany, England, and Lorraine, draw attention to the array of cultural expressions which competed for space and influence across European societies.
These rich studies demonstrate the vitality of cultural production during a period of rapid and often violent transition. Variously focussed on formal religious rites, on painting, sculpture, and woodcuts, on sermons, poetry, and letters, the contributors pursue cultural meaning as a matter of social identity and social context - as a performance that can be shown to affirm and also exclude particular topical values. Rituals, Images and Words highlights the complex and subtle power of rhetorical forms in the history and historiography of late medieval and early modern Europe.
Contents
Nicholas Eckstein, The Religious Confraternities of High Renaissance Florence: Crisis or Continuity?
Nicholas Scott Baker, The Death of a Heretic, Florence 1389
Sarah Ferber, Cultivating Charisma: Elisabeth de Ranfaing and the Médailliste Cult in Seventeenth-Century Lorraine
Robert W. Gaston, Affective Devotion and the Early Dominicans: The Case of Fra Angelico
Cynthia Troup, Art History and the Resistant Presence of a Saint: The chiesa vecchia Frescoes at Rome's Tor de' Specchi
Patricia Simons, Separating the Men from the Boys: Masculinities in Early Quattrocento Florence and Donatello's Saint George
Peter Sherlock, Henry VII's 'miraculum orbis': Royal Commemoration at Westminster Abbey 1500-1700
Jaynie Anderson, Gardens of Love in Venetian Painting of the Quattrocento
Charles Zika, The Witch of Endor: Transformations of a Biblical Necromancer in Early Modern Europe
Lorenzo Polizzotto, Iustus ut palma florebit: Pier Soderini and Florentine Justice
Dale Kent, Personal Literary Anthologies in Renaissance Florence: Re-Presenting Current Events to Conform to Christian, Classical and Civic Ideals
Peter Howard, The Fear of Schism
Stephen Kolsky, The Literary Career of Lucrezia Marinella (1571-1653): The Constraints of Gender and the Writing Woman
W. G. Craven, Style and Substance in the Early Writings of Giovanni Pico della Mirandola
Carolyn James, An Insatiable Appetite for News: Isabella d'Este and a Bolognese Correspondent
F. W. Kent, Unheard Voices from the Medici Family Archive in the Time of Lorenzo de' Medici
Louis Green, The Younger Castracani
The Ghost of Boccaccio: Writings on Famous Women in Renaissance Italy
Stephen Kolsky, 2005
(Late Medieval and Early Modern Studies 7)
This major study looks at the heritage and literary transformation of Giovanni Boccaccio's De mulieribus claris in late-fifteenth and early-sixteenth-century Italy. The monograph is the first full-length study of the new elaborations of women's role and potential that were being developed in the north Italian courts in this period. The Ghost of Boccaccio presents a sustained textual analysis of a selection of male-authored texts. It treats these texts as highly specific events in the development of the querelle des femmes, or 'the woman question', providing an important and often neglected Italian context for this question. By analysing these texts together in one volume, this study places them firmly on the scholarly map. They represent an extraordinary variety of voices seeking to be heard about the status of women in Renaissance Italy, ranging from the most conservative to the truly radical. They provide vital perspectives on constructions of women in the Renaissance. A number of these texts also represent a crucial moment in the development of intellectual strategies to challenge the dominant gender ideologies of Renaissance and early modern Europe. The book will be of interest to scholars and students of Renaissance history and culture, Italian studies, neo-Latin studies, and gender studies.
Tyranny Under the Mantle of St Peter: Pope Paul II and Bologna
I. Robertson, 2002
(Late Medieval and Early Modern Studies 5)
This publication deals with Pope Paul II´s high concept of princely sovereignty, his vision of the papal temporal dominions as a genuinely co-ordinated territorial state, and his clash with the Commune of Bologna.
Pope Paul II (1464-1471) stands out amongst the later fifteenth-century popes by virtue of his high concept of princely sovereignty, and his vision of the papal temporal dominions as a genuinely co-ordinated territorial state, an enduring public entity. Inevitably he clashed with the Commune of Bologna, second city of the Papal State, over which he naturally aspired to more jurisdiction. The political vision of the Bolognese regime had a narrowly local focus which precluded the sacrifice of Bolognese independence in favour of integration into a wider territorial entity, and sprang from a view of government as rightfully the private preserve of a restricted oligarchic group, from the 1440s consolidated in the magistracy of the 'Sixteen Reformers of the Régime of Liberty'. Paul II regarded the régime of the Sixteen as a 'tyranny', and declared that he did not want such tyrannies flourishing 'under the mantle of Saint Peter'. Paul II's intervention in Bolognese affairs failed to open up the restricted circle of the Bolognese oligarchy or to curb Bologna's independence in the Papal State. It did nonetheless constitute a watershed in the evolution of the Bolognese régime. Through political miscalculation, it seems, Paul was led to institute a constitutional modification which gave the long-developing predominance of the Bentivoglio family an institutional basis and opened the way for it to become more overtly 'signorial', replacing one 'tyranny' with another. However, this aggravated a long-standing tension in the régime between collegiality and despotism, and paved the way for the eventual destruction of the Bentivoglio predominance and the incorporation of Bologna into the more co-ordinated Papal State of the sixteenth-century - a result more consonant with Paul II's aims. The clash between Paul II and Bologna is ultimately one between two opposed concepts of government and 'the state'.
Renaissance Florence in the Rhetoric of Two Popular Preachers: Giovanni Dominici (1356-1419) and Bernardino da Siena (1380-1444)
N. B.-A. Debby, 2001
(Late Medieval and Early Modern Studies 4)
The central purpose of this study is to examine the response of the preachers Giovanni Dominici (1356-1419) and Bernardino da Siena (1380-1444) to the changes, the alternatives they offered and their attempts to direct the life of the laity.
The preaching of the Dominican friar Girolamo Savonarola and the period of his dominance (1494-1498) are a well-known chapter in the history of Renaissance Florence. However, comparatively less research has been done on Savonarola's predecessors, the mendicant preachers of Florence in the first half of the fifteenth century. The Dominican Giovanni Dominici (1356-1419) and the Franciscan Bernardino da Siena (1380-1444) were the most important of these preachers. Dominici's and Bernardino's sermons, as they appear in Tuscan reports (reportationes) of their preaching, are a valuable historical source. Written down by anonymous listeners, these are the major reports of sermons preached in fifteenth-century Florence before Savonarola. The reportationes are unique in that they transmit in full the actual preaching event and are not merely a doctrinal summary composed by the preacher. Many of these sermons are still in manuscript form, especially those of Dominici, which have never been studied in detail and remain unpublished to this day. Dominici and Bernardino were active in Florence at a time when broad legal, social and cultural changes were taking place. The central purpose of this study is to examine the response of these preachers to the changes, the alternatives they offered and their attempts to direct the life of the laity. The four principal chapters are devoted to the preachers' opinions on secular and ecclesiastical politics, education and humanism, morality and the family and the economy and usury (the role of the Jews), the discussion built around a comparison between the two preachers. Although they differed in their interests and in their style - the unbending Dominici concentrating on politics and culture while the more flexible Bernardino focused on morality and the economy - they shared ideologies.
Sparks and Seeds: Medieval Literature and its Afterlife -Essays in Honor of John Freccero
D. E. Stewart and A. Cornish (eds), 2000
(Late Medieval and Early Modern Studies 2)
The articles in this publication are written by former students of John Freccero and focus on medieval and Renaissance Italian literature.
John Freccero is internationally renowned for his scholarship on Dante, Petrarch, Macchiavelli, and other authors. Currently Professor of Italian and Comparative Literature at New York University, he has also taught at Yale, Stanford, Cornell, and Johns Hopkins. His numerous honours include Fulbright and Guggenheim fellowships and awards from the city of Florence and the Republic of Italy. His publications encompass articles on film, philosophy, and literature of virtually all time periods. All the authors in this Festschrift are former students of Freccero. All the articles appertain to Italian literature - from Dennis Costa's literary analysis of Bonaventure's Itinerarium to Patricia Parker's tracing of the State of Maryland's medieval Italian motto back through its English Renaissance sources. Many pieces are concerned with Dante directly (Kleiner, Schnapp, Jacoff, Cornish, Ginsberg, Hawkins, Chiarenza), and several others dealing with medieval and Renaissance Italian subjects do so indirectly (Costa, Stephens, Quint). Two are concerned with pre-modern cultural and literary implications of the history of science (Stewart, Reeves); the remainder trace the afterlife of medieval or Renaisance Italian motifs in modern culture (Parker, West, Marcus). The articles are as follows: Giuseppe Mazzotta, 'Introduction'; Dennis Costa, 'Conversion to the text's terms: processes of signification in Bonaventure's Itinerarium Mentis in Deum; Dana Stewart, 'Spirits of love: subjectivity, gender, and optics in the lyrics of Guido Cavalcanti'; John Kleiner, 'On failing one's teachers: Dante, Virgil, and the ironies of instruction'; Jeffrey Schnapp, 'Lectura Dantis: Inferno 30'; Rachel Jacoff, '"Our bodies, our selves": the body in the Commedia'; Alison Cornish, 'Telling time in Purgatory'; Warren Ginsberg, 'Dante's aesthetics of being'; Peter Hawkins, '"Are you here?": Surprise in the Commedia'; Marguerite Chiarenza, 'Solomon's Song in the Divine Comedy'.
Contextualizing the Renaissance: Returns to History - Selected Proceedings from the 28th Annual CEMERS Conference
A. Tricomi (ed), 1999
(Late Medieval and Early Modern Studies 1)
The essays in this volume challenge the notion that the production of paintings, dramatic texts or even conduct books can be read against a stable historical ground, yet they show that paintings, works of literature, and treatises not only participate in history but are exemplars of textual instability.
The 28th Annual Conference of the Center for Medieval and Renaissance Studies, held on 21-22 October 1994 at Binghamton University, featured 33 panel sessions and approximately 150 presentations. The ten essays in this volume consist of the five plenary speakers - leaders in their field - and five panel essays, each of which was reviewed for this volume. The volume comprises a body of work organised around a governing theme - modes of historicisation. Each of the essays demonstrates the practice of or a commentary upon a distinctive historicised criticism. By 'historicised' as contrasted with 'historical' criticism, it is meant that these essays problematicise, stretch or reconceive traditional historical practices. Challenging the notion that the production of paintings, dramatic texts or even conduct books can be read against a stable historical ground, they show that paintings, works of literature, and treatises not only participate in history but are exemplars of textual instability. The very content of these texts can be shown, in various editions, to change over time - and yet each bears a single, determinate title. In such ways the contributions gathered here all show that they have been affected by 'the new history'. Contributions include: Albert H. Tricomi, 'Introduction: trends in historicizing Early Modern literature, history, and the visual arts'. Part 1: Literature and History as Critical Practices Jean E. Howard, 'Writing the history of the present: contextualizing Early Modern literature'; Sarah Hanley, 'Mapping theory in history: conceptual cites and social cites in the French monarchic state'; David Quint, 'Dueling and civility in sixteenth-century Italy'; Margaret Mikesell, 'The place of Vives's Instruction of a Christen Woman in Early Modern English domestic book literature'. Part 2: Rehistoricizing through the Visual Arts Keith Moxey, 'Motivating history'; Laura MacCaskey.'