Medieval Latin Reading Group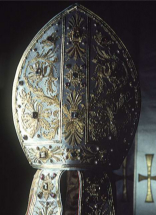 An informal group that meets fortnightly to read medieval texts in Latin in a friendly and supportive environment. All levels of Latin expertise welcomed.
Contact: John Weretka
Time: 12:30-2:00 every second Thursday through the year commencing 4 February 2021.
Location: Currently meeting via Zoom. (Normally Baillieu Library, generally Project Room 8).
The pieces chosen are either directly related to members' research or have language and vocabulary that members want to explore for their research. There is usually an English translation available for the texts chosen.
Texts have included the Vitae of St Mochuda, Alexander the Great and Charlemagne, Leonardo Bruni's Historiarum Florentini populi libri XII, Bede's Historia Ecclesiastica Gentis Anglorum, the Carmina Burana, the Aberdeen Bestiary, Geoffrey of Monmouth's Historia Regum Brittaniae, selections from Jacobus de Voragine's Legenda Aurea, the Liber secundus of Donizo's Vita Matildis, Sedulius Scottus' De quodam verbece, the Liber primus of Ysengrimus, the eleventh book of Venantius Fortunatus' Carmina, the Gesta Francorum, the Votum theologorum Avenionensium (the proceedings of the heresy trial against Meister Eckhard), Liutprand of Cremona's Antapodosis, the Devastatio Constantinopolitana and Boncompagno da Signa's Liber de obsidione Anconae, Walter Map's De nugis curialium, Johannes de Alta Silva's Dolopatos, and selections from Juvencus' Liber quattuor evangeliarum.
Texts for 2021:
In 2021, the group is translating selections from Books IV and V of Bede's Historia Ecclesiastica Gentis Anglorum. Copies of texts will be made available to group members.
Some generally useful links