Medieval Round Table 2022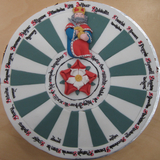 Programme for 2022
7 February
Michael Warby
Why Ritual? The Social and Cognitive Dynamics of a Pervasive Social Phenomena
Rituals, repeated patterns of actions that "point to" something beyond themselves, are pervasive in human societies. When service personnel salute, they are engaged in ritual. Rituals both predate language (other species use rituals) and may have provided a basis for its evolution.
All religions have rituals, yet not all rituals have religion. States have historically invested major resources in ritual spaces and continue to habitually ritualise their processes. Totalitarian states typically invest considerable resources in public rituals, including ritual elections.
Psychologist John Vervaeke's taxonomy of four ways of apprehending reality: propositional (truth), procedural (capacity), perspectival (presence) and participatory (attunement) — episteme, techne, noesis and gnosis: knowledge that, how, of and in — provides a framing to examine the operation of ritual and how it can engage participants. How ritual can be used to generate shared signals and align perspectives.
Understanding the function and power of ritual helps to understand why ritual spaces represent both the oldest, and historically many of the largest, human stone constructions. How much the monumentalism of states has represented rituals of authority expressed in stone. Theorist of sacrifice Rene Girard's notion of the sacrifice as expressing human society being based on a foundational murder turns out to have powerful evolutionary support.
Medieval cathedrals and Mesoamerican pyramid-temples were both constructed around notions of human sacrifice and consumption of the sacrificed. The architecture and rituals of medieval cathedrals and Mesoamerican pyramid-temples provide stark, yet revealing, contrasts for examining the pervasive utility and power of ritual; their operation at the limits of consciousness; and their creation.
Michael "Lorenzo" Warby is a principal of Multisensory Education.
7 March
Adelaide Greig, University of Melbourne (MA Completion Seminar)
The Fantastical Child-bearing Bodies of Medieval Literature
The women of medieval literature are often defined by their child-bearing bodies, whether as mothers to prophesied knights or queens whose heirs are conspicuously absent. Analysing Welsh, French and English texts, this thesis examines how a variety of literary child-bearers challenge the limitations of this role, speaking 'both within and against the social and rhetorical conventions used to construct them' (E. Jane Burns, Bodytalk: When Women Speak in Old French Literature [1993], 7). I argue that this challenge is made possible by a shifting interplay between fantasy and the historical within the analysed texts, as settings, events and characters are able to both reflect and be freed from the boundaries of medieval chivalric society. Fantastical child-bearing bodies do not present a singular idealised fantasy or directly represent the reality of the medieval past. Instead, they embody an imaginative in-between, demonstrating a subjective understanding of what a child-bearing body should and could be. This study explores how the fictional women it discusses – including Aranrhod from Pedair Cainc y Mabinogi, the ladies of Marie de France's Lais, Chaucer's Wife of Bath and Malory's Lady Igrayne – question, criticise, and find pleasure in their existence within a child-bearing body.
4 April
Stephanie Trigg, University of Melbourne; Stephanie Downes, La Trobe University
Ugly Book Feelings: Materiality and Negative Affect in Medieval Women's Writing
Drawing on the work of Sianne Ngai in Ugly Feelings (2006), in this paper we focus on two examples from early fifteenth-century medieval literature that present medieval books as 'ugly' either because they arouse negative feelings, or because they are considered in some way aesthetically lacking or inadequate. Christine de Pizan's Livre de la cité des dames and Margery Kempe's Book of Margery Kempe present women as makers and readers of troubling or difficult books. The 'ugly book feelings' which both women encounter challenge not only their authority, but their very sense of self. Such feelings, however, are transitory, and potentially transformative, as both Christine and Margery discover. Attending to ugly book feelings provides a more wholistic representation of women's involvement in all aspects of the consumption and production of material texts during the later Middle Ages, placing them at the centre of a much richer range of book-oriented emotions than the love of books alone.
2 May
Christine Grundy, Australian National University
Climate Change and the Peace of God
"Some time later a famine began to ravage the whole earth, and death threatened almost the whole human race."[1] So began the writings of Rudolfus Glaber, a witness to terrible events which occurred in France around the 1030s. Glaber told us that the Peace of God ceremony occurred as a direct result of a catastrophic famine caused by a climatic event. What he could not have known was that the rains he described were part of a change in climatic conditions that commenced about fifty years earlier and were to be sustained for several hundred years. That period, marked by global warming, was to become known as the Medieval Climate Anomaly.
As far as I am aware, Glaber alone stated that the changing climate created the need for the Peace of God ceremony. And yet, if one charts the commencement of the Medieval Climate Anomaly and the Peace of God ceremony one finds that they commence around the same time. Glaber did not believe that this was a coincidence. This thesis will examine his belief in more detail. The thesis will draw upon scientific, social and historical disciplines as well as primary sources.
[1]Rudolfus Glaber, Historiarum Libri Quinque, ed. and trans. John France, 1989 ed., 5 vols. (Oxford University: Oxford University Press, 1040), 187.
This presentation is an early trial of a Thesis Review Presentation. I will take the group through the frameworks that Environmental Historians have offered for similar events across the centuries and examine the evidence that the framework applies in this context as well. I ask the members of the Medieval Round Table for their critical feedback on the premise for the investigation and the steps I intend to undertake in undertaking this research.
6 June
The Reception of Concepts from the Language Arts into Musical Discourse and Praxis (1000–1300)
Guido of Arezzo, John of Affligem and Jerome of Moray on Grammar and Music
Carol J. Williams, Monash University
The alignment between grammar and music can be seen in antiquity in the earliest crafting of the seven liberal arts. The music pedagogue Guido of Arezzo (c. 990 – after 1033) unfolds the analogy between the parts of language and the elements of music in chapter fifteen "On grateful melodic lines and composing them" of his music theory handbook, the Micrologus. He establishes the musical equivalents of letters, syllables, feet and lines as well as interpreting the elements of punctuation, the comma, the colon, the punctus and so on with the process of degrees of cadential closure in melody. Guido's aim is to impress on his readers the necessity of letting 'the effect of the song express what is going on in the text.' These ideas were to be given further polish and direction by John Cotton (of Afflighem) (fl. 1100) in his De musica, where he explains that both language and music are only expressive in their manipulation of time; tempus is common to both. It is John who makes clear the temporal relationship of one syllable to the next, understood through the quantitative measure of long and short syllables. This revivification of the analogy between grammar and music leads in one direction to Jerome of Moray's (d. after 1271) instructions on writing chant for newly established feasts. The other direction, focussed on tempus rather than expressivity, was to provide the basis for the rapidly shifting discourse on musica mensurabilis, and the revolutionary sounds of thirteenth-century Parisian polyphony.
Communicating the Rhetoric of Music in Thirteenth-century Paris: The Contribution of John of Garland
Constant J. Mews, Monash University
Musicologists have often assumed that John of Garland the music theorist, identified as Johannes gallicus by the Dominican music theorist, Jerome of Moray, must be a different person from the English-born literary theorist and poet, John of Garland. This John, educated at Oxford in the early 13th century, was the major theorist of literary composition. In this paper, I compare what John of Garland the music theorist has to say about the rhetorical aspect of music composition to the way John of Garland the literary theorist invokes the notion of musica, as defined by Boethius, to explain the subtleties of literary composition. There can be no doubting, I argue, that John of Garland was a single teacher much concerned with the theory of composing both verse and music, and thus a major figure in seeking to bring together the more mathematically oriented perspective of Boethius on music, with the more practical approach of Guido of Arezzo. While the Boethian structure of John of Garland's music theory was questioned c. 1270 by Johannes de Grocheio, it would still be of great influence on a range of theorists from the late 13th and early 14th centuries.
The Musical Reception of Saint King Louis IX of France, 1297 to 1306
Catherine Jeffreys, Monash University
The canonisation of Louis IX of France in 1297 gave rise to a flurry of musical activity to commemorate the new saint. The Dominicans led the charge, creating a liturgical office of Saint Louis that would form the basis of different celebrations produced by the religious orders, secular churches and the French crown. In this paper, I trace the musical reception of Louis from its Dominican origins to its secular expression under the auspices of Louis's grandson, King Philip IV ('the Fair') of France. I consider the roles of two men whom Philip paid to compose a liturgical office of Saint Louis: Petrus de Cruce from Amiens and Gaufridus, chaplain to Jacques de Châtillon, who had close ties to the French crown. I argue that Petrus and Gaufridus composed music for different parts of the Office for Saint Louis known as Ludovicus decus. However, they took different approaches to composing music, reflecting different understandings of the relationship between music and grammar. The monk Guy of Saint-Denis (c.a. 1301) went on to contrast their combined musical effort with the approach to ecclesiastical music of previous generations. I contend that Guy's assertions go beyond practical observations on music and represent veiled reproval of both the French crown and the Dominicans.
Catherine Jeffreys is an independent scholar and former research affiliate in The Centre for Religious Studies at Monash University (2004–2020). She completed a PhD in musicology at the University of Melbourne (2000) and has published on twelfth-century German plainchant and late-thirteenth-century music theory.
Constant J. Mews is Emeritus Professor in the School of Philosophiccal, Historical and International Studies, Monash University. A specialist in the religious and intellectual history of the medieval period, he has published widely, including collaborations in editions of thirteenth-century music theorists, Johannes de Grocheio and Guy of Saint-Denis.
Carol J. Williams is an adjunct research fellow of the Centre for Medieval and Renaissance Studies of Monash University with an established academic career in both musicology and history. One of the collaborating editors and translators of the Ars Musice of Johannes de Grocheio (2011) and the Tractatus de tonis of Guy of Saint-Denis (2017), she is also a performing musician in the early music ensemble, Acord.
4 July
Nicola Kelly, University of Melbourne
Recalling 'Tyme Y-Passed': Memorial Practice in Troilus and Criseyde
When Chaucer's Criseyde invokes Prudence in the fifth book of Troilus and Criseyde, she demonstrates a threefold conception of time as 'y-passed', 'present', and 'futur'. Despite her claims that it is "future tyme" which she can "not seen," Criseyde appears very much future-oriented, demonstrating the same prophetic instinct and disregard for history that we can perceive in Pandarus, in the Trojan citizenry, and even, initially, in Troilus. Informed by Monique Scheer's theory of emotion as a practice arising from a socially and historically conditioned habitus, and additionally influenced by Paul Strohm's conception of Troilus' 'slow time', this paper proposes that Chaucerian Troy privileges a culture of forgetting, and that Troilus, retrospective and memorial, occupies a distinct temporal and emotional space which situates him outside this prevailing norm. The weight of social and cultural expectation guides the characters, Troilus included, away from the recollection of the past. This forgetful urge, arising as it does from the intratextual habitus, is nevertheless a product of the same past which it endeavours to disregard. It is in this tension, at once between past and present, remembering and forgetting, that we can perceive Troilus as a man of, but simultaneously out of, his time.
1 August
Katy Barnett, University of Melbourne
Owning Wild Animals; The Birds and the Bees
First, a discussion of laws of ownership of swans in medieval England and Wales and the distinctive courts formed just to mediate disputes over swans. Secondly, a discussion of laws of ownership of bees in Europe, including how the medieval Irish analogised bees to cows (it's less crazy than it sounds), and how bees switch from wild to tame depending on the context.
5 September
Darius von Guttner, Australian Catholic University
Jagiellons: The Dynasty That United Poland and Lithuania
In 1384 Jadwiga of the Capetian House of Anjou, the youngest daughter of Louis the Great, King of Hungary and Poland, became the queen of Poland. Her marriage to a newly converted Jogaila of Lithuania opened the history of the union of Poland and Lithuania and promised the Polish crown to Jogaila's descendants. This paper will explore the emergence of the Jagiellon Dynasty as the most powerful royal house of Central Europe and examine its fall when challenged by the ascendant Habsburgs.
Darius von Güttner-Sporzyński, Australian Catholic University, is a historian of Central Europe with a particular interest in cultural aspects of transmission of ideas and identity. He is the General Editor of Brepols' series "East Central Europe". His publications cover diverse aspects of history from the Middle Ages to the Modern. Darius' book Poland, Holy War and the Piast Dynasty (Brepols, 2014) examined the transmission of the idea of Christian holy war to and from the European periphery and challenged established historiographical position that the Poles did not participate in sacred warfare because of their "aversion to the use of violence in the matters of faith." He is currently editing two collections of essays for Brepols Publishers: Jagiellon Europe – Central Europe, examining the early modern dynastic networks of power and gender politics, and The Jagiellon Queens Consort: Queenship, Role and Impact, examining cultural, familial, religious and political aspects of women's exercise of power.
Darius is also a Principal Honorary Research Fellow in History, the University of Melbourne and a Fellow of the Royal Historical Society, UK.
3 October
Anya Adair, University of Hong Kong
The Curious Incident of the Monster in the Nighttime: Circumstantial Evidence in Early English Law and Literature
A vivid example of circumstantial evidence was presented to the modern imagination in Arthur Conan Doyle's 1892 story The Adventure of the Silver Blaze. Here, Sherlock Holmes famously solves the mystery of a missing horse by understanding the significance of the "curious incident of the dog in the night-time". The problem posed by the fate of the horse with the silver blaze is one that the Old English law-writers would have appreciated, concerned as their codes are with animals stolen and straying. But (in the absence of a reliable witness to the moment of disappearance) how would the pre-Conquest English subject and legal process have gone about solving this or an equivalent crime? Were public oaths or recourse to oath-helpers, and submission to the hot iron or boiling water, their only practical methods of arriving at the truth? Or might the early English have made use of our modern detective's methods — the application of reasoning, logic and imagination to what material evidence remains (or is significantly absent)?
This talk makes an argument for the importance of the role of circumstantial evidence in the truth-seeking endeavors of the Old English legal system, and finds traces in the decrees of the law codes to suggest that this approach to discovery was a widespread and accepted one in the legal field, adapted to a range of criminal and legal circumstances. The same interest in deliberate observation and telling inference emerges too in Old English poetry, which reveals in some of its narratives a dramatic reliance upon analogous truth-finding processes — Beowulf is the chosen exemplar here. These genres demonstrate shared (and perhaps mutually influential) intellectual and cultural approaches to truth-finding and truth-proving, particularly in situations involving criminal or legal activity — and both, I suggest, involve the imaginative interpretation of circumstantial evidence in the sense used by Sherlock Holmes.
7 November
Michael Barbezat, Australian Catholic University
The Struggle to Speak: Confession and Conversation in Purgatory
This presentation explores late medieval texts in which spirits of the dead required ritual intervention from the living to communicate. The first of these is the account of the spirit of Gui de Corvo created by the Dominican John Gobi in 1324 or 1325 and enlarged by an unknown author about a decade later. The second is a collection of ghost tales recorded by an anonymous monk of Byland on blank pages of a larger codex around the year 1400. The final text is a treatise, the De apparitionibus animarum separatarum, written by the Carthusian James of Clusa in the mid-fifteenth century.
Such accounts of laborious communications with human spirits described the formation and manifestation of the human spirit and the human person through speech. In these texts, conjuration and prayer played essential roles in the ritual communication with spirits. They did so through reference to and participation in medieval technologies of self that performed analogous functions. Each of these texts regarding conversations between the living and dead devoted care and attention to ways one could be suspicious of the human spirit and personhood manifested through the technologies they described. The suspicion they advised was also a fundamental feature of the medieval technologies of self that these texts reflected and utilised. The many discourses these ghost stories and treatises drew together provide for modern readers a window onto medieval ways of being and feeling.
5 December
Stephen Knight, University of Melbourne
Nature in Medieval English Lyrics
The rise of 'ecocriticism' in recent decades has, since the 1990s, extended its scope to medieval literature, but there has been a tendency to theorise and historicise the issue, rather than to look closely at how nature is actually represented in the texts themselves. This closer study is the purpose of a forthcoming book: the final chapter is on the lyrics. This paper will give an abbreviated version of this, looking at representations of nature itself, of the natural world in relation to religion and to human social life – and finally at ironic and even negative accounts of nature. Considerable variety of thematic and tonal treatment will be noticed across the twenty-one lyrics to be looked at in some detail.