China's Belt and Road Initiative: Bold Strategy or Irrational Exuberance?
Seminar/Forum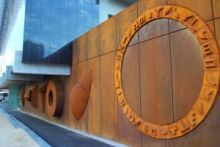 Theatre 1
Old Geology (Building 155)

Map
The Belt and Road Initiative (BRI) is a project of breathtaking scale that aims to reshape economic geography to enhance China's centrality in the world. Estimates for the costs of infrastructure to create a sea and land network linking more than 60 countries from Asia to Europe run upwards of US$6 trillion. China has to date committed several hundred billion yuan and created financial institutions to carry out the Belt and Road vision, including the Asian Infrastructure Investment Bank and the Silk Road Fund, alongside the China Development Bank, Export-Import Bank, and state-owned commercial banks. But does China have the financial wherewithal to implement this grand scheme?
This lecture examines China's recent development and places the BRI in the long arc of fiscal expansion since the turn of the century. Under Hu Jintao and Wen Jiabao, the government spent lavishly on boosting public services, especially in the rural areas, using buoyant revenues that grew from ¥1.34 trillion to ¥8.3 trillion during the decade of 2000–2010. The BRI is a signature program in Xi Jinping's assertive international posture, likewise conceived in an era of high growth and high foreign reserve accumulation. What happens when China's growth slows? Will China's fiscal institutions be robust enough to manage the transition and avoid overextending its finances under the BRI?
Presenter
Professor Christine Wong

Asia Institute, The University of Melbourne

Christine Wong is Professor of Chinese Studies and Director of the Centre for Contemporary Chinese Studies at the University of Melbourne. Prior to coming to Melbourne, Christine Wong was Professor and Director of Chinese Studies at the University of Oxford, where she was a Fellow at Lady Margaret Hall. Professor Wong has also held the Henry M. Jackson Professorship in International Studies at the University of Washington, and taught economics at the University of California, Santa Cruz; University of California, Berkeley; and Mount Holyoke College. In addition to a distinguished academic career, Professor Wong has held senior staff positions in the World Bank and the Asian Development Bank. Over the past twenty years she has worked extensively with the World Bank, the OECD, the Asian Development Bank, as well the IMF, UNDP, UNICEF, and the UK Department for International Development. She is a member of the OECD Advisory Panel on Budgeting and Public Expenditures. Professor Wong is a leading authority on China's public finance. Her work on public finance, centrallocal relations and their implications for governance, economic development and welfare in China are widely cited, including several major World Bank studies for which Professor Wong was principal author.