LGBT Diversity and the Queering of Tokyo
Seminar/Forum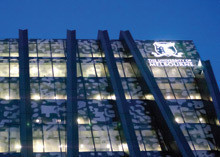 Yasuko Hiraoka Myer Room
Sidney Myer Asia Centre

Map
More information
T: 9035 4108
What does it mean when a city claims to promote diversity? Who qualify as legitimate members of a 'diverse' community, and whose lives become even less 'tolerated'? Starting with an overview of the history of sexual/spatial politics in which sexual minorities have (ab)used the public space, this lecture will examine the current politics of LGBT diversity in pre-Olympic Tokyo.
Presenter
Professor Akiko Shimizu

University of Tokyo

Professor Akiko Shimizu is a leading expert in queer theory, with a focus on bodies and (self)representation, queer disability studies, and postcolonial feminist theories. Her work examines the cultural and theoretical figures/tropes of reproduction in relation to the possibilities of imagining queer pasts and futures.