Identity and the Arts in Taiwan
Symposium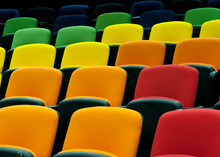 Yasuko Hiraoka Myer Room
Asia Institute
Swanston Street
Map
For the last four decades Taiwan has been one of the world's most dynamic centres for creative work in the literary, visual, cinematic and performing arts. Films by directors of Taiwan background have won major international awards; Taiwan writers, singers and actors have enjoyed superstar status in the Chinese-speaking world and beyond it; Taiwan artists have earned critical acclaim for the innovative and nuanced quality of their work. Many would suggest that this artistic dynamism has much to do with the intensity of discussion that surrounds questions of identity in Taiwan. Artists, musicians, writers and performers have been profoundly affected by debates about the kinds of identities that people in Taiwan can or should have, debates that are sparked by the complexity of the historical and cultural influences that have affected Taiwan.
This public forum will directly address the relationship between the arts and identity in Taiwan by bringing together leading scholars based in Australia whose work addresses these questions. It aims to explore both the vigour and variety of artistic expression in Taiwan and its relationship to the vigour and variety of ideas about identity in Taiwan. Covering the visual, performing, cinematic and literary arts, it will not only provide contexts for well-known works produced by Taiwan-based or Taiwan raised cultural producers, but will also introduce works that may not be familiar to those from outside Taiwan.
This forum will honour the great contribution to Taiwan Studies made by our friend, the late Professor Bruce Jacobs.
Presenters
Professor Jon Kowallis, UNSW

Dr Phyllis Yu-Ting Huang, University of Melbourne

Dr Sophie McIntyre, Queensland University of Technology (QUT)

Associate Professor Fran Martin, University of Melbourne