Garin Nugroho's Satan Jawa: Remediating Art and History in Contemporary Indonesian film
Seminar/Forum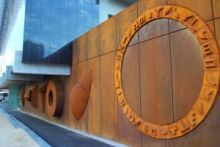 Yasuko Hiraoka Myer Room, Level 1
Sidney Myer Asia Centre

Map
More information
T: 8344 0237
From January to April, Asia TOPA: Asia-Pacific Triennal of Performing Arts will be held in Melbourne, an artistic celebration of Australia's relations with contemporary Asia. One of the main goals of Asia TOPA is to foster cultural understanding between Australia and Indonesia (see https://www.asiatopa.com.au/about).
One of the highlights of Asia TOPA is the film Satan Jawa by award-winning Indonesian filmmaker Garin Nugroho, a black and white film accompanied by live gamelan music. Satan Jawa was inspired by the German black and white silent cinema tradition, such as Nosferatu, as well as wayang kulit, the Indonesian shadow puppet theatre. Satan Jawa is an interdisciplinary production, merging filmmaking, music, dance, theatre, fashion and visual arts. Themes such as colonialism, magic realism, mysticism, mythology, and sensuality are set in a historical context.
This panel discussion will explore the topics and the themes the film addresses and will be opened by Garin Nugroho who will reflect on his new production which he calls 'an ode to my childhood in Yogyakarta'. He will be joined in conversation by Emeritus Professor Barbara Hatley, Professor Krishna Sen and Dr Sadiah Boonstra. The panel will be moderated by Dr Edwin Jurriens. The panel discussion will be held on the evening before Satan Jawa's international premiere at the Arts Centre Melbourne (Friday 24 February, 7.30pm).
Refreshments will be served from 5.30pm-6pm. The panel discussion will begin at 6pm.
Presenters
Dr Sadiah Boonstra

Sadiah Boonstra is an independent curator and historian. Her research and curatorial interests focus on the cultural history, heritage and performing arts of colonial and contemporary Indonesia in relation to the Netherlands and their representation in museums. She is author of *Changing Wayang Scenes*. Heritage formation and wayang performance practice in colonial and contemporary Indonesia (forthcoming).

Professor Krishna Sen

University of Western Australia

Krishna Sen is Professor of Indonesian Studies and Dean of Arts at the University of Western Australia. She is best known for her work on the Indonesian media and her publications include *Indonesian Cinema: Framing the New Order* (1994). Professor Sen is also is also member of the judging panel of the ReelOzInd! Australia Indonesia Short Film Competition and Festival.

Professor Emeritus Barbara Hatley

University of Tasmania

Barbara Hatley is Emeritus Professor of Indonesian in the Asian Languages and Studies Programme at the University of Tasmania. Her major research interests are in Indonesian performing arts, modern literature and gender studies. Her publications include *Javanes Performances on an Indonesian Stage: Contesting Culture, Embracing Change* (2008).

Garin Nugroho

A prolific creator of features, documentaries and short films, Garin Nugroho completed his education at the Film Academy in Jakarta. Nugroho's work has been widely praised for their aesthetics as well as for their sociopolitical criticism. He has received numerous prizes for his work, including Best Young Director at the Asia Pacific International Film Festival (1992); Best Film at the Tokyo International Film Festival (for Surat untuk Bidadari, 1994); Best Director (Pyongyang, Berlin, 1994); and the Special Jury Prize (Tokyo International Film Festival, 1998, for *Daun di atas Bantal*). More recently he was awarded the Honorary Golden Wheel at the Vesoul International Film Festival (2013); the Life Achievement Award in Indonesian Film Appreciation (2015); and the Chevalier dans l'orde des Arts et Lettres (France, 2016).