Anxious Australia: Borders, boundaries & invasive Asia
Seminar/Forum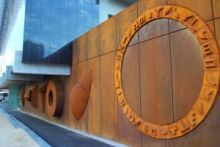 Room 321, Level 3
Sidney Myer Asia Centre

Map
More information
T: +61 3 8344 5554
In the late nineteenth century stories began to appear which suggested that 'empty' Australia was vulnerable to Asian invasion. Among the first of these was William Lane's 'White or Yellow: A Story of the Race War of AD 1908'. The Chinese were the adversary and worked hand in glove with wealthy British interests to replace a white Australia with a miscegenated future. This and related stories saw northern Australia as vulnerable to invasion. The enemy acted stealthily and came to the remote north by boat. In another version of this invasion narrative, The Coloured Conquest, published in 1903, the Japanese are the enemy. The story is narrated by the last surviving 'white man'. Such stories rehearse the pathos of loss and disappearance, not of the dispossession of Aboriginal Australia, but the anticipated disappearance of white Australia. The Coloured Conquest spells out a logic of dispossession in which white replaced black and yellow replaced white. This talk will discuss the cultural logic of these stories. How should we interpret them and what implications do they have for recent fears of contaminating boat arrivals? Are the cultural anxieties of the late nineteenth century precursors or false analogies?
Presenter
Professor Emeritus David Walker

From 2013 to 2016 **David Walker** was the inaugural BHP Billiton Chair of Australian Studies at Peking University, Beijing. He has written extensively on Australian representations of Asia. His prizewinning book, Anxious Nation: Australia and the Rise of Asia, 1850 to 1939 (UQP, 1999) has been translated into Chinese and Hindi. He is the coeditor of Australia's Asia: From Yellow Peril to Asian Century (UWA Publishing, 2012). A collection of his Asiarelated essays has been published under the title Encountering Turbulence: Asia in the Australian Imaginary (Readworthy, 2013). His recently published personal history, Not Dark Yet (which explores family, memory and the experience of becoming 'legally blind') has been translated into Chinese (光明行) and published by The People's Literature Publishing House, Beijing (2014). David Walker is a Fellow of the Academy of the Social Sciences in Australia and the Australian Academy of the Humanities.