The Precarious Balance of Hate and Love in our Times
Seminar/Forum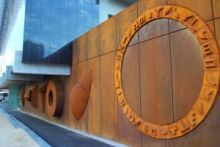 William Macmahon Ball Theatre (Room 107)
Old Arts

Map
More information
T: 8344 5554
A contribution to the understanding of hope and apathy
In the third of this series of seminars, Coll Osman addresses our hatred of reality and our limited capacity to bear it. She discusses the impact that denial, as well as the distortion of reality, has on our functioning and well-being both personally and collectively. She argues that the relative ease with which hope can be extinguished in the current climate of fear, prejudice, terrorism and racism provokes extreme reactions.
Ms Osman will emphasise that we cannot do away with our passionate natures but that we are more likely to sustain hope and resist apathy when we struggle to be informed of the state of our inner worlds as well as that of the world around us. She will suggest that such awareness diminishes the possibility that we will collude with practices and prejudices with which we consciously disagree while providing us with a more secure basis upon which to challenge ourselves and those around us.
THIS EVENT IS NOW FULLY BOOKED
Presenter
Ms Coll Osman

Melbourne Institute for Psychoanalysis

Coll Osman is a supervising and training analyst in private practice in Melbourne. She is a member of the Australian Psychoanalytical Society and the International Psychoanalytical Association and a guest member of the British Psychoanalytical Society. Prior to qualifying as an analyst, she worked with children, adolescents and adults in a variety of psychiatric settings. She is particularly interested in the clinical usefulness of Freud's recognition that all of us suffer from an enduring unconscious conflict between destructiveness and creativity. Although her focus is primarily on the way this conflict unfolds in relationships and in psychoanalytic work, she sees its relevance for addressing contentious issues in the world around us.