China's New Model of Economic Growth: China Symposium 2017
Symposium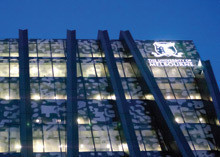 Theatre B117
Melbourne School of Design
Masson Road
Map
More information
T: 8344 0141
China's New Model of Economic Growth (2): Innovation and Technological Change
The China Symposium presents the latest research on the Chinese economy. In this year's symposium, leading scholars and the World Bank's Country Director (China, Mongolia and Korea) will discuss China's next transformation. How is China managing its economic transition through institutional reform, innovation and technological change? What fiscal and financial risks does the economy face? Is regional inequality being addressed?
Panel 1: Update on China's macroeconomic status
Chair: Professor Ross Garnaut AC, University of Melbourne
Bert Hofman, The World Bank, China's next transformation
Professor Wing Thye Woo, University of California, Davis, Managing the economic slowdown during the transition to the new path of sustainable development
Professor Yiping Huang, Peking University, Innovations in the financial sector
Professor Christine Wong, University of Melbourne, Protecting against fiscal risks
Professor Yao Yang, Peking University and University of Melbourne Asia Scholar, Regional convergence of the economy
Panel 2: Innovation and technological change
Chair: Professor Ligang Song, Australian National University
Professor Xiaobo Zhang, Peking University, China's transition to a more innovative economy
Dr Kejun Jiang, Energy Research Institute, Technological progress in developing renewable energies
Presenters
Professor Christine Wong

Director of the Centre for Contemporary Chinese Studies
University of Melbourne

Professor Christine Wong is the Director of the Centre for Contemporary Chinese Studies at the University of Melbourne and a leading authority on China's public finance. Her work on public finance, centrallocal relations and their implications for governance, economic development and welfare in China are widely cited, including several major World Bank studies for which Professor Wong was principal author. In addition to a distinguished academic career, Professor Wong has held senior staff positions in the World Bank and the Asian Development Bank. Over the past 20 years she has worked extensively with the World Bank, the OECD, the Asian Development Bank, as well the IMF, UNDP, UNICEF, and the UK Department for International Development. She is a member of the OECD Advisory Panel on Budgeting and Public Expenditures

Professor Yiping Huang, National School of Development, Peking University

Mr Bert Hofman

Country Director (China, Mongolia and Korea)
World Bank

Mr Bert Hofman, a Dutch National, is the World Bank's Country Director for China, Mongolia and Korea. Based in Beijing since 2014, this is his third tour working on China since the early 1990s. Mr Hofman is leading a team that is managing the World Bank's largest loan portfolio and directs an extensive analytical and advisory program with China and Mongolia, and a growing knowledge partnership with Korea. Prior to his present assignment, Mr Hofman was the World Bank's Chief Economist for the East Asia and Pacific Region and Director, Singapore Office from 2011–14. As regional chief economist he led a team to analyse key trends and policy issues across East Asia and the Pacific. As Director Singapore he helped build a partnership that focuses on expanding investment in infrastructure in emerging economies. Before moving to Singapore, Mr Hofman was the Country Director for the Philippines, responsible for a growing portfolio of projects and advisory services to the Philippines government. Mr Hofman has accumulated more than 23 years of experience in the World Bank, 18 in the East Asia region. Mr. Hofman was Lead Economist for China and for Indonesia and country economist for Mongolia and Namibia. He had also worked on Brazil, South Africa, Russia, Zambia, and Namibia in his earlier years with the Bank. Prior to joining the World Bank, Mr. Hofman worked at the Kiel Institute of World Economics in Germany, the Organization for Economic Cooperation and Development (OECD) in Paris, and NMB Bank in the Netherlands (now ING). Mr Hofman holds a degree in economics of Erasmus University Rotterdam and studied at the Christian Albrechts University, Kiel.