International Intervention and Local Politics: Insights from Aceh
Seminar/Forum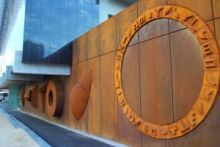 Room 321, Level 3
Sidney Myer Asia Centre

Map
Please note new time and date
International peace and statebuilding interventions have become ubiquitous since the 1990s. Their frequent failures, however, have prompted some researchers and practitioners to move beyond focusing on interveners' ideas and approaches to analysing how their interactions with recipients shape outcomes. The recently published book by Shahar Hameiri, Caroline Hughes and Fabio Scarpello, International Interventions and Local Politics: Fragmented States and the Politics of Scale (Cambridge University Press, 2017) critically evaluates these analyses. In this seminar, two of the book's authors will discuss their approaches using the Aceh Government Transformation Program a case study.
Presenters
Dr Fabio Scarpello

Murdoch University

Fabio Scarpello is a Consultant with VJW International and an Associate Fellow of the Asia Research Centre, Murdoch University.

Associate Professor Shahar Hameiri

University of Queensland

Shahar Hameiri is Associate Professor of International Politics and Associate Director of the Graduate Centre in Governance and International Affairs, School of Political Science and International Studies, University of Queensland.