Press Freedom, Law and Politics in the Jokowi Presidency
Free Public Lecture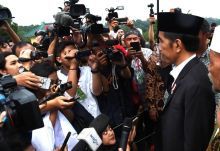 Yasuko Hiraoka Myer Room, Level 1
Sidney Myer Asia Centre

Map
This presentation examines press freedom under the administration of Joko Widodo ('Jokowi'). While a free press is often regarded as one of the successes of Indonesia's transition to democracy, Indonesian journalists remain vulnerable to various forms of violence, ranging from intimidation to criminalisation, and even extra-judicial killings.
Dr Herlambang P Wiratraman argues that this situation can be attributed to two main factors. First, decentralisation plays a role as the contestation of the political economy at the local level influences this, rather than policies at the national level. This has significantly shaped cases against journalists, where the courts have been used to retaliate against the press and to silence opposition, with this paper showing that the most targeted medias have also been those lauded for their reliability and high quality standards. As a consequence, media have adapted to this new situation, actively avoiding the judiciary. Second, the media itself have changed, with new configurations of political imperium combining media ownership and illiberal democracy have allowed for the development of a predatory system in governance and other state institutions.
Dr Wiratraman is visiting the University of Melbourne as part of the Faculty of Arts Indonesia Initiative, a visiting scholar program that aims to further enhance teaching and research relationships with colleagues in Indonesia.
Light refreshments will be served from 5.30pm. The lecture will begin at 6pm.
Presenter
Dr Herlambang P Wiratraman

Airlangga University

Dr Herlambang P Wiratraman is a lecturer and the Executive Director of the Centre of Human Rights Law Studies, Faculty of Law, Airlangga University. His research interests include human rights, constitutional law, law and society, freedom of expression, freedom of the press, and academic freedom. He is the Chairperson of Indonesian Association of Legal Philosophy (AFHI, 20132014). He also actively involved in the Indonesian Lecturers Association for Human Rights (SEPAHAM Indonesia).