Australia Now: Still the Foreign Policy of a Settler-Colonial State
Seminar/Forum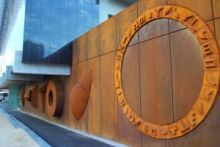 Room 321, Level 3
Sidney Myer Asia Centre

Map
Not surprisingly, given the shifting sands of hegemony in Asia, there is now considerable interest in the possibility of greater autonomy and independence in Australian foreign policy within the ANZUS alliance – or even beyond. These explorations usually draw on a narrative of an incipiently decolonised foreign policy in the 1940s, epitomised by the Chifley government's support for Indonesia against the Dutch, only to be thwarted by the stifling constraints of ANZUS and the Anglosphere.
Rightly, hopes today for even a modestly independent-minded policy within the ANZUS alliance continue this trope of throwing off the yoke of empire. Yet, the core problem is deeper and more serious still, calling for a more profound and difficult project of decolonisation to face the ongoing consequences of Australia's origins as a settler-colonial state. Without recognition of the need for a double-decolonisation based on a recognition of what and who we actually are, Australia will continue to misread its genuine national interests.
Dr Peter Smith, Training Analyst with the Australian Psychoanalytical Society and a past Chairman of the Melbourne Institute for Psychoanalysis will lead this discussion.
This is the fifth in the series of interdisciplinary seminars organised by the Asia Institute in collaboration with the Melbourne Institute for Psychoanalysis entitled 'Engaging with Southeast Asia: Anxious Nation and Fundamentalist States of Mind'.
Please email asia-institute@unimelb.edu.au to register.
Presenter
Professor Richard Tanter

Professor Richard Tanter is a Senior Research Associate at the Nautilus Institute for Security and Sustainability, and Honorary Professor, School of Social and Political Sciences, the University of Melbourne. He is also the Chair, Australian Board of the International Campaign for the Abolition of Nuclear Weapons (ICAN), which has been awarded the Nobel Peace Prize 2017.