Publications
2019
Anderson, Jaynie. The Life of Giovanni Morelli in Risorgimento Italy. Officina Libraria, 2019.
Giovanni Morelli (1816-1889) was the most influential Italian writer on art in the nineteenth century, whose books have been constantly discussed since his death... Like many men of the Risorgimento he pursued romantic visions for the creation of a new democratic country, in whose government he participated as the popular elected member for Bergamo to the Camera dei Deputati for a decade. After the revolution disillusionment gradually set in. Morelli's life provides the framework for a new understanding of the culture of the Risorgimento and reveals why and how his famous method of attribution, was invented as a diagnostic instrument to preserve the heritage of Italy. His biography shows how he achieved this by virtue of his charismatic personality, equally popular and at ease with the Bergamo electorate, as with Lombardic foot soldiers in battle, or with European Royalty, Lombard aristocrats and distinguished writers. More information...
Hall, Doug. Present Tense: Anna Schwartz Gallery and Thirty-Five Years of Contemporary Australian Art. Melbourne: Black Inc., 2019.
This vivid and revealing account of thirty-five years of art and history revolves around the locus of the internationally renowned Anna Schwartz Gallery and its eponymous founder.
The visually stunning volume combines historical vignettes, interviews, and hundreds of archival photographs and artworks. Told with wit and verve, it reveals a story that arcs from the journeys of immigrants who make up Australia's rich cultural life to the local artistic scenes of Melbourne to the global stage of the art world. More information...
Stone, Kerrianne. Horizon Lines: Marking 50 Years of Print Scholarship. Melbourne: Baillieu Library, University of Melbourne, 2019.
Horizon lines is a collection of compelling essays on Western print practitioners, print collectors and print history from the 15th to the 20th centuries. It celebrates the 50th anniversary of the Harold Wright and Sarah and William Holmes scholarships, awards which link the University of Melbourne and the British Museum and secure a unique opportunity for print scholars from across Australia and New Zealand to study prints first-hand at the British Museum. These studies have benefitted several generations of print curators and academics as well as print scholarship itself. In Horizon lines, rather like a Festschrift, the essays, all by award recipients, have been written to honour the scholarships which inspired them. More information...
2018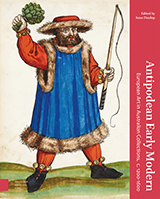 Dunlop, Anne (ed.,). Antipodean Early Modern: European Art in Australian Collections, c. 1200-1600. Amsterdam: Amsterdam University Press, 2018.
A Prayer Book owned by the Rothschilds, an Italian bronze casket by Antico, a lavishly illustrated Carnival chronicle from sixteenth-century Germany, an altarpiece by Pieter Brueghel the Younger – much of the artwork in this book, held by Australian collections, is essentially unknown beyond the continent. The authors of these essays showcase these extraordinary objects to their full potential, revealing a wide range of contemporary art and historical research. This collection of essays will surprise even specialists. More information...
Mendelssohn, Joanna; de Lorenzo, Catherine; Inglis, Alison and Speck, Catherine. Australian Art Exhibitions: opening our eyes. London: Thames and Hudson, 2018.
This pioneering publication outlines the exciting and often controversial development of Australia's public galleries and the changing conditions that have determined their exhibition programs from the 1960s to the present. The extravagantly illustrated chapters are based on the extensive research of four authors associated with four universities from three states. Trace the growth and evolution of curatorial practice in Australia's rapidly changing art scene. Read how initial consultations between state gallery directors in the 1950s and 60s led to the emergence of national endeavours under the guidance of Gough Whitlam. More information...
2015
Anderson, Jaynie; Marshall, Christopher and Yip, Andrew (eds.,). The Legacies of Bernard Smith: Essays on Australian Art, History and Cultural Politics. Sydney: Power Publications, 2016. Available from the Power Publications website
Poynter, John and Thomas, Benjamin. Miegunyah: The Bequests of Russell and Mab Grimwade. Carlton: Miegunyah Press, 2015. Available from the Melbourne University Publishing website
Stone, Kerrianne and Vaughan, Gerard (eds.,). The Piranesi Effect. Sydney: NewSouth Publishing, 2015. Available from the NewSouth Books website