Photonics Dynamical Systems (with a bit of social science?)
Seminar/Forum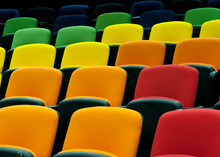 Hercus Theatre
Physics South Building

Map
My research covers a fairly broad range in lasers and photonics. For the purposes of engaging you, the audience, in reflecting on the questions below, I will present one topic - research on Photonics Dynamical Systems. This will cover advances in understanding these complex, nonlinear, experimental systems made possible by a "bigger" data approach to what is widely, and sometimes disparagingly, described as tabletop physics. The diversity of dynamical outputs from a single system can surprise.
The parallel societal discussion follows from how each audience member will judge this research – which you are encouraged to do. Will you judge it as Old Science or New Science; Significant Science or Insignificant Science; Good Science or Bad Science?
Are individual judgements on these choices governed by what the individual does and knows? How we, as individuals, respond to a departmental colloquium that is either in our field or outside it may be a good way to interrogate our own biases, if we have them. Whether you are in or out of the field of optics and photonics come along to hear about it as an opportunity to engage in the bigger question of how we as a research community might improve on how we make and communicate our judgements of the science of others, in the service of science. From a societal perspective there are clear benefits to be had if we function well as a diverse research community.
Presenter
Professor Deborah Kane

Macquarie University

Professor Deb Kane holds a Personal Chair in Physics at Macquarie University, Sydney. She received a BSc(Hons) degree in physics from University of Otago, NZ, and her PhD degree from St Andrews University, Scotland. Her current research interests include photonics dynamical systems, quantifying complexity, the optics and optical properties of certain spider webs and silks, quantitative microscopy and nanoscopy, laser materials processing, and, UV/VUV incoherent light sources. She is a Fellow of the Optical Society. She was the AIP Women in Physics Lecturer and medallist in 2006. She chaired the IUPAP Commission on Laser Physics and Photonics (20152017). She is a member of the National Committee of Physics and the Management Committee of the Australian Nanotechnology Network.