Dynamic Consent: A Tool for Improved Patient Involvement in Research
Seminar/Forum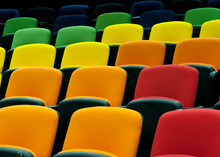 Lecture Theatre 1
Alan Gilbert Building
Grattan Street
Map
More information
T: 9035 8703
Personalised medicine will fundamentally change the role of the consumer within healthcare, and is already present in initiatives that focus on shared decision-making. New digital tools are being introduced to engage with patients, and support their participation in research or clinical studies. Dynamic consent is one such tool. It provides oversight for how data and samples are being used, and allows consumers to change their consent decisions over time. This places significant responsibility on the autonomous patient, while increased centralisation and the emphasis placed on the consumer to manage their data raises questions around cybersecurity. Do tools such as dynamic consent help or hinder the cybersecurity of health data?
Presenter
Dr Harriet Teare

Research Fellow
Melbourne Law School

Dr Harriet Teare is Deputy Director of The Centre for Health, Law and Emerging Technologies (HeLEX) at the University of Oxford, having joined that team in 2012. She is also a key researcher in the University of Melbourne's HeLEX program, established in Melbourne Law School in 2017.