Operational Listening and Computational Eugenics
Seminar/Forum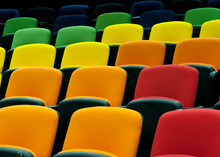 Room G08
Law
185 Pelham Street
Map
Operational Listening: Mark Andrejevic
This pre­sen­ta­tion takes as its start­ing point the work of Harun Farocki and Trevor Paglen on the rise of the ​'oper­a­tional image' to con­sider the related rise of what might be described as auto­matic or ​'oper­a­tional­ised' lis­ten­ing. This type of lis­ten­ing is becom­ing increas­ingly famil­iar thanks to the deploy­ment of smart speak­ers and a grow­ing array of net­worked audio sen­sors (from gun­shot sen­sors to work­place mon­i­tors, smart phones, and audio sur­veil­lance on public trans­port).
The talk describes the stakes of oper­a­tional­ism as the dis­place­ment of sym­bolic inter­pre­ta­tion by action, and draws on psy­cho­an­a­lytic theory to con­sider the impli­ca­tions for sub­jec­tiv­ity. The goal of the talk is to raise the ques­tion regard­ing what is lost in the shift from com­pre­hen­sion and inter­pre­ta­tion to oper­a­tion. What does it mean to say that Alexa will gather infor­ma­tion about your words but it doesn't know what you mean (beyond purely oper­a­tional com­mands)? The talk makes some spec­u­la­tive claims about the emer­gence of a world in which sym­bolic effi­ciency is replaced by oper­a­tional effi­ciency. This is, per­haps need­less to say, a fun­da­men­tally unde­mo­c­ra­tic process that is already becom­ing all-too famil­iar in these post-truth, post-delib­er­a­tive, post-polit­i­cal times.
Computational Eugenics: Jake Goldenfein
Over the past decade, researchers have been inves­ti­gat­ing new tech­nolo­gies for cat­e­goris­ing people based on phys­i­cal attrib­utes alone. Unlike pro­fil­ing with behav­ioural data cre­ated by inter­act­ing with infor­ma­tional envi­ron­ments, these tech­nolo­gies record and mea­sure data from the phys­i­cal world (i.e. signal) and use it to make a deci­sion about the ​'world state' – in this case a judge­ment about a person.
Auto­mated per­son­al­ity analy­sis and auto­mated per­son­al­ity recog­ni­tion, for instance, are grow­ing sub-dis­ci­plines of com­puter vision, com­puter lis­ten­ing, and machine learn­ing. This family of tech­niques has been used to gen­er­ate per­son­al­ity pro­files and assess­ments of sex­u­al­ity, polit­i­cal posi­tion and even crim­i­nal­ity using facial mor­pholo­gies and speech expres­sions. These pro­fil­ing sys­tems do not attempt to com­pre­hend the con­tent of speech or to under­stand actions or sen­ti­ments, but rather to read per­sonal typolo­gies and build clas­si­fiers that can deter­mine per­sonal char­ac­ter­is­tics.
While the knowl­edge claims of these pro­fil­ing tech­niques are often ten­ta­tive, they increas­ingly deploy a vari­ant of ​'big data epis­te­mol­ogy' that sug­gests there is more infor­ma­tion in a human face or in spoken sound than is acces­si­ble or com­pre­hen­si­ble to humans. This paper explores the bases of those claims and the sys­tems of mea­sure­ment that are deployed in com­puter vision and lis­ten­ing. It asks if there is some­thing new in these claims beyond ​'big data epis­te­mol­ogy', and attempts to under­stand what it means to com­bine com­pu­ta­tional empiri­cism, sta­tis­ti­cal analy­ses, and prob­a­bilis­tic rep­re­sen­ta­tions to pro­duce knowl­edge about people.
Presenters
Dr Jake Goldenfein

Swinburne University of Technology

Jake Goldenfein completed his PhD at the University of Melbourne and joined Swinburne Law School as a lecturer in 2016. His research addresses the intersection of law and technology, focusing on: surveillance, privacy and identity; distributed ledgers and blockchain platforms; intellectual property; automation and legal theory; and law in augmented reality and other cyberphysical systems. He is an admitted lawyer in Australia, and previously practiced as a solicitor in in the areas of privacy and administrative law. Jake is a board member of the Australian Privacy Foundation and the experimental arts organization Liquid Architecture. Dr Goldenfein's recent publications have explored blockchain applications in smart cities and intellectual property, the potential for automation of privacy law, the history of law enforcement intelligence databases, the relationship of privacy to police photography, and computer surveillance in remote indigenous communities.

Professor Mark Andrejevic

Monash University

Mark Andrejevic (Professor, School of Media, Film, and Journalism, Monash University) contributes expertise in the social and cultural implications of data mining, and online monitoring. He writes about monitoring and data mining from a sociocultural perspective, and is the author of three monographs and more than 60 academic articles and book chapters. He is the author of *Reality TV: The Work of Being Watched* (2004), which applies critical theory to the example of reality TV to explore the changing character and portrayal of surveillance in the digital era; *iSpy: Surveillance and Power in the Interactive Era* (2007) which examines the deployment of interactive media for monitoring and surveillance in the realms of popular culture, marketing, politics, and war; and *Infoglut: How Too Much Information Is Changing the Way We Think and Know* which explores the social, cultural, and theoretical implications of data mining and predictive analytics. Andrejevic has experience conducting both quantitative and qualitative research and is experienced in the focus group and interview methodologies. His work on the personal information project, for example, generated a book, 11 articles and book chapters, and a report on Australian attitudes toward online privacy that was launched by the Federal Privacy Commissioner.