Book Launch "The Law and Religious Market Theory; China, Taiwan and Hong Kong" by Jianlin Chen, launched by Professor Carolyn Evans
Seminar/Forum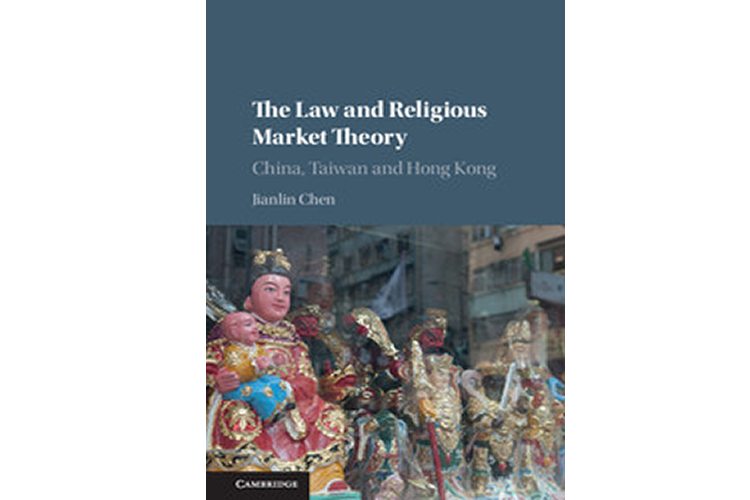 Room 920, Level 9
Melbourne Law School
185 Pelham Street
Map
More information
T: 03 8344 6847
This seminar is to launch the new book of Associate Professor Chen Jianlin "The Law and Religious Market Theory; China, Taiwan and Hong Kong", launched by Professor Carolyn Evans.
With comparative case studies from China, Taiwan and Hong Kong, Jianlin Chen's new work offers a fresh, descriptive and normative perspective on law and religion. This presentation of the original law and religious market theory employs an interdisciplinary approach that sheds light on this subject for scholars in legal and sociological disciplines. It sets out the precise nature of religious competition envisaged by the current legal regimes in the three jurisdictions and analyses how certain restrictions on religious practices may facilitate normatively desirable market dynamics. This updated and invaluable resource provides a new and insightful investigation into this fascinating area of law and religion in Greater China today.
Presenters
Professor Carolyn Evans

Deputy Vice-Chancellor
Univerisity of Melbourne

Professor Carolyn Evans was Dean of Melbourne Law School until May 2017 and was appointed University of Melbourne Deputy ViceChancellor and Deputy Provost with responsibility for graduate education. Carolyn has degrees in Arts and Law from Melbourne University and a doctorate from Oxford University where she studied as a Rhodes Scholar and where she held a stipendiary lectureship for two years before returning to Melbourne in 2000. She worked for a period as a lawyer at Blake Dawson Waldron after graduating from Melbourne. In 2010, Carolyn was awarded a Fulbright Senior Scholarship to allow her to travel as a Visiting Fellow at American and Emory Universities to examine questions of comparative religious freedom. Carolyn is the author of *Religious Freedom under the European Court of Human Rights* (OUP 2001) and coauthor of *Australian Bills of Rights: The Law of the Victorian Charter and the ACT Human Rights Act* (LexisNexis 2008). She is coeditor of *Religion and International Law* (1999, Kluwer); *Mixed Blessings: Laws, Religions and Women's Rights in the AsiaPacific Region* (2006 Martinus Nijhoff) and *Law and Religion in Historical and Theoretical Perspective* (CUP 2008). She is an internationally recognised expert on religious freedom and the relationship between law and religion and has spoken on these topics in the United States, United Kingdom, Russia, China, Greece, Vietnam, India, Hong Kong, Switzerland, Malaysia, Nepal and Australia.

Associate Professor Jianlin Chen

Associate Director Asian Law Centre
Melbourne Law School

Jianlin grew up in Singapore and Taiwan. He obtained his LLB from National University of Singapore, and his LLM and JSD from the University of Chicago. He is qualified to practice in Singapore and New York. He joined the Melbourne Law School in July 2017 after starting his academic career at the University of Hong Kong in 2011. Bilingual in English and Chinese, Jianlin publishes widely, with a monograph from Cambridge University Press, and in law journals such as Columbia Journal of Asian Law, Law & Social Inquiry, Oxford Journal of Law and Religion, 公司法评论, 北大法律评论, among many others. His primarily research interests are in the areas of natural resources law and property law, with a particular focus in emerging natural resources (e.g., wind, sunlight, atmospheric moisture) and through a combination of comparative perspectives and economic analysis. Together with other previous and current research projects that traverse diverse subject matters (e.g., law & religion, corporate law, government procurement, securities regulations, culture war, tax law), his underlying research agenda is to develop an overarching theoretical inquiry that 1) explores how the different forms of state actions—ranging from law, regulation, tax, state ownership, public contract, government speech—have surprisingly similar capacity and propensity (or the lack thereof) to achieve public interest objectives; and 2) critically evaluates the prevailing approach of prescribing distinct legal constraints and normative considerations for each category of state interventions.