Past Arts Alumni Award recipients
2020 Arts Alumni Award recipients
Lifetime Achievement Award
For an individual who has made an outstanding, long-term and internationally-recognised contribution to their field of endeavour.
Christos Tsiolkas
Bachelor of Arts, 1987
Christos Tsiolkas is a Melbourne-based playwright, essayist, film critic, and award-winning author of six novels, and the short story collection Merciless Gods. He also wrote the monograph On Patrick White for the Writers on Writers series, and co-authored the dialogue Jump Cuts: An Autobiography with Sasha Soldatow.
His works have been adapted to both the big and small screens. His debut novel Loaded (1995) was made into the feature film Head-On directed by Ana Kokkinos and starring Alex Dimitriades. His third novel Dead Europe, which won The Age Book of the Year fiction award, was also adapted for cinema by Tony Krawitz.
His 2008 novel The Slap is possibly his best known, taking as its starting point a suburban barbecue in which a man slaps someone else's child, and exploring the effects it has on the families who witnessed it. The book won the Commonwealth Writer's Prize and was made into an ABC mini-series, and was then adapted for an American audience into a mini-series starring Peter Sarsgaard, Uma Thurman and Thandie Newton. Barracuda (2013) was also adapted as a mini-series, directed by Robert Connelly.
Christos has been shortlisted for the Miles Franklin Literary Award, longlisted for the Man Booker Prize and been awarded the Australian Literary Society Gold Medal. His most recent novel, Damascus, won the 2020 Victorian Premier's Prize for Fiction. Christos's work has been published extensively overseas as well as in Australia, and The Slap has been translated into 22 other languages.
Christos is also well known for his advocacy on queer issues and on behalf of the migrant and refugee community, specifically through his journalism. He has been a Cultural Ambassador for the Asylum Seeker Resource Centre since 2013 and is also a patron of Writers Victoria.
In his own words
I fell in love with reading from a very young age and I think that it is this love of books that inevitably led me to becoming a writer. I think it is true for all writers. I was very fortunate in that – being migrants to this country – my parents were so proud and encouraging of my reading. They sacrificed to give me an education that wasn't possible for them back in their homeland. Dad would always buy me two books on Thursday, which was payday when I was a child; and as he couldn't read English, he'd buy me anything off the bargain table: Dickens, Austen but also Harold Robbins, Henry Miller. It was a real gift. It taught me from a young age to read eclectically; and it also taught me that reading wasn't only entertainment, that sometimes you had to work hard for the real rewards. From my mother I inherited my love of cinema. That splendid art has been crucial in inspiring me as a writer, to think of language as both the word itself but also the image.
Inspiration comes from the most unexpected places. Something you see outside a train window. A line of poetry. The world inspires and enters non-fiction whereas I think in fiction the inspiration is more tangential. I mean by this that I am more consciously musing and thinking on themes and questions when I approach an essay. But fiction comes from a more dream-like state. Not necessarily the unconscious itself, though dreams can inspire; but more a kind of daydreaming that is necessary to any artist. Doris Lessing used the word "fugging" and I think that is absolutely perfect word for that experience. You can be in that fugging state looking out the study window; or on a walk; or doing laps at the pool. It's our access to the netherworld.
I think I am very fortunate to have found a vocation in which I can work through doubt, confusion, sadness and disappointment. Fiction can accommodate questions and uncertainty, and it can also imagine futures and alternatives. I can put rage and melancholy into my work, explore the shadows, but emerge into real life and shrug it off.
The greatest challenge for any artist is discipline. It is only by doing the work, diligently sitting down at the desk and writing, that you learn the craft of writing. There is talent, I do believe that. But talent isn't enough for the craft. I describe writing as the apprenticeship that never ends. One of the things you have to learn is how to separate the world you create from the real world you live in. Again, I think you come to understand this through discipline, approaching writing as work, as labour. If you don't learn this truth, then I think you are in danger of betraying those you love and care for in the real world (let's call it the non-writing world).
Self-doubt can be lacerating and so often one of the greatest challenges. Again, I have found that it is only by sitting down at the desk – for me I have committed to at least a 1500-word limit a day for the last twenty-five years – that one can wrestle and beat that demon of self-doubt. It will return, it's never truly vanquished, but I do think you can forget it when lost in the work. Envy too is a demon and a challenge. You have to acknowledge it and then ridicule it, learn to laugh at yourself.
It's a genuinely humbling thing to have my work recognised by an institution where I first dived into philosophy and politics and the imagination, where I first explored the challenge of becoming adult, where I met so many of my friends (and many people I met in my student years remain friends). My partner was a student at the University of Melbourne.
All that is important, and I am deeply grateful for it, but it is the sacrifice of my parents that I want to honour in this award. I've been thinking a lot about sacrifice in this bizarre year of 2020 that began with fire and then has been dominated by the astounding changes wrought by the COVID-19 pandemic. I think those working-class migrant and refugee generations have so much teach us about fortitude, about resilience, and about gratitude. My parents, like so many of their peers, witnessed hardships that are unimaginable to my generation. My good fortune, which includes this award and this recognition, was made possible by their commitment and their sacrifice.
I was seventeen, and it was my first year at Melbourne Uni, and one day my Uncle Kosta dropped me off. He parked on Elgin Street, pointed up to one of the buildings, and then said to me, "I helped build that, I was a labourer on that site." He gave me a light, playful slap on the cheek. "We're proud of you being the first of our children to be here, Christo," he said, "but don't ever forget where you came from." He then laughed, gave me a kiss goodbye, and said, "Go, go off and be a bloody scholar!"
I want to say thank you to that generation for literally building this nation, laying all these foundations that we now take for granted. This is a real honour.
Image credit: Zoe Ali.
Leadership Award
For an individual who has demonstrated outstanding leadership in business, community or government.
Dr Genevieve Timmons
Bachelor of Arts, 1975
Diploma of Education, 1978 (Melbourne State College)
Dr Genevieve Timmons is an international consultant in philanthropy and grant making. She has been actively involved with philanthropy for more than three decades, working with numerous philanthropic entities, promoting thought leadership and pioneering approaches to organised giving in Australia and New Zealand. Throughout her career, she has specialised in engineering contemporary philanthropic strategies to address disadvantage, promote diversity and build capability for people facing disadvantage to lead their own advancement.
Current professional appointments are with the Paul Ramsay Foundation and the Naomi Milgrom Foundation. Board appointments include the Fellowship for Indigenous Leadership, TOM Melbourne and Studio Schools Australia. Recent past board appointments include the Philanthropy Australia Council, founding director and strategic adviser for the Mornington Peninsula Foundation, founding director and Chair of the Inner North Community Foundation, board member with Australian Community Philanthropy, and Ambassador of the Victorian Foundation for Survivors of Torture. She is also an Adjunct Professor at Swinburne University.
In her own words
My first encounters with philanthropy were actually when I was very young, growing up in a family of five kids in a country town where we were the beneficiaries of the generosity of other people. Our family was not well off. Like a lot of others in the town, we weren't destitute, but living week to week on Dad's income. Although we were the recipients of charity, we were never made to feel poor or disadvantaged, and with well-meaning philanthropy through our church we were provided with affordable housing and an education. We were recruited as leaders in our community as we grew up, which has stood us all in good stead to lead meaningful and productive lives. This was an indelible family and community experience for me in understanding first-hand how philanthropy can work.
I started working in philanthropy in Melbourne in the late 80s, when the number of people visible in the sector could barely have filled a combi van. There were some early leading foundations, but the style of giving was largely random acts of generosity based on well-meaning hunches. It was really a serendipitous opportunity – I had completed my Bachelor of Arts and Diploma of Education and was waiting to be assigned to a teaching role, but there was a delay of 18 months in being placed at a school in Victoria at the time. So I took on work opportunities to work in the not-for-profit sector, including being a founding staff person at the CERES project in Brunswick which was another great chance to see the impacts of catalytic philanthropy. I spent five years with CERES, converting an eight-acre tipsite into a community environmental park, which is now flourishing after 40 years of investment by community, government and philanthropy.
Philanthropy is being re-engineered and is emerging as a more powerful concept in our contemporary world, in Australia and globally. It is growing in significance for a number of reasons, but mostly because the art and science of philanthropy is now more informed than ever. The impact of the philanthropic dollar is increasingly visible, and more people now have the option to deliver significant returns for society by harnessing effective professional discipline, creativity and values. Contemporary philanthropy is also becoming democratised. We are waking up to the fact that we don't have to be mega-wealthy to start giving for social purpose, or to run businesses with social impact in mind. This means more people, with modest and significant wealth, are choosing to use their money to build a society that is just, creative and economically and environmentally sustainable.
As we deal with the fallout of the COVID 19 pandemic in 2020, it is particularly encouraging to see how philanthropic organisations and individuals are responding nimbly and creatively. I salute our membership organisations such as Philanthropy Australia, Australian Community Philanthropy and the Fellowship for Indigenous Leadership, among others, who are seizing the opportunity for powerful leadership, providing a platform for collective support and action to ensure the optimal value of philanthropic dollars is secure in such uncertain times.
I am thrilled to have been awarded this honour, not only because my own work has been recognised, but also because it signals an important coming of age for philanthropy and social investment as a field of endeavour in 2020 and beyond. And I'm deeply grateful to have been involved with philanthropy during this time of emergence, growth and change in organised giving and social generosity.
My ambition for the future of philanthropy in Australia, and across the world, is that the power of the philanthropic dollar continues to be better understood and valued, as more people become involved with the democratisation of giving, and join the 'savvy money' movement. Savvy money is about using our money as a form of agency to create the type of society we want to be part of.
Another ambition for the future is that we reclaim and renew the original definition of philanthropy, first coined during the oldest traditions of Latin and Greek philosophers of more than 2000 years ago. For those unsure of what philanthropy is, you will find it in the dictionary between two other words, philanderer and philatelist, all three derived from the Latin word phila, to love: to love women (possibly too much); to love stamps; and in the case of philanthropy, to love humanity by giving freely for the benefit of others. The word philanthropy in 2020 is still defined in ancient terms as a love of humanity, but this must embody a frank and fearless love, one that will draw us closer to collective social and political goals where the needs of everyone are respected, and their contributions valued.
Image supplied.
Contribution to the Faculty and University Award
For an individual who has made a significant and sustained contribution to the Faculty and University through outstanding leadership, impact on students, research and teaching, engagement or philanthropy.
Associate Professor Alison Inglis AM
Bachelor of Arts (Honours) – Arts, 1980
PhD, 2000
Associate Professor Alison Inglis is a leader in the field of art curatorship, art museum studies and art history, contributing not only to the Faculty of Arts through her teaching over several decades, but promoting the University of Melbourne through her outreach into the community.
Since 1995 she has coordinated the Master of Art Curatorship, one of the few art curatorship courses in Australia. The fact that many of her students now work in the museum sector in Australia and overseas is testament to her inspirational teaching. She sits on the board of Museums Victoria, was appointed Emeritus Trustee of the National Gallery of Victoria in 2010, and was made a Member of the Order of Australia (AM) in this year's Australia Day awards for service to education and to the museum and gallery sector. She has helped organise international conferences, published articles, curated exhibitions, and co-edited and co-authored significant books.
Her recent research includes two projects funded by the Australian Research Council: one examined British and Australian colonial portraits from 1700–1900; and the other investigated exhibitions of Australian art between 1968–2014. Both these important projects expanded the strength and scope of Australia's understanding of its visual culture, both historically and in the contemporary sphere.
In her own words
I'm not sure when my love of art first began, but I can still remember my amazement and delight when, as a very small child, I first encountered the public sculptures in the Ballarat gardens. One in particular stands out in my memory: the very dramatic figure group titled The Flight from Pompeii. The power of art to fire the imagination continues to amaze and intrigue me to this day.
I have always gained great pleasure and satisfaction from teaching at the University – where the students' curiosity and enthusiasm constantly provide new perspectives on the subject under discussion. At its best, teaching proves to be a vibrant interaction that challenges you to re-think your assumptions.
The Art Curatorship program celebrates its 30th anniversary this year, making it one of the oldest continuous art curatorship programs in the world! Art Curatorship emerged as a specialisation within Art History's postgraduate teaching in 1990 in response to the increasing professionalisation of the museum sector, and the program has continued to evolve and expand ever since. To me, one of the most important things about art curatorship is that it continues to promote the essential interaction between tertiary education and our cultural community. I am very proud to be associated with this course and all its remarkable teaching staff, students and alumni.
I am honoured to be awarded this Faculty of Arts Alumni Award. I have had the great pleasure of working at the University for over three decades and am thrilled to receive this recognition, which I accept not only for myself but also on behalf of my many wonderful students and generous and supportive colleagues.
Image credit: Sharon Walker.
Rising Star Award for Young Alumni
An individual who is 30 years of age or under and has demonstrated an outstanding level of professional achievement and community involvement since graduating from the University of Melbourne and/or has been recognised by colleagues and peers for their outstanding leadership and impact as a global citizen.
Saiful Bakhri
Master of Cultural Materials Conservation, 2018
Saiful Bakhri is a conservator at the Bali Cultural Heritage Preservation Office and a cultural heritage conservation consultant who has led conservation projects focused on disaster preparedness and recovery.
While studying archaeology in Indonesia, Saiful observed that Indonesia had a lack of conservators despite an abundance of cultural artefacts. He came to Melbourne to study the Master of Cultural Materials Conservation in the hope that through his studies he would develop knowledge and skills which he could take back home.
While a student at the University of Melbourne, Saiful founded Konservaction, a student-led Indonesian/Australian working group focusing on the conservation of Indonesian heritage which provides an international platform for students to develop skills in project management, workshop delivery and cross-cultural learning. Konservaction's two grant-funded projects saw six University of Melbourne students implement conservation projects with Balinese collecting institutions.
Saiful's focus as an emerging conservation professional is on building cultural material conservation as a profession in Indonesia in order to advance heritage care in the region. Having graduated in 2018, Saiful is now actively engaged in providing cross-cultural exchange opportunities between University of Melbourne students and museums in Bali.
In his own words
I am very humbled to achieve the Faculty of Arts' Rising Star Award for Young Alumni 2020. This award is not only a reminder for me not to limit myself, but also serves as a milestone for me to continue serving communities and conserving cultural heritage.
I enjoy working on archaeological and ethnographic objects most of all. These objects are quite challenging to work with because they are mostly made from a combination of various materials. Also, when they belong to the communities, they are usually sacred so the custodians will hold some obligatory rituals prior to the treatment. This certainly will affect the decision-making process in conservation.
I think conserving our culture essentially means conserving our diverse identities which eventually will lead to a more peaceful and respectful world. It may sound cliché, but a world without culture might be bland.
The artists and craftsmen in Bali never fail to inspire me. In Bali, there are still locals who use traditional methods to sculpt stones, bricks and timber in order to decorate temples, create beautiful statues and so on. I personally believe these people will be excellent collaborators for conservators.
I would like to present this award to the Grimwade Centre for Cultural Materials Conservation, particularly to Professor Robyn Sloggett for her subject, RESPECT, where she gave me invaluable insights and inspired me to work in unconventional ways. I would also like to thank Dr Marcelle Scott, a thoughtful mentor in two projects that my colleagues and I undertook in Indonesia during our studies, and last but not least, to Dr Nicole Tse, my supervisor, for the thoughts, inputs, and unwavering support during my studies.
Image supplied.
Rising Star Award for Young Alumni
An individual who is 30 years of age or under and has demonstrated an outstanding level of professional achievement and community involvement since graduating from the University of Melbourne and/or has been recognised by colleagues and peers for their outstanding leadership and impact as a global citizen.
Christie (Yating) Ding
Bachelor of Arts, 2012
Christie Ding, originally from China, graduated with a Bachelor of Arts majoring in Media and Communications in 2012. After several years working in Melbourne's media industry, she saw a gap in the market. With her experience and understanding of both Chinese and Australian cultures, she decided to establish her own multicultural brand experience agency, Brand Catalyser, which focuses on building connections between Australian businesses and Chinese markets.
Brand Catalyser was established in 2017 with just four staff. It now employs 15 people, has over 50 clients and in 2019 opened its Adelaide office. As Brand Catalyser grows, Christie also provides internship opportunities to Faculty of Arts students (most of them international students) through the Arts Internship Program, offering both personal guidance and hands-on practical experience in the industry. Some of these interns have gone on to transition to being part-time or full-time employees.
Brand Catalyser has been recognised by the Victorian Government as a service provider within the Asian Gateway Voucher program, which helps Victorian businesses to build their Asia capabilities and grow their market development capabilities.
In her own words
After working in the advertising and marketing field for many years, I have realised that as advertisers we actually have more power than we thought to influence and change the community. Hence, the work we do is extremely important and needs to be designed carefully to ensure we are making a positive impact on the community. With Australia being so close to Asia, it makes good business sense to offer Australian companies an end-to-end marketing service that is comprised of culturally-tailored communications that hit – rather than miss – the mark.
Brand Catalyser is my greatest achievement with over 15 employees and a portfolio of more than 50 clients including Go Healthy, Natio, Alibaba, Vic's Meat, Mirvac and Cherry Hill Orchards. I'm extremely proud of my team, who are making Brand Catalyser a better agency, and giving me the confidence to embrace any upcoming challenges. They are passionate about what they are doing, and always bring in new ideas and new concepts to achieve better results for our clients.
I feel honoured and grateful for such recognition of the work I have done so far. It inspires me to continue doing what I am doing, it gives me confirmation that if you are doing something wholeheartedly and are open to new things, you will be rewarded one day.
I would like to give my most sincere thanks to my business partner Hazel Hu, who has been my best friend, mentor and business partner who has helped build the team of Brand Catalyser from day one. I also want to thank my team, who has been doing an amazing job on a daily basis. And last, I want to thank my clients, who have been really supportive and open-minded in working with my team to overcome all challenges.
Image supplied.
2019 Arts Alumni Award recipients

The Rising Star Award for Young Alumni
An individual who is 30 years of age or under and has demonstrated an outstanding level of professional achievement and community involvement since graduating from the University of Melbourne and/or has been recognised by colleagues and peers for their outstanding leadership and impact as a global citizen.
Dirgayuza (Yuza) Setiawan
BA - Media and Communications, Political Science, 2011
When Dirgayuza (Yuza) Setiawan was still at high school, he and some of his friends refurbished used computers and distributed them to community organisations and orphanages so that they could use them to run computer literacy classes. What began as a school project planted the seeds for his passion for sharing with others the life-changing potential of computer and internet literacy.
Yuza completed his Bachelor of Arts at the University of Melbourne in 2011 and in 2016 graduated from Oxford University's Internet Institute Master of Social Science program in Social Science of the Internet.
He has authored 11 books on technology for Indonesian audiences, including "how to" guides for people new to using Facebook and Mac operating systems.
For the past three years, Yuza has been part of the NextGen@ICANN program, which brings together people interested in shaping the future of global internet policy.
He is also an Adjunct Fellow at the Center for Digital Society in Indonesia, Universitas Gadjah Mada's research centre on the study of modern digital societies.
Mohamed Khairat
BA - Media and Communications, Politics and International Studies, 2014
Juris Doctor (JD) 2016
Mohamed Khairat was still a Bachelor of Arts student when he founded Egyptian Streets, an independent English language media organisation in Egypt.
During a visit to Egypt in 2012, Mohamed perceived that there were major gaps in the kind of events and issues media outlets were reporting, and saw a need for change. His goal in establishing Egyptian Streets was to share stories that mattered, with a focus on driving social and cultural change by tackling key - and often sensitive - social and cultural issues.
What began as a blog in 2012 has in just a few years become one of Egypt's most important independent voices, with five permanent staff, over 30 contributors, and readership all over the world.
In addition to reporting on and sharing social and cultural stories, Mohamed has ensured that Egyptian Streets is actively involved in the community through partnerships with local non-government organisations, in local campaigns, and in fundraising for various social causes.
In 2018, Mohamed was named '30 Under 30 in Media & Marketing' by Forbes Europe and '30 Under 30 Arab' by Forbes Middle East for his role in founding Egyptian Streets.
He is currently a lawyer in the Projects & Development team at Allens, Melbourne.
Contribution to the Faculty and University Award
For an individual who has made a significant and sustained contribution to the Faculty and University through outstanding leadership, impact on students, research and teaching, engagement or philanthropy.
Dr Ted Gott
BA Hons - Classics and Archaeology, Fine Arts, 1981
PhD, 1987
Dr Ted Gott is Senior Curator of International Art at the National Gallery of Victoria and an Honorary Senior Fellow in the School of Culture and Communication at the University of Melbourne.
He began his Bachelor of Arts studies intending to be a French teacher, but emerged with a passion for classics and art history, and subsequently completed a PhD on French symbolist painter Odilon Redon.
Ted has made a significant contribution to Australia's cultural life over the past 30 years. Having held curatorial positions at the National Gallery of Victoria, the National Gallery of Australia, and the Heide Museum of Modern Art, he has curated and co-curated over 25 exhibitions.
In 1994 he curated the exhibition Don't Leave Me This Way: Art in the Age of AIDS at the National Gallery of Australia. At a time when fear of AIDS was at its peak, it was - and still is - the first exhibition on the subject to be held at a national gallery anywhere in the world, and drew an audience of 140,000 people.
The gallery had expected less than a tenth of that number to attend the exhibition; but in Ted's own words, "what [the exhibition] turned out to be was an incredible touch point that gave everyone who had been touched by the disease a place to go and express their emotion, and to find a cathartic outlet to express what they had gone through. It became an extraordinary phenomenon."
A writer and researcher, Ted has published widely on Australian, British and French art in books, catalogues, and journals, and has been actively involved in the mentoring of developing curators. A generous and enthusiastic speaker, he has given public lectures around the country in both metropolitan and regional areas.
The International Council of Museums Australia has praised Ted as "Australia's pre-eminent curator in international art", whose "experience, attention to detail, knowledge of art and history, scholarly approach and easy communication style has seen many significant exhibitions developed and presented to Australian audiences that have enchanted and enlightened academic and general audiences alike."
In 2016, he was awarded a Knighthood from the French government, L'Ordre des Arts et des Lettres (Order of Arts and Letters), in recognition of his significant contribution to the field of art.
As an Honorary Senior Fellow in the School of Culture and Communication, Ted has also been an active contributor to the Faculty of Arts, the University and its alumni community. Over the past five years, he has been a regular volunteer guest speaker at University events, has delivered public lectures, and has contributed to numerous University and Faculty of Arts publications.
Lifetime Achievement Award
For an individual who has made an outstanding, long-term and internationally-recognised contribution to their field of endeavour.
Joanna Murray-Smith
BA Hons - English and Fine Arts, 1985
Joanna Murray-Smith is the 2019 recipient of the Lifetime Achievement Award for her outstanding contribution to the arts community as Australia's most successfully produced female playwright.
Over the past 30 years, Joanna has forged a hugely successful writing career working across multiple genres including theatre, screen, opera and prose.
Joanna's stage works have been regularly performed by many Australian companies - the Melbourne, Sydney and Queensland Theatre Companies, Black Swan State Theatre Company, Opera Australia, Malthouse Theatre, Red Stitch and La Mama, to name a few - but have also found audiences around the world. Her plays appear regularly on the West End, have been staged at the National Theatre in London and on Broadway, and have been performed in over two dozen languages.
Joanna has been recognised by numerous prestigious Australian literary awards, including the Commonwealth Medal for Services to Playwriting, the Victorian Premier's Literary Award, the NSW Premier's Literary Award, Braille Book of the Year, and the inaugural Mona Brand Award for Screen and Stage Writing. She has won Green Room Awards and AWGIE (Australian Writers' Guild) Awards, been long-listed for the Miles Franklin Award, nominated for an Oliver Award, AFI Awards, the International IMPAC Dublin Literary Award, and the International Susan Blackburn Play Award.
Joanna contributes to writing communities locally and internationally by sharing her knowledge with aspiring writers through workshops and masterclasses. She has lectured at UCLA and at the New York Stage and Screen Festival, and closer to home, speaks frequently to school students studying her plays as part of the high school curriculum.
In 2012, Joanna was made a Vice Chancellor's Fellow at the University of Melbourne in recognition of her standing in the arts community. As part of this position, Joanna addressed aspiring writers, performers and directors at the University of Melbourne about creative responsibility, ethics, discipline and resilience, as well as on the fundamentals of creative writing. She also mentored students on their individual writing projects.
Leadership Award
For an individual who has demonstrated outstanding leadership in business, community or government.
Kon Karapanagiotidis OAM
Master of Development Studies 2009
Kon Karapanagiotidis OAM is the CEO and founder of the Asylum Seeker Resource Centre (ASRC) and a fierce advocate for rights of people seeking asylum, refugees and Indigenous Australians. He is also a human rights lawyer, teacher, social worker, and philanthropist.
Growing up in a small Victorian country town in the 70s and 80s as part of a Greek working-class family, Kon experienced racism first-hand. These early experiences - and learning about his grandparents' experiences as refugees fleeing the Pontic genocide in Anatolia - ignited in Kon a passion for human rights.
Kon founded the not-for-profit Asylum Seeker Resource Centre at the age of 28. Then a TAFE teacher of welfare studies, Kon had discovered that asylum seekers in the community were living without basic support. With 40 of his students, he started a new charity as part of an educational project - a student-run food bank, launched from a small Footscray shopfront with food donated from local businesses.
The ASRC started that same year, in 2001. In Kon's own words: "I started with a simple vision: I wanted to create a place of hope and welcome where no one was turned away. A centre that stood for justice, that was willing to be at the coalface when and where it mattered for people. Where dreams of freedom burned brightly in the hearts of all who entered."
Eighteen years later, the ASRC is the largest independent human rights organisation for refugees and people seeking asylum in Australia providing not only food and material aid, but support services, primary health services, and education and employment programs. Without any government funding, each year it advocates for, supports and empowers over 4,600 people seeking asylum.
2018 Arts Alumni Award recipients
Rising Star Award for Young Alumni
For individuals who are under 35 years of age and who have demonstrated an outstanding level of professional achievement and community involvement since graduating from the University of Melbourne and /or have been recognised by colleagues and peers for their outstanding leadership and impact as global citizens.
Jenna Davey-Burns
BA 2006, DipML 2006, M.Int.Pol. 2011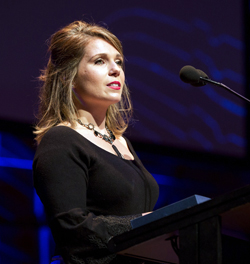 Jenna Davey-Burns is passionate about creating change. Since graduating from the University of Melbourne in 2011 Jenna has worked across not-for-profit and government sectors as a gender and human rights policy specialist.
Some of the many important projects Jenna has been involved in include, working with Christine Nixon to assist women affected by the 2009 Black Saturday Bushfires, inter-governmental policy work with the United Nations Inter-Agency project on anti-human trafficking in Bangkok and most recently, advising on the implementation of the Royal Commission into Family Violence with Djirra.
Jenna has been a Director on the board of Cambodian Kids Can since 2014, an organisation dedicated to improving educational opportunities for young women in Cambodia, and on the board of the Queen Victoria Women's Centre since 2016.
"Sometimes the biggest life lessons come when you least expect them. 12 months ago, I was hiking in Nepal when tragedy struck. Despite my efforts at CPR, a young woman who was hiking with us died. Three days after that trip my brother called and told me our father had passed away.
It was that week that crystalized life's lessons for me. Simply put, those life lessons are finding resilience, embracing the community and speaking the truth.
The biggest thing I've embraced in the last 12 months, is to take every precious moment of life and savour it. To this room full of inspiring people, I wish you all the best and to continue to take every opportunity life offers and to make it count."
Linh Do
BA 2013
Linh Do has worked tirelessly on environmental issues for the past decade. She is passionate about social change and reducing inequality.
Linh's environmental advocacy has seen her connect with a wide range of stakeholders, from high school students to the United Nations and the Reuters Foundation. She led the Australian Conservation Foundation's community organising program and has worked with Climate Action Network International. In 2010 Linh co-founded the online community engagement platform, OurSay. Most recently, Linh served as publisher and editor-in-chief of newswire service, The Verb, where she worked with an international team to localise and humanise stories from the UN Climate Change negotiations.
Linh's work has been featured in a wide variety on publications including Al Jazeera, Vogue, the Huffington Post and the Washington Post. In 2013, Linh was named a World Economic Forum Global Shaper, Australian Geographic Young Conservationist of the Year, and one of Junior Chamber International's Outstanding Young Persons of the World.
"My Bachelor of Arts degree has given me the ability to embrace a world full of complexities, where I may not always have the answer but certainly always the desire to ask myself 'how am I going to make a positive impact today'.
To the current students in the room, I hope that once you graduate you start to figure out the answer to the question of how you are going to use your Arts degree to make a difference in this world."
Contribution to the Faculty and University Award
For an individual who has made a significant and sustained contribution to the Faculty and University through outstanding leadership, impact on students, research and teaching, engagement or philanthropy.
Emerita Professor Patricia Grimshaw AO
PhD 1987
Awarded for contribution to the Faculty and University that has been outstanding in both scope and influence across many years, Professor Patricia Grimshaw has demonstrated scholarships in the field of women's history and tireless commitment to the promotion of history among women in Australia and internationally.
Professor Patricia Grimshaw has made an extraordinary contribution to women's history, academia and the wider community in her long career. Amongst an extensive list of achievements, Professor Grimshaw has been recognised as a Fellow of both the Australian Academy for Social Sciences and Australian Academy for the Humanities, served as Head of the University's Department of History and Deputy Dean of the Faculty of Arts. Professor Grimshaw was President of the International Federation for Research in Women's History and, as a Director of the National Foundation for Australian Women, was instrumental in establishing the Australian Women's Archives Project, a register of Australian women who have contributed to Australia.
Professor Grimshaw developed a pioneering course on women's history, Changing Concepts of Women's Place, an initiative which led to the creation of a centre for the history of women.
In March 2008, Professor Grimshaw was inducted into the Victorian Honour Roll of Women for pioneering women's history. In the same week, the University of Melbourne launched the Patricia Grimshaw Mentor Excellence Awards to honour her contribution as a mentor of students and colleagues.
Leadership Award
For an individual who has demonstrated outstanding leadership in business, community or government.
Dr Nadera Hayat Burhani
Master of Public Policy and Management (MPPM) 2015
Dr Nadera Hayat Burhani is an internationally-educated medical doctor, specialized in obstetrics and gyneacology. Dr Nadera was Deputy Ministers of Reproductive Health and Mother and Child Health and the Health Care Service Provision in the Ministry of Public Health in Afghanistan (2005 - 2012).
A ceaseless campaigner for women's rights, and a member of the Women Rights Defense Association, she was an elected representative of Afghan women in three Grand Assembles. Dr Nadera is responsible for the health program of Radio Rabia Balkhi that broadcasted for women awareness in Balkh province of Afghanistan.
In 2015, Dr Nadera obtained two graduate degrees, one in Public Policy and Management from the University of Melbourne, and the other in International Public Health from Liverpool University of United Kingdom studied via correspondence. Dr Nadera also holds a Diploma in International Health Regulation and an Advance Certificate after conducting a research from Geneva Medical University.
Currently, she is working as a Health Delegate/ Primary Health Care, Doctor in Ukraine and representing the Australian Red Cross through the Geneva International Committee of Red Cross.
Dr Nadera's award was accepted on her behalf by her son Fayaz Hayatullah.
"My mother started her journey from a mud house in a war-torn region of Afghanistan. She went on to become a doctor, senator and deputy minister and returned to study, she now holds multiple master's degrees in a variety of fields. My mother says, 'Tonight's ceremony is a very auspicious moment for me, I want to say that I am truly grateful for this honor."
Lifetime Achievement Award
For an individual who has made an outstanding, long-term and internationally-recognised contribution to their field of endeavour.
Stephanie Alexander AO
BA 1966
Stephanie Alexander is a prolific and bestselling author and food writer and an internationally renowned chef. Her book the Cook's Companion has sold more than 500,000 copies and is often referred to as 'the bible'.
Stephanie has always had a commitment to training and mentoring young people. She was awarded an Order of Australia (OAM) in 1994 for her services to the hospitality industry, to tourism, and for encouraging young apprentices.
Since 2001 Stephanie has been devoted to the development of the Stephanie Alexander Kitchen Garden Foundation. She believes that the earlier children learn about food and where it comes from, the better their food choices will be.
"My years at the University of Melbourne were extremely significant in my life chiefly because of the friendships I made. Although my achievements have not been in the academic field, I still regard myself as an educator.
14 years ago, I started the not for profit Stephanie Alexander Kitchen Garden Foundation. Concerned about the prevalence of obesity and its link to diabetes and other chronic diseases, I saw little if anything being offered to young children that might positively influence their food choices. I knew it had to be a program that involved pleasure, not prohibition. How we choose to eat can contribute joy as well as good health and can promote tolerance, confidence, environmental understanding and protection of our food security."
2017 Arts Alumni Award recipients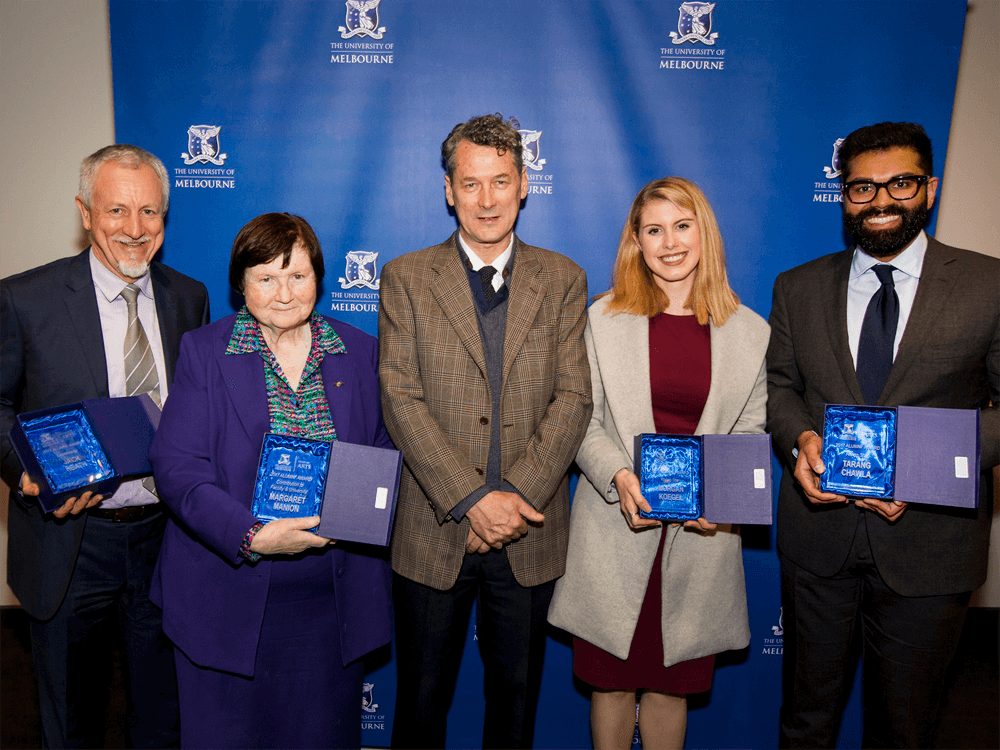 Rising Star Award for Young Alumni
An individual who is under 35 years of age and has demonstrated an outstanding level of professional achievement and community involvement since graduating from the University of Melbourne and/or has been recognised by colleagues and peers for their outstanding leadership and impact as a global citizen.
Mr Tarang Chawla
BA (Media & Communications) 2011, LLB, DipArts (Gender Studies)
Tarang Chawla was presented with the Rising Star Award for his leadership and contribution to community advocacy against domestic violence in Australia. A 2017 Young Australian of the Year finalist, Tarang founded "Not One More Niki," a campaign to end violence against women and children in memory of his sister. Tarang is a frequent speaker on violence against women, gender and diversity, and a role-model for young men to adopt non-violence and healthy masculinity. He is an Ambassador for Victoria Against Violence, White Ribbon, Our Watch, Safe Steps, InTouch and the AFL Multicultural Program. He works as an independent advisor to governments, businesses and organisations on their efforts to end domestic and family violence and is a Board Member of the Victim Survivors Advisory Council (VSAC), the Diversity and Intersectionality Working Group and the Ministerial Taskforce on the Prevention of Violence Against Women.
Upon receiving his award, Tarang said, 'I applaud you all for making that choice today [to study an Arts degree], to further critical reasoning, which in today's world is so much more vital than ever. It's such a pervasive belief in some of our communities that these fields don't lend themselves to money, so why should we bother with them? Ultimately, I'm glad I did this degree from the University of Melbourne because it's the grounding by which I think I might make a difference in years to come. I hope that when all is said and done, I can make my late 23-year old sister Niki very proud of her older brother. For current students, I encourage you to enjoy your time here, to make the most of it, to be emboldened by unconventional ideas and to have the confidence to express your own. Because when we do that, together, we create a better future for all of us.'
Ms Morgan Koegel
BA 2013
Morgan Koegel was presented with the Rising Star Award for her outstanding contribution to the fields of social advocacy and education, particularly in her role as CEO of One Girl.
One Girl is an organisation on a mission to educate 1 million girls across the developing world. Following the completion of her Arts degree, Morgan took up the post of CEO at the age of 24 after working as the CEO of Engage Education, a not-for-profit focused on keeping Australian students in the classroom. Morgan's roles in the charity sector have seen her in classrooms across Australia, in prisons providing legal education and now with One Girl, travelling across West and Central Africa. She is a passionate believer in the power of education and the capacity for young people to do anything they set their mind to.
Upon receiving her award, Morgan said, 'When the chair of the board [of One Girl] called me to offer me the role, he told me that I was actually the youngest person who had applied for it. And that surprised me. But what he said next surprised me even more. He said from your background, from the way you spoke, from your application that you handed in, we can see that you are someone who is creative, who thinks confidently, who thinks outside of the box when challenged by things you haven't heard before. Perhaps that was the first time that I saw the skills that I developed in this degree, from arguing with my classmates, from submitting papers, to having the opportunity to engage with my professors.'
Leadership Award
An individual who has demonstrated outstanding leadership in business, community or government
Mr Jack Heath
BA (Hons) 1984, LLB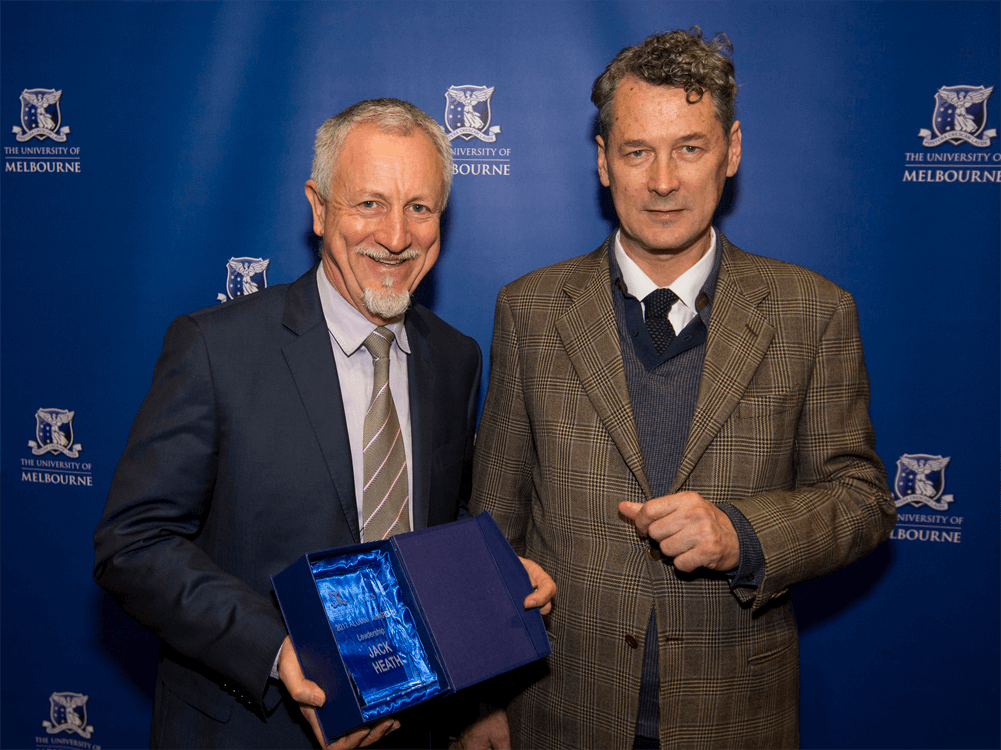 Jack Heath was presented with the Leadership Award for his outstanding leadership in government and community sectors, particularly his contribution to mental health awareness and advocacy as the CEO of SANE Australia.
Jack has been working to build better lives and give voice to the challenges and achievements of Australians affected by mental illness for close to two decades. In 1997, following the suicide of his 20-year-old cousin, Jack founded the Inspire Foundation, with the idea of using the internet to prevent youth suicide. The Inspire Foundation, which runs the ReachOut.com youth mental health service, brought to life Jack's vision of using technology to enable young people to stay connected and get the help they need, where and when they need it.
Prior to Inspire, Jack spent 10 years working in government as a diplomat, public servant and senior adviser to Prime Minister Paul Keating. After returning from the United States, where he ran the Inspire USA Foundation in 2010 and 2011, he worked with Foreign Minister Kevin Rudd and then moved back to working in mental health. In 2012, inspired by people with mental illness, and driven by his personal experience, Jack seized the opportunity to become the CEO of SANE Australia, an organisation that strives to help and support people with complex mental illness to live better and safer lives.
Upon receiving his award, Jack said, 'I got approached to run SANE and I did not want the job. And I did not want the job because of my cousin who had had schizophrenia and died of suicide, because of my mother who at that time was his primary carer and ended up at the Melbourne clinic in Richmond, and also because of an aunt who had paranoid schizophrenia as well … [But] every time I tried pushing against the door and saying, I don't want this, no I don't want this, the door kept on opening. And what happened was when I walked into SANE I came across people who are living with complex mental illness, about 700,000 of us who live with that on an annual basis, people with bipolar or schizophrenia are holding down full-time or part-time jobs, and despite having worked in mental health for over 15 years I had no idea that people could live with these terrible conditions and still show up for work and do amazing things … What I know from my work is that there can be a hunger to learn, or a hunger for hope and without benefactors and supporter, nothing happens. I want to wish each and every one of the students here the very best, and for those of us who are dealing with very difficult mental health issues or know someone who is, know that there's hope and that we can build a better future for everyone.'
Contribution to the Faculty and University Award
An individual who has made a significant and sustained contribution to the Faculty and University through outstanding leadership, impact on students, research and teaching, engagement or philanthropy.
Professor Emeritus Margaret M. Manion AO
MA Bed, PhD (Bryn Mawr) Llitt D (HON) FACE FAHA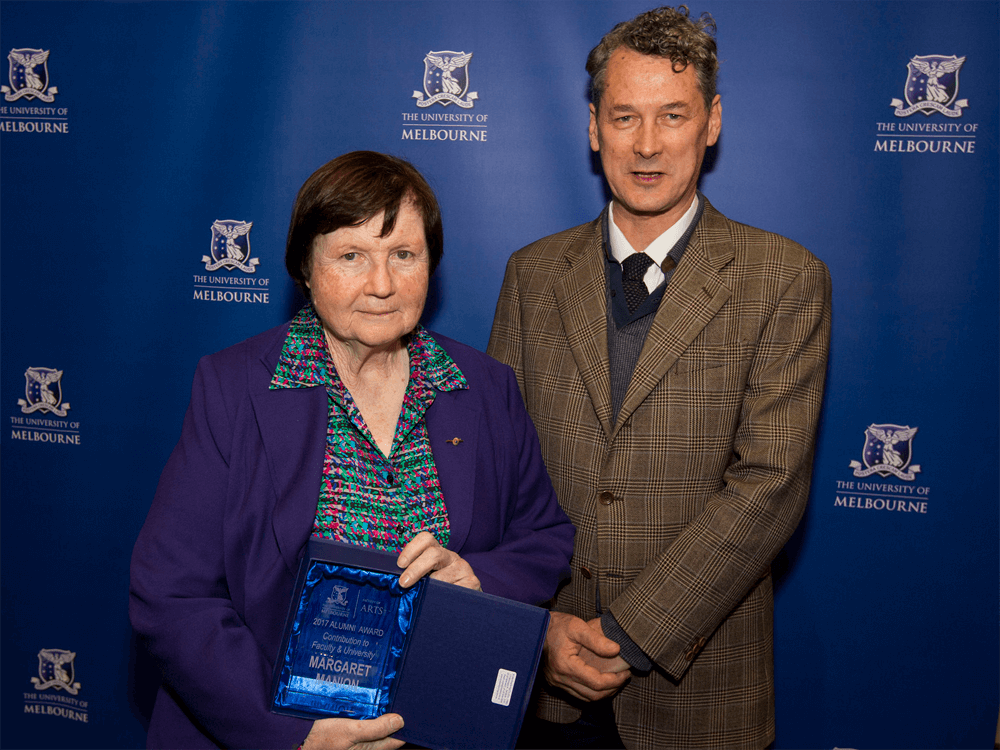 Professor Margaret Manion was presented with the Contribution to the Faculty and University Award for her outstanding and ongoing contribution to the Faculty and University, in particular, her extraordinary international influence in the field of art history.
Professor Manion is one of Australia's pre-eminent art historians, whose scholarship on Medieval and Renaissance art is acclaimed internationally. As Herald Chair of Fine Arts at the University of Melbourne from 1979 to 1995, Professor Manion set directions in the teaching of art history that have had far reaching consequences. She brought passion, generosity, dedication and creativity to her work as a scholar and teacher; and the art history program which she fostered at Melbourne has equipped generations of students, many of whom now hold positions as directors, curators and academics in major art institutions in Australia and around the world. She was the first woman to be appointed to an established Chair at the University and the first woman to chair the Academic Board. She served as Deputy Dean and Acting Dean in the Faculty of Arts, and Associate Dean for Research. Her leadership in these roles included the development of supportive programs for staff and postgraduate research, with other key achievements across the University including her major role in the establishment of the Ian Potter Museum of Art.
Professor Manion has also played a highly significant role in many organisations, particularly the National Gallery of Victoria, which has made her a Trustee Emeritus in line with her outstanding contribution to the life of that institution over many years. Margaret was made an Officer of the Order of Australia for her contribution to the arts and education in 1988, received a Centenary Medal in 2001, an honorary Doctor of Letters in 2007, and the Tucker Medal in 2016. Professor Manion's publications include ground-breaking studies of Medieval and Renaissance Art; she has curated major exhibitions; and she continues to be at the forefront of research and publications on medieval illuminated manuscripts in particular.
Upon receiving her award, Margaret said, 'I have very affectionate and long standing memories of the University of Melbourne, which was quite a foreign place for me when I arrived from Sydney. My commitment in the Herald Chair was to promote the principle of the arts in the wider community. It's been a wonderful experience to be honoured to teach and I think if you look at the arts, they're not separate and contained. The Arts faculty has a long tradition, not only of learning, but also of being engaged in [the wider community] and this can [lead graduates] to all sorts of unexpected places.'
Lifetime Achievement Award
An individual who has made an outstanding, long-term and internationally-recognised contribution to their field of endeavour.
Sir James Gobbo AC CVO KSJ QC
BA (Hons) 1952, LLD
Sir James Gobbo was presented with the Lifetime Achievement Award for his outstanding contribution to government, community, the arts, literature, history, law, international relations and the Italian community in Melbourne, and particularly for his role as Governor of Victoria and service on many community boards.
Sir James Gobbo graduated with a Bachelor of Arts (Hons) in 1952 and was admitted to practice law in 1956. After a year as a solicitor, he went to the Bar where he practiced for 21 years. He took silk in 1971 and was appointed a Judge of the Supreme Court of Victoria in 1978. He retired from the Court in 1994 and in 1995 was appointed Lieutenant Governor of Victoria and served as Governor of Victoria between 1997 and 2000. Sir James has maintained a long interest in Italian Community affairs, as reflected in his former Presidency of Co.As.It. (Italian assistance organisation). Since 1975, Sir James has served on advisory bodies to the Federal Government in connection with immigration and refugee affairs. He was a founding member in 1960 of the Immigration Reform Group, which played a key role in ending the White Australia Policy, and he was the Founding Chairman of the Australia Council of Multicultural Affairs in 1989.
Among his many community commitments, Sir James has served on the Catholic Archdiocese Finance Advisory Council and was Chairman of Mercy Private Hospital, Chairman of the Council of Caritas Christi Hospital and Board Member of Mercy Maternity Hospital. Sir James was President of the Scout Association (Victoria) from 1987 to 1997. He has also served as Chairman of the Council of the National Library of Australia and of the Council of the Order of Australia. In 1990, Sir James co-founded the International Specialised Skills Institute, he has held positions as a Victorian Commissioner to Italy, and in 1998 was conferred the highest honour bestowed by the Republic of Italy, the Order of Grand Merit of the Republic of Italy. A member also of our Melbourne Humanities Foundation Board, Sir James continues to work to provide wise counsel to the University and to develop opportunities for students to understand the richness and depth of their multicultural heritage and promote cross-cultural understanding.
Upon receiving his award, James said, 'My history teacher Kathleen Fitzpatrick once said to me, "If I'm not mistaken, you're of Italian origin" and I nodded, because I'd come here when I was seven years of age. She said, "you know Italians are very talented people, and what's more, they have the industry to use their talents." Up until then had this feeling that to be Italian was a disability. I danced out of that room on wings of eagles because I realized from that moment on that being Italian was a great asset.'
A warm congratulations to our Arts Alumni Awards recipients from the Faculty of Arts.
2016 Arts Alumni Award recipients
Lifetime Achievement Award
Professor Gary Foley
BA (Hons), PhD
Professor Gary Foley was presented with the Lifetime Achievement Award for his outstanding contribution to Aboriginal Australian advocacy, welfare and rights. Gary was a co-founder of the Aboriginal Tent Embassy in Canberra in 1972, played a pivotal role in organising protests against the Springbok tour in 1971, and was involved in the formation of the Aboriginal Legal Service in Redfern and the Aboriginal Medical Service in Melbourne and Sydney. He co-wrote and appeared in the first Aboriginal stage production in 1972, Basically Black, helped to establish the National Black Theatre, and he has starred in films such as Backroads and Dogs in Space, as well as being the first director of the Aboriginal Arts Board of the Australia Council. Gary organised protests to highlight Indigenous issues at the Brisbane Commonwealth Games and, during the Bicentenary, was a consultant to the Royal Commission into Aboriginal Deaths in Custody. He also campaigned successfully against the closure of Northland Secondary College in 1993. From 2001- 2005 Gary was the Senior Curator for South Eastern Australia at Museum Victoria.
Gary was awarded the Chancellor's Medal for this PhD thesis at the University of Melbourne on the development of the Black Power movement within the Aboriginal community, and is the author of a forthcoming book on this topic. He has also been published in numerous journals including Griffith Law Review and the Australian Journal of Human Rights. Gary is now Professor at the Moondani Balluk Indigenous Academic Unit at Victoria University.
The Faculty of Arts is proud to acknowledge Gary's dedication and contribution to academic writing and research, to advocacy and activism, to film and acting, and particularly to Aboriginal health, welfare and rights. Gary has made an extraordinary mark on the history not only of this campus and its students, but also on a world in which the role of activism and advocacy remains critical.
I got thrown out of school when I was 15 years old on the North coast of New South Wales by a racist headmaster who dismissed me with these words; "We don't want your kind here". Those words demolished my self-esteem, my self-confidence for 30 years. I came to the University almost at the age of 50, so it's a little bit of a concern to get a Lifetime Achievement Award at this age because sort of implies that I'm getting towards the end of my life. I think there's a few bites left in this old dog yet, mate! I want to pay particular tribute to Professor Nikos Papastergiadis, who was my PhD supervisor… he played a key role in helping me discipline my mind and achieve the award I received for my PhD. I also want to pay particular tribute to Dr Tony Birch, who was the first Aboriginal historian to graduate from this University … he was a role-model and a mentor for me. One other person that I'd like to pay tribute to is Dr Steven Welch, who was really one of the truly inspirational historians I studied under at this University. It was a fantastic experience…
Rising Star Award for Young Alumni Award
Jason Ball
BA
Jason Ball was presented with the Rising Star Award for his commendable leadership and outstanding contribution in the fields of anti-discrimination and LGBTIQ advocacy. After publicly coming out in 2012, Jason launched a national campaign to challenge homophobia in sport, starting a petition calling on the Australian Football League (AFL) to play 'No To Homophobia' ads on the big screen of the 2012 AFL Grand Final and to commit to a Pride Round the following year. The petition received almost 30,000 signatures and gained national and international media coverage leading to major advances in the AFL's commitment to creating a more inclusive environment for all players and supporters. Jason led the 18th Pride March Victoria with his teammates from the Yarra Glen Football Club, and he initiated the annual Pride Cup, a country football match to celebrate diversity and promote LGBTIQ inclusion. In 2013 Jason was appointed an ambassador for beyondblue to speak about issues of mental health, in schools, sporting clubs and conferences around Australia.
An outspoken political activist, Jason is standing as the Australian Greens candidate for the 2016 federal election in the division of Higgins.
There's a bit of a stereotype that an Arts degree doesn't give you the workplace-ready, job skills that you need in the community… My Bachelor of Arts developed my abilities to communicate clearly and reach people from a variety of walks in life. Not only that, but it gave me the confidence to stand up for what matters most to me and that is equality.

Lucy Thomas
BCA(Hons), PGradDipPsych
Lucy Thomas was presented with the Rising Star Award for being an outstanding innovator and contributor in the fields of social advocacy and education. Cofounder of PROJECT ROCKIT, Australia's largest youth driven anti-bullying movement combatting hate and prejudice, Lucy has been passionate and tireless in her campaign to fight bullying. Launched in 2006 by Lucy and her sister Rosie, PROJECT ROCKIT has united hundreds of thousands of young people around Australia over the past decade, helping them to feel confident to take a stand against bullying. Lucy and Rosie have served as spokespeople and consultants on cybersafety campaigns lead by research centre Young and Well CRC, headspace, Telstra, Microsoft and the Australian Communications and Media Authority.
In 2015 Lucy became an inaugural member of Twitter's global Trust and Safety Council and took up the post of Australian delegate in Facebook's compassion research summit. Lucy is also a committed LGBTIQ campaigner and sits on the board of Minus18, supporting same sex attracted and gender diverse teens. In 2014 Lucy and her sister were appointed by Unicef as one of 12 Digital Champions around the world for Children's Rights in the Digital Age.
Lucy frequently lends her expertise to consult on issues related to young people and technology contributing to programs such as ABC's Compass, Triple J's Hack, The Herald Sun and Dolly and Cleo magazines.
I'm just going to quickly share an idea; this is the idea on which PROJECT ROCKIT was founded, and I think the University of Melbourne is a great petri dish for ideas. The idea is simple, it's not very original, but it's really powerful: imagine a world where kindness and respect thrive over bullying, hate, and prejudice.

I think our task is to take the grit of our every day; the horrors, the struggles, and the boringness of our lives and transform them into something really valuable for others. And that's what I think we all need to do to make this world a kinder place for everyone, so thank you.
Contribution to the Faculty and University Award
Emeritus Professor Chris Wallace-Crabbe AM
BA, MA, DLitt
Emeritus Professor Chris Wallace-Crabbe was presented with the Contribution to the Faculty and University Award for his extraordinary support for poetry, scholarship and education over many years. Chris is a celebrated poet and academic who,alongside a long career at the University of Melbourne, also held the posts of Visiting Professor of Australian Studies at Harvard University and at the University of Venice, Ca'Foscari. He is the founding director of the Australian Centre and currently the Chair of Australian Poetry Limited. A celebrated poet, essayist and critic, Chris has dedicated much of his life to teaching the next generation of creative writers at Melbourne. Chris's academic, creative and intellectual leadership across the disciplines of English, Creative Writing and Australian Studies are widely acknowledged and have benefited innumerable students and staff over his years at the University. The role Chris played in the creation of the Australian Centre in particular has left a significant legacy.
Chris was recently acknowledged by the judges of The Melbourne Prize for his outstanding contribution to Australian literature, cultural and intellectual life. The distinction of his poetry has rightly been recognised by numerous awards, and alumni have commented warmly on his remarkable teaching and supervision of students, his role as a mentor for students and staff, and his generosity in continuing to contribute creatively and intellectually to this institution.
My father, who was a journalist, said: 'There's one thing kid - you've gotta be interested in everything…' What I've found with the University community is an encouragement to be interested in everything, an encouragement to communicate, and I've loved the way in which generation after generation of successive students has come up different and eager to do this…
Leadership Award
Lily Yulianti
GradDipArts (GS), MA (Gen&Dev), PhD
Lily Yulianti was presented with the Leadership Award for her community and organisational development in the field of media and communications in both Indonesia and Australia. Lily began her career in writing and journalism working for various Indonesian, Japanese and Australian media outlets. After completing her Masters degree at the University of Melbourne, Lily founded Indonesia's first citizen journalism web site, Panyingkul, which provides free writing courses for emerging writers of any background in her home-town Makassar, South Sulawesi Indonesia. Lily spearheaded the "Makkunrai Project", a program raising gender awareness through literature and stage performance. Lily is also the founder of Rumata' Artspace, an independent creative arts centre producing local opportunities and a centre for excellence in culture and arts in the city of Makassar. She is the initiator and director of the "Makassar International Writers Festival."
Lily's strong belief in the transformative power of the written word has seen her publishing her own work and frequently presenting at literary festivals around the world.
I do believe there's beauty in the way people at the grassroots can communicate and connect with each other. I feel connected across both Australia and Indonesia. That's why every time when people ask 'So where do you live now, Lily?,' I say I live in Makassar and Melbourne.
2015 Arts Alumni Award recipients
Lifetime Achievement Award
Professor Peter Singer
BA (Hons) 1968, MA 1969
The Arts Alumni Lifetime Achievement Award is presented to an individual who has made an outstanding, long-term and internationally-recognised contribution to their field of endeavour. The Faculty of Arts was thrilled to award a Lifetime Achievement Award to Peter Singer in 2015. Peter is an internationally recognised moral philosopher and proponent of effective altruism. Often described as the world's most influential living philosopher, Professor Peter Singer, AC completed both a Bachelor and Master of Arts at the University of Melbourne. He is an Ira W. DeCamp Professor of Bioethics at Princeton University, and Laureate Professor at our own School of Historical and Philosophical Studies. A moral philosopher, Peter has authored countless articles and more than twenty books. In 2004 Peter was recognised as the Australian Humanist of the Year by the Council of Australian Humanist Societies, in 2006 he was voted one of Australia's ten most influential public intellectuals, and on 11 June 2012, he was named a Companion of the Order of Australia for "eminent service to philosophy and bioethics as a leader of public debate and communicator of ideas in the areas of global poverty, animal welfare and the human condition."
Contribution to the Faculty and University Award
Mr Michael Bartlett
BA 1976, GDipEd 1977
The Contribution to the Faculty and University Award is bestowed upon an individual who has made a significant and sustained contribution to the Faculty and University through outstanding leadership, impact on students, research and teaching, engagement or philanthropy. The 2015 Contribution to the Faculty and University Award was awarded to Michael Bartlett, in recognition of his tireless commitment to the study of Classics at the University of Melbourne. Educated at the University of Melbourne and Cambridge University, Michael's passion for the classical world continues to this day. In collaboration with staff in the Classics and Archaeology program at the University of Melbourne, in 2008 Michael established the series, 'Classics in the city', which offers a number of seminars across the year on topics devoted to various aspects of antiquity including ancient philosophy, literature, history, music, mythology and archaeology. Since 2013 a key priority of the Melbourne Humanities Foundation Board has been to build support for a Chair in Classics at the University of Melbourne.
Championing all things classical on the Melbourne Humanities Foundation Board, Michael chaired the dedicated group raising funds to support the teaching of Classics and Ancient World Studies. The group's goal has been to see the Chair of Classics - one of the first chairs established by the University in 1854 - fully funded in perpetuity in order to ensure that the legacy of the ancient world endures for future generations. In April 2013, in his role as Chairman, Michael was able to see the first stage of this task come to fruition following a gift of $20,000 for the purpose of establishing the 'Classics Trust Fund'. The Fund supports not only the establishment and endowment of a chair of Classics, but also teaching and research, and purchase of equipment and facilities for the support of general Classics initiatives. With the assistance of over fifty gifts, including generous support from alumni Mrs Elizabeth and Professor James Tatoulis, the Faculty is delighted that it is now close to Michael's goal.
Leadership Award
Ms Erika Feller
BA/LLB (Hons) 1972
The Leadership Award is awarded to an individual who has demonstrated outstanding leadership in business, community or government. In 2015, the Faculty of Arts proudly presented Ms Erika Feller with this award, for her inspiring leadership in the field of refugee advocacy and humanitarianism. Erika Feller is a Fellow of the Australian Institute of International Affairs and a Vice Chancellor's Fellow at the Univeristy of Melbourne. From 2005 to 2013 Erika held the post of Assistant High Commissioner (Protection), one of the four top management positions with the United Nations High Commissioner for Refugees. In this capacity she was responsible for overseeing the protection of 34 million refugees, internally displaced and stateless people. With more than 40 years of experience in international human rights and refugee law, Erika is at the forefront of the development of UN policies, law procedures and frameworks, monitoring the movement and treatment of refugees around the world, including in Australia.
Rising Star Award for Young Alumni
Ms Stephanie Cousins
BA 2005, BPPM (Hons) 2006, MPub&IntLaw 2014
Awarded for her demonstrated excellence in advocacy, campaigning, capacity building, not for profit leadership, program management, Ms Stephanie Cousins received the 2015 Rising Star Award for Young Alumni. A recognized expert in humanitarian and human rights policy, Stephanie is currently Amnesty International's Government Relations Manager, having previously led Oxfam's Public Policy & Advocacy team. Among her many achievements, Stephanie counts input into Australia's strategy, priorities and agenda on the UN Security Council and the establishment of the Pacific Small Arms Action Group. As Chair of the Pacific Small Arms Action Group, Stephanie oversaw the group's contribution to the establishment of the legally binding international Arms Trade Treaty in 2013. She has trained Indonesian Defence Force personnel on the protection of civilians and prevention of sexual violence in emergencies, as well as working on secondment as a Humanitarian Policy Advisor with Oxfam International to support international advocacy and UN representation on humanitarian and human rights issues.
In 2007 Stephanie established and directed the first ever refugee camp simulation - Oxfam's Refugee Realities. This program was designed to educate Australians about the experiences and rights of refugees around the world. Initially located in Melbourne, the simulation involved the coordination of over 200 volunteers, ran for four weeks, and was attended by more than 7,000 people. Partners such as the UNHCR, the Australian Red Cross and the Refugee Council of Australia partnered in the project, which was subsequently funded by AusAID and offered in Canberra and three additional regional locations in 2009 and 2010. As a passionate campaigner for global justice, Stephanie is tireless in her attempts to make the world a fairer and more equal place.

Mr Thomas Woodroofe
MIR 2012
The Rising Star Award for Young Alumni recognising outstanding leadership and impact as a global citizen was also awarded to Mr Thomas Woodroofe in 2015. Thom founded Left Right Think-Tank in 2009, for which he was recognised as the Young Victorian of the Year. In 2011 while he was completing his honours thesis on Australia's campaign for the UN Security Council, Thom grasped the opportunity to help galvanise public support behind the campaign. Through his writing, Thom outlined the case for Australia's bid, culminating in a joint op-ed piece with Kevin Rudd, Alexander Downer and Gareth Evans. Since helping to build the bipartisan case for supporting Australia's bid, Thom has consulted with a number of different countries about how they can best structure their own campaigns for the UN Security Council.
In 2011, Thom also began work to establish Global Voices, which now provides Australia's leading opportunity for young people to attend international diplomatic events. Through Global Voices programs, almost 150 young people have now travelled overseas, fully-funded to events such as the G20, APEC and various UN meetings. Since graduating from a Master of International Relations in late 2012, Thom has worked with Independent Diplomat, the world's first non-profit diplomatic advisory group. He is currently supporting the Republic of the Marshall Islands, one of the lowest lying atoll nations, as they build their diplomatic capacity to influence negotiations for a new global deal on climate change. Working closely with the President, Foreign Minister and Senior Officials as they structure their diplomatic efforts, the Marshall Islands have become one of the most vocal vulnerable countries on climate change during this period. As a 2014 Rhodes Scholar, Thom has moved to Oxford and now completes this work part-time while he writes a thesis on the role of small states in international diplomacy.
2014 Arts Alumni Award recipients
Lifetime Achievement Award
Mr Alex Miller
BA 1965
The 2014 Lifetime Achievement Award went to Mr Alex Miller for his outstanding contribution to the field of Australian literature. Mr Miller's impressive body of work has received global recognition, which is reflected by his many awards and prizes. Mr Miller is a two-time recipient of The Miles Franklin Award for his works The Ancestor Game (1993) and Journey to the Stone Country (2003). His other accolades include the New South Wales Premier's Literary Award, the Christina Stead Prize for Fiction (2001; 2011); the Commonwealth Writer's Prize (1993), the Age Book of the Year Award (2007), the Melbourne Prize for Literature (2012), and the Victorian Premier's Award for Literature (2014).
Contribution to the Faculty and University Award
Professor Peter McPhee AM
BA (Hons) 1969, MA 1973, PhD 1977, LLD 2009
Professor Peter McPhee was awarded the 2014 Contribution to the Faculty and University Award. His contribution to the Faculty and University has been outstanding in both scope and influence across many years, with positions of academic leadership including Deputy Dean of the School of Graduate Studies, Head of the Department of History, President of the University's Academic Board, Deputy Vice-Chancellor (Academic) and the University's first Provost. Widely acknowledged as an outstanding teacher, Professor McPhee's involvement in the planning and introduction of the University's 'Melbourne Model' leaves a significant legacy at the University. In 2012 Professor McPhee was awarded a Member of the Order of Australia (AM) for his service to tertiary education administration, to the discipline of history as an academic and author, and to professional associations.
Leadership Award
Dr Helen Szoke
PGDipPPM 1992, PhD 2004
Dr Helen Szoke was the recipient of the 2014 Leadership Award. Dr Szoke received the Leadership Award for her commendable leadership and outstanding contribution to the fields of race discrimination, equal opportunity, human rights and global poverty. She is recognised for her contributions to community development, organizational development and regulation in the education, health and NGO sectors. Most notably, Dr Szoke is commended for her leadership in the expansion of the Victorian Equal Opportunity and Human Rights Commission's functions under the Charter of Human Rights Act, and the modernisation of the Equal Opportunity Act in Victoria. She is currently the Chief Executive of Oxfam Austalia, Co-Chair of 'Play by the Rules' (a collaboration to prevent discrimination, harassment and child safety issues in sport), a Board Member of Multicultural Arts Victoria, and a member of the Advisory Committee for the Centre for International Mental Health, School of Population Health University of Melbourne.
Rising Star Award for Young Alumni
Ms Jenny Taing
BA 2006, LLB (Hons) 2006
Awarded for her outstanding contribution and leadership to the community in a wide variety of fields, in particular multiculturalism, journalism and public health initiatives, Ms Jenny Taing received the 2014 Rising Star Award for Young Alumni. Alongside her work as a lawyer for the Australian Securities and Investments Commission, Ms Taing has served as a member of the board of the Royal Victorian Eye and Ear Hospital, as a Commissioner of the Victorian Multicultural Commission, on the advisory board for the University of Melbourne's Centre for Advancing Journalism and was also named among INTHEBLACK Magazine's 40 Young Business Leaders for 2013.

Dr Toby Ord
BA/BSc (Hons) 2002 UMelb, BPhil 2005, DPhil 2009 Oxford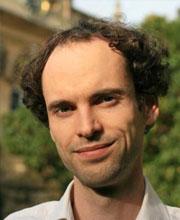 The Rising Star Award for Young Alumni recognising outstanding leadership and impact as a global citizen was also presented to Dr Toby Ord. Dr Ord has achieved global recognition for his academic and humanitarian achievements in the fields of Ethics, Global Poverty and Philanthropy. In 2009, Dr Ord launched Giving What We Can, an international society whose members pledge to donate at least 10% of their income to anti-poverty charities. Through his work with Giving What We Can, Dr Ord has helped raise more than a quarter of a billion dollars. He has multiple academic publications, has been featured in the media over 100 times, and actively disseminates information and evidence from his area of expertise to bodies such as the World Health Organisation and the World Bank.
2013 Arts Alumni Award recipients
Inaugural Rising Star Award
Ms Ellen Sandell
BA, BSc 2008
Ms Ellen Sandell was the inaugural recipient of the Rising Star Award. Ms Sandell graduated from the University of Melbourne in 2008 with a Bachelor of Arts, majoring in Spanish and Linguistics and a Bachelor of Science, majoring in Genetics. She was National Director of the Australian Youth Climate Coalition (AYCC) from 2010 to 2012, and has become one of Australia's leading commentators and campaigners on the issue of climate change. Prior to being National Director, she was also General Manager and Victorian Director of the AYCC.
In 2009 Ms Sandell was awarded the Environment Minister's Young Environmentalist of the Year award, and was also recognised as Melbourne's leading environmentalist, winning the Melbourne Awards for Individual Contribution to the Environment 2009. She was featured in The Age Melbourne Magazine as one of the top 100 influential Melburnians of 2009, and is a regular speaker and commentator on climate change and non-profit issues in the media, including publications in The Age, the National Times, ABC's Unleashed, Peppermint Magazine and more. In 2014 Ms Sandell was elected as State MP for Melbourne, giving the Australian Greens their first ever lower house state seat.