2017 Faculty of Arts Alumni Award recipients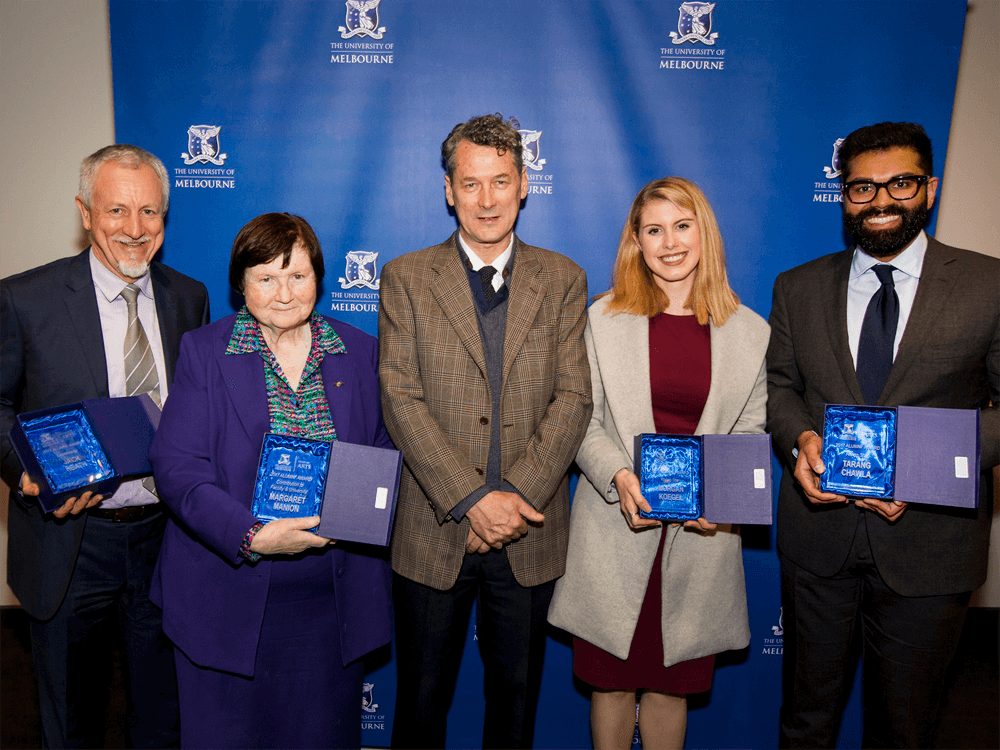 Rising Star Award for Young Alumni
An individual who is under 35 years of age and has demonstrated an outstanding level of professional achievement and community involvement since graduating from the University of Melbourne and/or has been recognised by colleagues and peers for their outstanding leadership and impact as a global citizen.
Mr Tarang Chawla
BA (Media & Communications) 2011, LLB, DipArts (Gender Studies)
Tarang Chawla was presented with the Rising Star Award for his leadership and contribution to community advocacy against domestic violence in Australia. A 2017 Young Australian of the Year finalist, Tarang founded "Not One More Niki," a campaign to end violence against women and children in memory of his sister. Tarang is a frequent speaker on violence against women, gender and diversity, and a role-model for young men to adopt non-violence and healthy masculinity. He is an Ambassador for Victoria Against Violence, White Ribbon, Our Watch, Safe Steps, InTouch and the AFL Multicultural Program. He works as an independent advisor to governments, businesses and organisations on their efforts to end domestic and family violence and is a Board Member of the Victim Survivors Advisory Council (VSAC), the Diversity and Intersectionality Working Group and the Ministerial Taskforce on the Prevention of Violence Against Women.
Upon receiving his award, Tarang said, 'I applaud you all for making that choice today [to study an Arts degree], to further critical reasoning, which in today's world is so much more vital than ever. It's such a pervasive belief in some of our communities that these fields don't lend themselves to money, so why should we bother with them? Ultimately, I'm glad I did this degree from the University of Melbourne because it's the grounding by which I think I might make a difference in years to come. I hope that when all is said and done, I can make my late 23-year old sister Niki very proud of her older brother. For current students, I encourage you to enjoy your time here, to make the most of it, to be emboldened by unconventional ideas and to have the confidence to express your own. Because when we do that, together, we create a better future for all of us.'
Ms Morgan Koegel
BA 2013
Morgan Koegel was presented with the Rising Star Award for her outstanding contribution to the fields of social advocacy and education, particularly in her role as CEO of One Girl.
One Girl is an organisation on a mission to educate 1 million girls across the developing world. Following the completion of her Arts degree, Morgan took up the post of CEO at the age of 24 after working as the CEO of Engage Education, a not-for-profit focused on keeping Australian students in the classroom. Morgan's roles in the charity sector have seen her in classrooms across Australia, in prisons providing legal education and now with One Girl, travelling across West and Central Africa. She is a passionate believer in the power of education and the capacity for young people to do anything they set their mind to.
Upon receiving her award, Morgan said, 'When the chair of the board [of One Girl] called me to offer me the role, he told me that I was actually the youngest person who had applied for it. And that surprised me. But what he said next surprised me even more. He said from your background, from the way you spoke, from your application that you handed in, we can see that you are someone who is creative, who thinks confidently, who thinks outside of the box when challenged by things you haven't heard before. Perhaps that was the first time that I saw the skills that I developed in this degree, from arguing with my classmates, from submitting papers, to having the opportunity to engage with my professors.'
Leadership Award
An individual who has demonstrated outstanding leadership in business, community or government
Mr Jack Heath
BA (Hons) 1984, LLB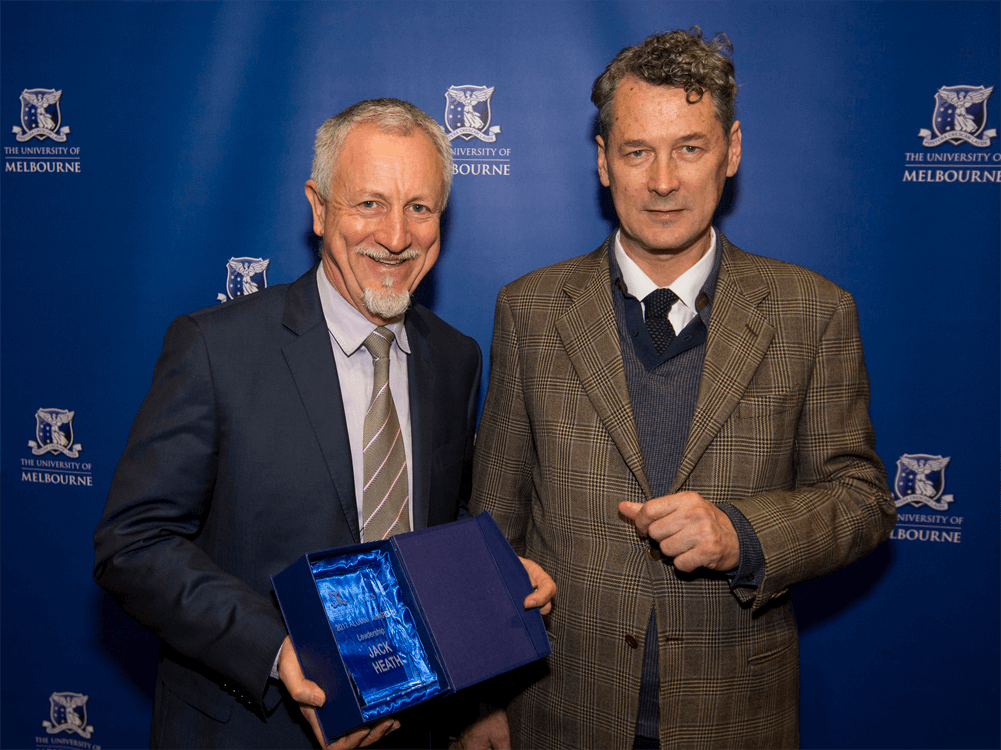 Jack Heath was presented with the Leadership Award for his outstanding leadership in government and community sectors, particularly his contribution to mental health awareness and advocacy as the CEO of SANE Australia.
Jack has been working to build better lives and give voice to the challenges and achievements of Australians affected by mental illness for close to two decades. In 1997, following the suicide of his 20-year-old cousin, Jack founded the Inspire Foundation, with the idea of using the internet to prevent youth suicide. The Inspire Foundation, which runs the ReachOut.com youth mental health service, brought to life Jack's vision of using technology to enable young people to stay connected and get the help they need, where and when they need it.
Prior to Inspire, Jack spent 10 years working in government as a diplomat, public servant and senior adviser to Prime Minister Paul Keating. After returning from the United States, where he ran the Inspire USA Foundation in 2010 and 2011, he worked with Foreign Minister Kevin Rudd and then moved back to working in mental health. In 2012, inspired by people with mental illness, and driven by his personal experience, Jack seized the opportunity to become the CEO of SANE Australia, an organisation that strives to help and support people with complex mental illness to live better and safer lives.
Upon receiving his award, Jack said, 'I got approached to run SANE and I did not want the job. And I did not want the job because of my cousin who had had schizophrenia and died of suicide, because of my mother who at that time was his primary carer and ended up at the Melbourne clinic in Richmond, and also because of an aunt who had paranoid schizophrenia as well … [But] every time I tried pushing against the door and saying, I don't want this, no I don't want this, the door kept on opening. And what happened was when I walked into SANE I came across people who are living with complex mental illness, about 700,000 of us who live with that on an annual basis, people with bipolar or schizophrenia are holding down full-time or part-time jobs, and despite having worked in mental health for over 15 years I had no idea that people could live with these terrible conditions and still show up for work and do amazing things … What I know from my work is that there can be a hunger to learn, or a hunger for hope and without benefactors and supporter, nothing happens. I want to wish each and every one of the students here the very best, and for those of us who are dealing with very difficult mental health issues or know someone who is, know that there's hope and that we can build a better future for everyone.'
Contribution to the Faculty and University Award
An individual who has made a significant and sustained contribution to the Faculty and University through outstanding leadership, impact on students, research and teaching, engagement or philanthropy.
Professor Emeritus Margaret M. Manion AO
MA Bed, PhD (Bryn Mawr) Llitt D (HON) FACE FAHA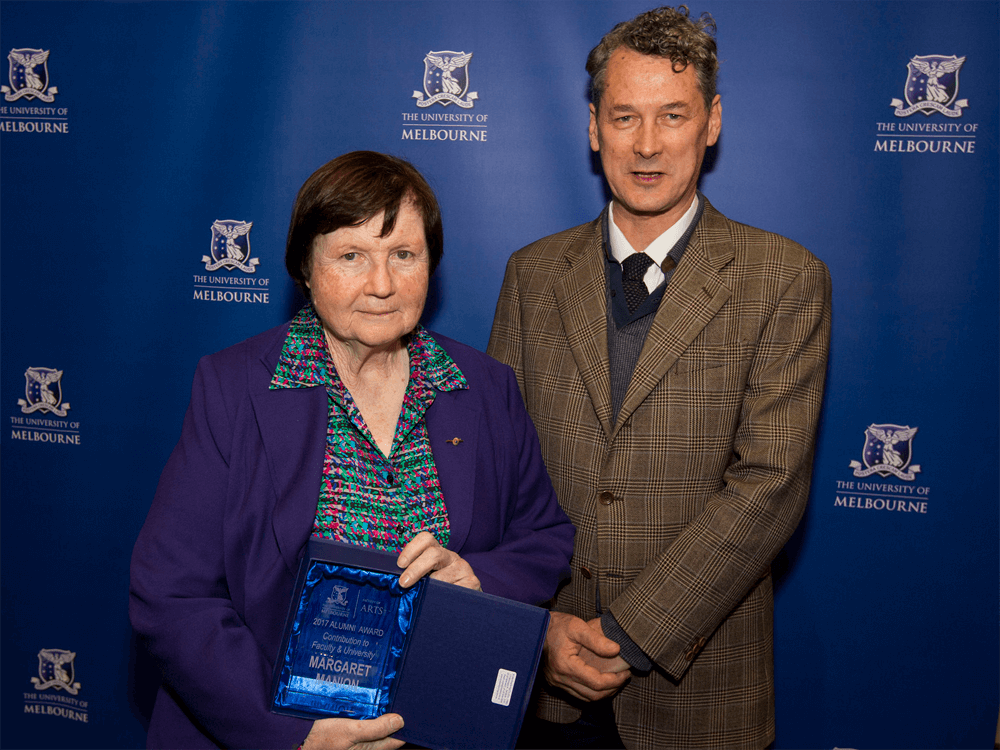 Professor Margaret Manion was presented with the Contribution to the Faculty and University Award for her outstanding and ongoing contribution to the Faculty and University, in particular, her extraordinary international influence in the field of art history.
Professor Manion is one of Australia's pre-eminent art historians, whose scholarship on Medieval and Renaissance art is acclaimed internationally. As Herald Chair of Fine Arts at the University of Melbourne from 1979 to 1995, Professor Manion set directions in the teaching of art history that have had far reaching consequences. She brought passion, generosity, dedication and creativity to her work as a scholar and teacher; and the art history program which she fostered at Melbourne has equipped generations of students, many of whom now hold positions as directors, curators and academics in major art institutions in Australia and around the world. She was the first woman to be appointed to an established Chair at the University and the first woman to chair the Academic Board. She served as Deputy Dean and Acting Dean in the Faculty of Arts, and Associate Dean for Research. Her leadership in these roles included the development of supportive programs for staff and postgraduate research, with other key achievements across the University including her major role in the establishment of the Ian Potter Museum of Art.
Professor Manion has also played a highly significant role in many organisations, particularly the National Gallery of Victoria, which has made her a Trustee Emeritus in line with her outstanding contribution to the life of that institution over many years. Margaret was made an Officer of the Order of Australia for her contribution to the arts and education in 1988, received a Centenary Medal in 2001, an honorary Doctor of Letters in 2007, and the Tucker Medal in 2016. Professor Manion's publications include ground-breaking studies of Medieval and Renaissance Art; she has curated major exhibitions; and she continues to be at the forefront of research and publications on medieval illuminated manuscripts in particular.
Upon receiving her award, Margaret said, 'I have very affectionate and long standing memories of the University of Melbourne, which was quite a foreign place for me when I arrived from Sydney. My commitment in the Herald Chair was to promote the principle of the arts in the wider community. It's been a wonderful experience to be honoured to teach and I think if you look at the arts, they're not separate and contained. The Arts faculty has a long tradition, not only of learning, but also of being engaged in [the wider community] and this can [lead graduates] to all sorts of unexpected places.'
Lifetime Achievement Award
An individual who has made an outstanding, long-term and internationally-recognised contribution to their field of endeavour.
Sir James Gobbo AC CVO KSJ QC
BA (Hons) 1952, LLD
Sir James Gobbo was presented with the Lifetime Achievement Award for his outstanding contribution to government, community, the arts, literature, history, law, international relations and the Italian community in Melbourne, and particularly for his role as Governor of Victoria and service on many community boards.
Sir James Gobbo graduated with a Bachelor of Arts (Hons) in 1952 and was admitted to practice law in 1956. After a year as a solicitor, he went to the Bar where he practiced for 21 years. He took silk in 1971 and was appointed a Judge of the Supreme Court of Victoria in 1978. He retired from the Court in 1994 and in 1995 was appointed Lieutenant Governor of Victoria and served as Governor of Victoria between 1997 and 2000. Sir James has maintained a long interest in Italian Community affairs, as reflected in his former Presidency of Co.As.It. (Italian assistance organisation). Since 1975, Sir James has served on advisory bodies to the Federal Government in connection with immigration and refugee affairs. He was a founding member in 1960 of the Immigration Reform Group, which played a key role in ending the White Australia Policy, and he was the Founding Chairman of the Australia Council of Multicultural Affairs in 1989.
Among his many community commitments, Sir James has served on the Catholic Archdiocese Finance Advisory Council and was Chairman of Mercy Private Hospital, Chairman of the Council of Caritas Christi Hospital and Board Member of Mercy Maternity Hospital. Sir James was President of the Scout Association (Victoria) from 1987 to 1997. He has also served as Chairman of the Council of the National Library of Australia and of the Council of the Order of Australia. In 1990, Sir James co-founded the International Specialised Skills Institute, he has held positions as a Victorian Commissioner to Italy, and in 1998 was conferred the highest honour bestowed by the Republic of Italy, the Order of Grand Merit of the Republic of Italy. A member also of our Melbourne Humanities Foundation Board, Sir James continues to work to provide wise counsel to the University and to develop opportunities for students to understand the richness and depth of their multicultural heritage and promote cross-cultural understanding.
Upon receiving his award, James said, 'My history teacher Kathleen Fitzpatrick once said to me, "If I'm not mistaken, you're of Italian origin" and I nodded, because I'd come here when I was seven years of age. She said, "you know Italians are very talented people, and what's more, they have the industry to use their talents." Up until then had this feeling that to be Italian was a disability. I danced out of that room on wings of eagles because I realized from that moment on that being Italian was a great asset.'
A warm congratulations to our Arts Alumni Awards recipients from the Faculty of Arts.