Professor Peter Otto
Director, Enlightenment Romanticism Contemporary Culture (ERCC) research unit
Peter Otto has published widely on William Blake, Gothic Fictions, dark Romanticism, popular entertainments, and Romanticism and contemporary culture. His current research interests, include the history of imagination and of imagination-machines; the pasts and futures of virtual reality; the post-secular; and the exchanges between architecture, fiction, imagination, and experience.
Email: peterjo@unimelb.edu.au
Phone: +61 3 8344 5482
Dr Thomas H. Ford
Lecturer in English and Theatre Studies, School of Culture and Communication, The University of Melbourne
Thomas Ford's work focuses on poems and other texts from Romanticism and the long eighteenth century. He reads this archive in the historicist traditions of philological materialism, and in light of the transdisciplinary imperatives of the environmental humanities. Ford calls this approach 'ecophilology' (a discipline that explores the role of textual environments in various settings, in all kinds of media, from the ancient cave drawings and graffiti to the contemporary electronic media). You can read about it in his new book, Wordsworth and the Poetics of Air (Cambridge University Press, April 2018).
Email: ford.t@unimelb.edu.au
Professor Vedi Hadiz
Deputy Director and Convenor of Asian Studies in the Asia Institute, The University of Melbourne
Vedi Hadiz's research interests revolve around political sociology and political economy issues, especially those related to the contradictions of development in Indonesia and Southeast Asia more broadly, and more recently, in the Middle East. Professor Hadiz's latest book is entitled Islamic Populism in Indonesia and the Middle East (Cambridge University Press 2016). His other books include Localising Power in Post-Authoritarian Indonesia: A Southeast Asia Perspective (Stanford University Press 2010) as well as the co-edited Between Dissent and Power: The Transformation of Islamic Politics in the Middle East and Asia (Palgrave Macmillan 2014).
Email: vedi.hadiz@unimelb.edu.au
Professor Trevor Burnard
Head of School of Historical and Philosophical Studies and Professor of American History, The University of Melbourne
Trevor Burnard is a scholar of early American, imperial, world and Atlantic history, with a special interest in plantation societies in the New World and their connections to eighteenth-century modernity. Particular interests include slavery, social history and demography, imperialism, economic and business history, and gender. His work over the last decade has been especially concerned with identity in the New World in the eighteenth century and with how settler societies have been formed, or have failed to form in plantation societies in the Caribbean and the Chesapeake.
Email: tburnard@unimelb.edu.au
Phone: +61 3 8344 6886
Associate Professor Clara Tuite
Academic, School of Culture and Communication, The University of Melbourne
Clara Tuite works in the literary and cultural history of Romanticism, with a particular interest in the work of Jane Austen and Lord Byron. Her research engages eighteenth- and nineteenth-century Romantic literature and culture from the perspectives of the history of the literary institution, sociability, fashion, history of emotions and sexuality studies, as well as the endurance of literary and popular Romanticisms in the contemporary moment.
Email: clarat@unimelb.edu.au
Phone: +61 3 8344 4216
Professor Deirdre Coleman
Academic, School of Culture and Communication, The University of Melbourne
Deirdre Coleman is currently working on Nancy Cato's novel, Brown Sugar (1974) about the Kanakas and Queensland's sugar industry. Another project related to her interests in nineteenth-century natural history and the development of racial science is centred on fieldwork collectors on the colonial frontiers of the Northern Territory and far north Queensland.
Email: colemand@unimelb.edu.au
Phone: +61 3 8344 5496
Professor Jennifer Milam
Head of School of Culture and Communication and Professor of Art History, The University of Melbourne
Jennifer Milam's research interests focus on understanding how the visual arts during the eighteenth century expressed philosophical ideas that rivalled the exposition of Enlightenment concepts in texts. Arguably what changed from the mid-eighteenth century onwards was broader exposure to 'big ideas' in visual form. Enlightenment ideas enjoyed wider circulation and cultural uptake through public exhibitions of art works that engaged audiences in interpretive response to aspects of the Enlightenment project. Milam will use her expertise in exactly this area to provide input into the research program of the ERCC by keeping this aspect of the Enlightenment in focus and elaborating upon its legacy in the contemporary culture sector.
Email: jennifer.milam@unimelb.edu.au
Phone: +61 3 8344 8639
Associate Professor Mark Davis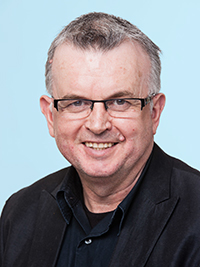 Academic, School of Culture and Communication, The University of Melbourne
Mark Davis' current research focuses on online 'anti-publics' and extreme online discourse, Australian digital literary cultures and taste making, changing media ecologies and the cultural politics of gatekeeping and disintermediation, Australian public culture, and media representations of young people. The first of my two current research projects focuses on post-digital literary cultures and the destabilisation of the literary-print cultural field by digital media. My second project focuses on online anti-publics, such as the alt-right, neo-reactionary (NRx) groups, anti-vaccination groups, anti-climate-science groups, and white nationalist groups, who use digital media to create communities that position themselves against basic democratic, scientific, and enlightenment principles.
Email: davismr@unimelb.edu.au
Phone: +61 3 8344 3349