From Melancholy to Euphoria: The Materialisation of Emotion in Middle Eastern Manuscripts
Symposium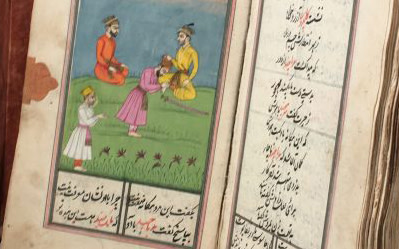 Yasuko Hiraoka Myer Room (Room 106)
Sidney Myer Asia Centre

Map
This symposium will examine the relationship between text, manuscript production (calligraphy and illumination) and the elicitation and excitation of emotions in this form of transmission of knowledge and beliefs.
The symposium is made possible by support from the Australian Research Council Centre of Excellence for the History of Emotions.
Tickets: $100 for both days.
Presenter
Professor Robyn Sloggett

Director of the Grimwade Centre for Cultural Materials Conservation
University of Melbourne

Professor Robyn Sloggett AM is Director of the Grimwade Centre for Cultural Materials Conservation at the University of Melbourne. Her research interests include attribution and authentication of cultural material, materials conservation in the AsiaPacific, collection development and history, studies in materials and techniques, and the preservation of cultural material held in regional and remote communities. She has received a number of awards for her work including the Bathurst Macquarie Heritage Medal in May 2016, Member of the General Division of the Order of Australia in 2015, International Council of Museums Australia Award for International Relations in 2013, AICCM Award for Outstanding Research in the Field of Material Conservation in 2012, and AICCM Conservator of the Year Award for Services to the Conservation Profession in 2004.