Indigenous Friends App: Owning and Decolonising Mobile Technology from a Non-Technical Person
Seminar/Forum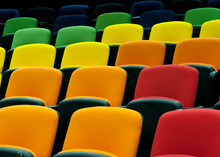 North Theatre
Old Arts

Map
More information
T: 83445345
In this talk, Ruth will express what she learned about the possibilities of decolonising technology and Indigenous control of both the design and the content of mobile technology. She will discuss her experiences with graduate student Alejandro Mayoral and the local Indigenous community in building a smartphone app. Of particular focus will be her engagement of Indigenous and non-Indigenous peoples in intentional relationships as part of the project.
Presenter
Ruth Koleszar-Green

Assistant Professor
York University of Canada

Ruth KoleszarGreen is a citizen of the Haudenosaunee confederacy, a Mohawk woman and part of the Turtle clan. As a researcher, Ruth is interested in ways to bring Onkwehonwe histories and knowledges into critical social work educations. She chairs the York wide 'Indigenous Council' and is Special Advisor to York University's President on Indigenous Initiatives. Ruth also holds restorative justice circles at Aboriginal Legal Services and is a board member at Native Child and Family Services of Toronto.