Refugee and Asylum-Seeking Children and Young People: Scholarly Research on the Past and Present
Seminar/Forum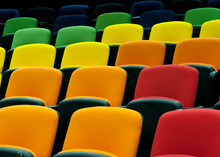 Research Lounge, Level 5
Arts West

Map
More information
T: 8344 4147
Refugee and asylum-seeking children and young people often feature in public discussion – particularly in the contexts of people's treatment in detention by Australia, children and young people's removal from their parents at the border by the US, and the dangerous journeys children and young people are taking in seeking safety in Europe. In this workshop we will consider some of the histories of the current moment, as we endeavour to understand what brought us here, and what role universities (and those who work in them) can play in developing new discourses, practices, and policies.
The event is part of the ARC Kathleen Fitzpatrick Laureate Fellowship Research Project on Children Refugees and Australian Internationalism. The event is free to attend but RSVP is required, for catering purposes, to jordys@unimelb.edu.au by Friday 19 October.
Presenters
Ms Alisha Fernando

Associate Director, Diversity & Inclusion
University of Melbourne

Alisha Fernando is the Associate Director of Diversity and Inclusion at the University of Melbourne where she is responsible for leading the Diversity and Inclusion portfolio across the University, with a strong focus on implementation of programs and initiatives supporting 5 key pillars: Gender, LGBTI+, Disability, Mental Health and Wellbeing, Indigenous, Ethnicity and Race, and hold Bachelor degree in Business Banking and Finance (Monash University). Alisha has worked in specialised community and industry programs focused on Indigenous Australians, Asylum Seekers / Refugees, People with Disabilities, LGBTI+ awareness, support and engagement, Community Giving, Women in Leadership and Family Violence initiatives. She is a recipient of a full scholarship to the Victorian Government's 2018 Joan Kirner Young and Emerging Women's Leaders Program.

Dr Karen Block

,

Associate Director, Jack Brockhoff Child Health & Wellbeing Program Centre for Health Equity, Melbourne School of Population and Global Health and Program Coordinator, PhD Program in Refugee and Forced Migration Studies

Dr Karen Block

Associate Director, Jack Brockhoff Child Health & Wellbeing Program Centre for Health Equity, Melbourne School of Population and Global Health and Program Coordinator, PhD Program in Refugee and Forced Migration Studies
The University of Melbourne

Dr Karen Block has an interest in qualitative methodologies, mixed methods research and research ethics. She is currently working on a range of projects involving children and young people with a focus on social inclusion, health inequalities, evaluating complex interventions and working in collaborative partnerships with the community. She is an active member of a number of interdisciplinary groups including Researchers for Asylum Seekers (RAS) and the Melbourne Refugee Studies Program. Karen's PhD project 'Refugee Youth, Social Inclusion and Health', aimed to contribute to a deeper understanding of the issues impacting on social inclusion for newlyarrived adolescent and young adult refugees in Australia and to inform policy and program development relating to service provision for this population and was supported by a NHMRC postgraduate scholarship and a Sidney Myer Health Scholarship. Building on this, current projects focus on refugee background young people and families in a range of Australian settings. She is also a member of the Beyond Bushfires research team, engaged in a study of the medium to long term impacts on communities of the February 2009 'Black Saturday' bushfires in Victoria

Dr Sana Nakata

Sana Nakata has been a Lecturer in Political Science at The University of Melbourne since graduating with her PhD in 2012. She also holds Arts and Law degrees from the university. As a student, she worked at Victoria Legal Aid, Department of Premier and Cabinet (Victoria) and the United States House of Representatives. Her first book,*Childhood citizenship, Governance and Policy: the politics of becoming adult* based on her PhD research was published with Routledge in early 2015. Her current research explores representations of childhood in Australian political controversies since 2001.

Dr Carly McLaughlin

University of Potsdam

Dr Carly McLaughlin has degrees in Modern Languages (French and German) from the University of Oxford and completed her PhD in German Literature at the University of London in 2008. She has taught English literary and cultural studies in Germany and Sweden. In 2013 she joined The University of Potsdam and began postdoctoral research on children and migration. Carly is specifically interested in how the politics of childhood influences how child migrants are perceived, especially within the context of 'illegal' migration.