Teaching History in the 21st Century
Seminar/Forum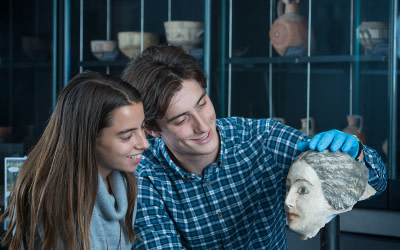 Forum Lecture Theatre, Level 1
Arts West - North Wing

Map
More information
T: 0383442543
Moderated by Professor Mark Edele, the Hansen Chair in History, this one-hour discussion will address the continuities and discontinuities in History learning at secondary and tertiary levels, and provide insights on how to foster interest in History.
Bringing together leading educators, the panel will discuss the opportunities and challenges of new teaching methods, and offer perspectives on the social importance of teaching History in the 21st Century.
The panel will consider the value of History as a discipline, and its unique place at the intersection of the social sciences and the humanities. The reflections offered will be of particular interest to history educators at all stages of their career, from postgraduate students and early career teachers, to master educators.
Panel members include members of the History Teachers' Association Victoria, a current Victorian secondary school history teacher; and lecturers from the School of Historical and Philosophical Studies, and the Melbourne Graduate School of Education.
Presenters
Professor Mark Edele,

Hansen Chair in History, School of Historical and Philosophical Studies

Deb Hull,

Executive Officer

Dr Jenny Spinks,

Hansen Senior Lecturer in History

John Whitehouse,

Lecturer in History/Humanities, Melbourne Graduate School of Education

Lucy Jongebloed,

Head of History and Classical Studies