Human Musicality
Free Public Lecture
Cancelled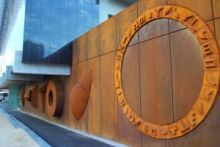 103 (Lowe Theatre)
Redmond Barry Building

Map
More information
T: 0425765467
This event has been cancelled and maybe rescheduled in 2018.
Professor Jeremy Begbie will present a live lecture transmitted from Cambridge University followed by a response from Dr Joseph Jordania, from the Conservatorium at The University of Melbourne. The topic is whether human musicality is an evolutionary extension, with cultural glosses, of the remarkable sounds made by other animals (birds, dolphins,...) or does something new also come to light in human musicality that discloses something new about human beings and about the kind of world in which we live?
Yamaha Music Australia is providing the piano for Dr Jordania.
Presenters
Dr Joseph Jordania

Lecturer in World Music at the Conservatorium
The University of Melbourne

"Dr Joseph Jordania teaches World Music Choir at the Conservatorium. His research interests are the origins of human choral singing, origins of intelligence, language, speech, speech pathology, human evolution, humananimal interaction. In 2009 he received the higest international award i ethnomusicology Fumio Koiumi Prize (Japan). Among his books are: JORDANIA, J., (2006), Who Asked the First Question: Origins of Vocal Polyphony, Human Intelligence, Language and Speech., (Logos, Tbilisi State University). JORDANIA, J., (2011), Why Do People Sing?, (Logos, Tbilisi State University); His most recent book is A New Mode of Human Evolution: How Predators Shaped Human Morphology and Behaviour." (Lambert Academic Publishers, 2017)

Professor Jeremy Begbie

Thomas A. Langford Research Professor of Theology
Duke Divinity School, Durham, NC

Professor Jeremy Begbie teaches systematic theology. His particular research interests are in the interplay between music and theology. He is a senior member of Wolfson College and an affiliated lecturer in the faculty of music at the University of Cambridge. A professionally trained musician, he has performed extensively as a pianist, oboist and conductor. He is an ordained minister of the Church of England, having served for a number of years as assistant pastor of a church in West London. He is author of a number of books, including Voicing Creation's Praise: Towards a Theology of the Arts (T & T Clark); Theology, Music and Time (CUP), and most recently, Resounding Truth: Christian Wisdom in the World of Music (Baker/SPCK), which won the Christianity Today 2008 Book Award in the Theology/Ethics Category. Most recently, he has published Music, Modernity, and God (OUP).