Design Sensibility: Viennese émigrés in Australia
Free Public Lecture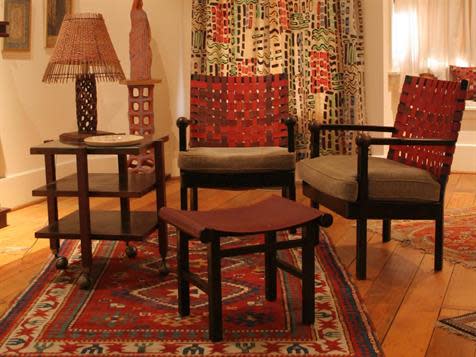 Forum Theatre
Arts West

Map
Annual Duldig Lecture for 2017
Situated between international modernism and local debates about 'Australian' architecture and design, Viennese designers negotiated the values of European design within a fast-changing postwar Australian environment.
In this lecture Professor Harriet Edquist will show how personal histories of émigré and refugee Viennese designers throw into question Australian design history's often limited definition of design as a purely modernist professional practice beholden to a national agenda. She will argue that on the contrary, geographical and cultural boundaries are fluid, that learning never stops, that memory was often central to the émigré expression of "home" and that the ideology of the avant-garde could be avoided.
Inaugurated in 1986, the Annual Duldig Lecture on Sculpture commemorates the life and work of the artists Karl Duldig and Slawa Horowitz Duldig. This lecture is supported by the Duldig Studio, museum + sculpture garden.
Image courtesy of Duldig Studio: Sitting Room of Duldig Studio showing Viennese furnishings.
Presenter
Professor Harriet Edquist

Professor of Architectural History
RMIT University

Harriet Edquist is Professor of Architectural History in the School of Architecture and Design at RMIT University and the Director of the RMIT Design Archives. She has published extensively on Australian architecture, art and design with a particular focus on the 20th century and has pioneered studies on émigré architects in Melbourne and the Australian Arts and Crafts movement. She is also a curator and has presented major innovative exhibitions on diverse subjects, ranging from the cultural landscape of the Western District to Australian car design. Her current research includes the ARC funded project: Bauhaus Australia: Transforming Education in Art, Architecture and Design. Her books and exhibitions include: Pioneers of Modernism: The Arts and Crafts Movement in Australia (2008); George Baldessin: Paradox and Persuasion (2009); Building a New World: a History of the State Library of Victoria 18531913 (2013); Shifting Gear: Design, Innovation and the Australian Car (with David Hurlston) (2015).