A Baroque Bishop in Colonial Australia: The Cultural Patronage of Bishop James Goold (1812–1886)
Symposium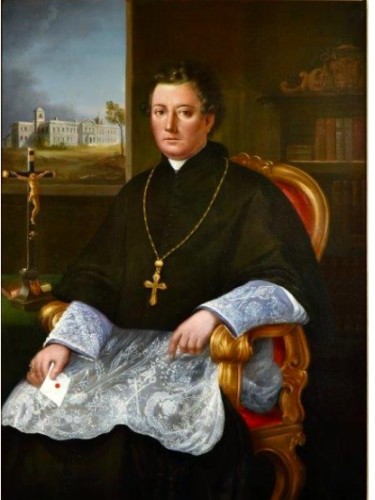 Theatre A
Elisabeth Murdoch
Spencer Road
Map
This international symposium examines the patronage of Melbourne's first Catholic Bishop, James Goold, and his contribution to the cultural life of colonial Melbourne, especially through his art collection, library and patronage of architecture.
Sessions will be devoted to the Bishop's important Baroque painting collection, his colonial library and his patronage of the British architect William Wilkinson Wardell, and its imprint on the built environment of Melbourne.
Dates: Thursday, 15 February to Friday, 16 February 2018 With Opening Keynote at 5.30pm on Wednesday, 14 February
For those wishing to attend individual keynote lectures, separate registration is required. See website for details.
Presented by the Australian Institute of Art History, within the School of Culture and Communication, and in partnership with the University of Divinity.
Image: Portrait of James Goold, c.1850–55, oil on canvas. By permission of the Institute of the Sisters of Mercy of Australia and Papua New Guinea Archives.
Presenters
Professor Tanya Michasky

Director
Biblotheca Hertziana, Rome

Prof. Dr. Tanja Michalsky is director at the Bibliotheca Hertziana, MaxPlanckInstitute für Art History, in Rome since 2014. She studied Art History, German Philology and Philosophy in Trier and Munich. Phd at the LMU Munich 1995 (Memoria and Representation. The Angevin Tombs in Italy); 19952000 Research Assistant at the Department of Art History of the J.W. Goethe University, Frankfurt; Habilitation 2004 at the Heinrich HeineUniversity, Düsseldorf, (Projection and Imagination. The dutch landscape of the early modern period in the discourse of geography and painting); 2004/05 Research Professor at the Italian Academy of Advanced Studies in America at Columbia University, NY; 200507 Professor at the Department of Art History of the J.W. Goethe University, Frankfurt; 200714 Professor for Art History at the University of the Arts, Berlin. 201214 Director of the Graduate School "Knowledge of the Arts". The common denominators of her research fields are the reflection on the epistemic status of images and their cultural codification as well as the investigation of the political and sociological relevance and significance of works of art (from tombsculpture to landscapepainting, maps and films). Programmatically this means the combination of historicalcritical material analysis with current art historical questions pertaining to globalisation (interculturalty) and the artistic production of knowledge. Her current research is on the urban structure of Naples and the mental maps of Flavio Biondo.

Dr Angelo Lo Conte

Research Fellow
University of Melbourne

Angelo Lo Conte is a Research Fellow at the University of Melbourne. Graduated from universities in Naples and Milan, he completed a PhD at the University of Melbourne (2016). Angelo has been the recipient of prestigious international awards such as the Francis Haskell Scholarship and Endeavour Postdoctoral Fellowships. His second book, dedicated to academic print collecting, will be published in 2018.

Helen Gill

Conservator of paintings


Helen Gill has been working as a Conservator of Paintings for 9 years both within Australia and internationally. She has worked with the National Gallery of Victoria as H.D.T Williamson Foundation Fellow, the National Gallery of Denmark, as well as other significant collecting institutions around Australia. Since establishing her own freelance studio practice in 2013, she has completed conservation projects for a number of large institutions, regional gallery and council collections, private collectors and in collaboration with other private studios both in Australia and in Denmark. Helen is an accredited, professional member of the Australian Institute for the Conservation of Cultural Materials (PMAICCM).

Professor Jaynie Anderson

University of Melbourne

**Jaynie Anderson** is an art historian who has written extensively on Italian Renaissance and Baroque Art. From 2009 she was appointed Foundation Director of the Australian Institute of Art History, at the University of Melbourne. From 1997 to 2014 she was Herald Chair of Fine Arts. From 2008 to 2012 she was international president of the International Committee for the History of Art (CIHA). Her most recent book is *Giuseppe Molteni in Correspondence with Giovanni Morelli The Restoration of Renaissance Painting in mid nineteenthcentury Milan*, Florence, 2014.

Peter Lovell

Lovell Chen Architects

Peter Lovell is a founding director of Melbourne based practice, Lovell Chen Architects and Heritage Consultants. Over the past 30 plus years he has led a multidisciplinary awardwinning team specialising in all facets of the conservation of the built environment. Major adaptive reuse projects completed by the office in more recent years include the adaptation of the former Emily McPherson Domestic Sciences building, now the new Graduate School of Law and Business at RMIT University, and the new home for Circus Oz located in the old Collingwood Technical College. Major conservation projects have included works to the former Goods Shed No 2 in Docklands, the State Library, Government House, the ANZ Gothic Bank and the Royal Exhibition Building. At a personal level a focus of Peter's work over more recent time has been in providing advice on development projects in Melbourne's central city area and beyond. These projects have included the redevelopment of the Myer Bourke Street store, the Hotel Windsor redevelopment and new BHP headquarters building at 171 Collins Street. Peter is a longstanding member of Australia ICOMOS and an honorary fellow of the Australian Institute of Architects.

Dr Callum Reid

The University of Melbourne

Callum Reid is a research assistant for the ARC project, A Baroque Archbishop in Colonial Melbourne. He recently completed his Art History PhD at the University of Melbourne, which examines the programs of display at the Uffizi Gallery in Florence during the Grand Ducal era. His research fields include museology, printmaking, Renaissance and Baroque art and decorative arts, with a particular focus on the formation of collections and their reception. Alongside working and teaching in these fields, his research interests involve the history and provenance of objects, having spent several years working in the art market. Alongside exhibition catalogue essays, articles in The Burlington Magazine and the University of Melbourne's Collections journal, Callum has completed chapters for two important books to be published in 2018.

Arthur Andronas, Andronas Conservation Architecture

Paola Colleoni

University of Melbourne

Paola Colleoni is a doctoral candidate at the University of Melbourne. She holds a BA in foreign languages and cultures from the University of Bologna and an MA in linguistics from the University of Helsinki. Fluent in Italian, English and Finnish, in January 2016 she worked as research assistant cataloguing the library of bishop Goold at the Melbourne diocesan archives. In March 2017 she commenced work on her doctoral dissertation, that deals with the bishop's architectural patronage of William Wardell.

Associate Professor Ursula De Jong

Deakin University

Ursula de Jong is an architectural historian in the School of Architecture and Built Environment at Deakin University. She is a scholar of the nineteenthcentury Gothic Revival, and has written much about Wardell. De Jong is also researcher of place. She has been instrumental in the formation and master planning of Point Nepean National Park. In 2017 she was appointed to the National Parks Advisory Council (Victorian State Government), and as Chair of the National Parks Reference Committee. De Jong was lead investigator on the recently completed Australia Research Council Sea Change Linkage Grant (20112016), with colleagues Dr Robert Fuller and Dr David Beynon, which considered the impact of change on the coastal communities of Sorrento and Queenscliff in Victoria. She is Deputy Chair of the National Trust of Australia (Victoria), chairing the NTA(V) Heritage Committee. She was NTA(V) member of the Heritage Council of Victoria (1 July 2010 30 June 2016). In 2016 de Jong was appointed a member of the National Liturgical Architecture and Art Board (NLAAB) which is an Advisory Board to the Australian Catholic Bishops.