From Melancholy to Euphoria and More: Visual Representation of Emotions in Persian Illustrated Manuscripts
Free Public Lecture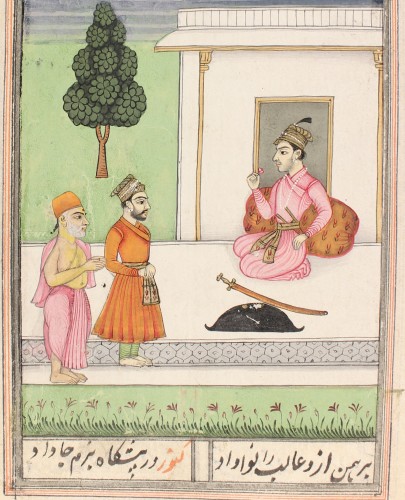 Latham Theatre
Redmond Barry Building

Map
The common perception about Persian miniature painting – better described as book illustration because almost invariably it has a textual, literary or oral context – is that it is elegant, colourful, rather formal in composition, and overall restrained in the way the characters are emotionally involved in a particular moment of the story. Persian illustrators, however, had a clear set of tools and visual tropes to convey feelings such as surprise, love, grief, fear, heroism in the face of death, and many more.
Many of the stories told in poetic works by Firdausi, Jami and Nizami, all of which were often illustrated, are heavily charged with impossible love, death-defying trials, heroic quests and mystic ardour: the written language, often memorised by the reader, is the protagonist while the visual image provides in some way an oasis, a respite for the eye, breaking away from the incessant emotional narrative of the verses.
A great chapter for the visual representation of emotions, however, was written during the Ilkhanid (Mongol) period in Iran in the 14th century, a time during which all pictorial rules – if they previously existed – were subverted, and we can witness a full range of demonstrative engagement with the viewer.
This lecture is part of the From Melancholy to Euphoria: The Materialisation of Emotion in Middle Eastern Manuscripts Symposium, made possible by support from the Australian Research Council Centre of Excellence for the History of Emotions.
Presenter
Dr Stefano Carboni

Director
Art Gallery of Western Australia

Stefano Carboni has been the Director of the Art Gallery of Western Australia in Perth since October 2008. Previously he was Curator and Administrator in the Department of Islamic Art at The Metropolitan Museum of Art and Visiting Professor at the Bard Graduate Center in New York. He joined the curatorial staff at the Metropolitan Museum in 1992 after completing his graduate studies in Arabic and in Islamic Art at the University of Venice and his PhD in Islamic Art at the University of London. At The Metropolitan Museum he was responsible for a large number of exhibitions, including the acclaimed Venice and the Islamic World, 828–1797 (2006–2007). His publications include authoring and editing several exhibition catalogues, among which is the recent The Wonders of Creation and the Singularities of Painting: A Study of the Ilkhanid London Qazvīnī (2015). Stefano has lectured widely and taught regular courses in Islamic Art and Curatorial Studies at the Institute of Fine Arts (NYU), Hunter College (CUNY), and the Bard Graduate Center for the Decorative Arts in New York. He is currently Adjunct Professor at the University of Western Australia and lectures widely in Islamic Art and Curatorial Studies in addition to all other activities related to his directorship.