Gija Art and Country: Warmun Senior Artists discuss University Teaching
Seminar/Forum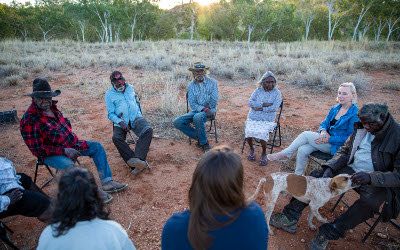 William Macmahon Ball Theatre
Old Arts

Map
More information
T: 0383442543
In this discussion Senior Gija knowledge holders, Gija emerging leaders, and Warmun community members will talk about the two-way teaching program that they teach as part of the partnership between the Warmun Art Centre and the Grimwade Centre for Cultural Materials Conservation at the University of Melbourne.
Rusty Peters, Mabel Juli and Betty Carrington, with support from emerging Gija artists and community leaders, will share their thoughts on what curriculum is needed in a university that is committed to Indigenous teaching and learning, what specific knowledge they prioritize within their teaching program, and why it is essential that teaching be done on country around Warmun.
Presenters
Mabel Juli

Warmun Senior Artist
Warmun Art Centre

Mabel Juli is renowned for her refined black and white depiction of Garnkiny doo Wardel (Moon and Star), an important Ngarranggarni (Dreaming) story that explores forbidden love, kinship and the origins of our mortality. Mabel's recognition as one of Australia's most revered painters has emerged from her consistent commitment to her art practice and her remarkable storytelling. In 2013 Mabel was awarded the prestigious Kate Challis RAKA Award and was a finalist in the Fleurieu Art Prize for landscape painting. Mabel is an expert Gija speaker and her paintings articulate complex Ngarranggarni stories and document early colonial encounters from her country Darrajayin, which is covered largely by Springvale Station today. Mabel Juli was born in the early 1930s at Five Mile, near Moola Boola Station (south of Warmun). Following the end of the station era in the East Kimberley, Mabel settled in Warmun where she began painting in the 1980s under the encouragement of senior Warmun artists. As Mabel says, "I started painting when the old girl [Queenie McKenzie] was here – she was the one who taught me to paint. She told me, 'You try that painting', and I started to paint. I was doing that Garnkiny [Moon]; that's the painting I started with – because my mother and father told me that Ngarranggarni [Dreaming] story. I was reminded of all those stories from my mum and dad – like Gelinggenayin Hill and the Old Woman Singing Out for Her Dog. Those stories come from my country. They used to take me out bush when I was a little girl – good size – and they told me all about those Dreaming stories. And I always remember those stories. I got 'em in my brain."

Betty Carrington

Warmun Senior Artist
Warmun Art Centre

Betty Carrington was born on Texas Downs station, which lies to the East of Warmun. However she grew up with her family at the old Turkey Creek Post Office and Police Station, an iconic community building now known as The Green House, occupied by Warmun Art Centre. Her father was a police tracker and her family lived there until the police station closed and her family moved back to Texas. Betty's work focuses on her country as well as strong and painful stories of historical events in the east Kimberley. A recurring subject of Betty's paintings are the hills of Darrajayin, her father's traditional land southwest of Warmun. Betty also paints Ngarranggarni (Dreaming) sites and narratives from Ngarrgooroon, her mother's country. Betty uses her painting to mark historical events such as the Mistake Creek massacre and the Warmun gymkhana where Aboriginal people working on Texas were first introduced to alcohol. A sensitive colourist, Betty's mixing of natural ochre and pigments yields a rich palette of pinks, mauves, greens, blues and yellows. Betty began painting in 1998 when Warmun Art Centre was established. Her work has been hung in several solo exhibitions and with her partner Patrick Mung Mung at Gallery Gabrielle Pizzi, Short Street Gallery and Aboriginal and Pacific Art. She has also participated in numerous group exhibitions within Australia and overseas including True Stories: art of the East Kimberley at the Art Gallery of New South Wales. Several significant public and private institutions have acquired her work including the Museum and Art Gallery of the Northern Territory.

Rusty Peters

Warmun Senior Artist
Warmun Art Centre

Rusty Peters is a senior Gija man of Joowoorroo skin. His bush name Dirrji refers to dingo pups looking out of a hole at sunrise. He was born under a Warlagarri or Supplejack tree on Springvale Station south west of Warmun. His spirit came from a crocodile his father had killed when his mother became pregnant. Rusty grew up on Springvale learning traditional law and working as a stockman. When his father was killed in a tragic riding accident at Roses Yard, the family moved to Mabel Downs where he became renowned as a horse breaker. He lived for some time at Nine Mile reserve at Wyndham after the introduction of award wages forced people off stations but then moved to Warmun where with other senior Gija artists such as Hector Jandany and George MungMung he helped start the school. Rusty made prints and did some painting while working for Waringarri Arts in the 1990s. He moved to Crocodile Hole when Freddie Timms based the Jirrawun Aboriginal Arts group there in 1997 and began to paint on canvas. His detailed knowledge of the land and stories from Springvale and neighbouring Moola Boola stations is reflected in distinctive paintings in traditional red and yellow ochres and black charcoal. While recognisably part of the 'Warmun' style the intricate curves mapping Country, dark caves and rivers in his pictures are particular to Rusty's work. After the closure of Jirrawun Art in 2010 Rusty Peters returned to paint with Warmun Art Centre. In 2015, Rusty was a finalist for the National Aboriginal and Torres Strait Islander Art Award (NATSIAA) and in 2017, his paintings were featured in the National Gallery of Australia in Canberra, as part of the National Indigenous Aboriginal Art Triennial (NIAAT).