Academia and Bohemia: New Perspectives on the National Gallery School
Symposium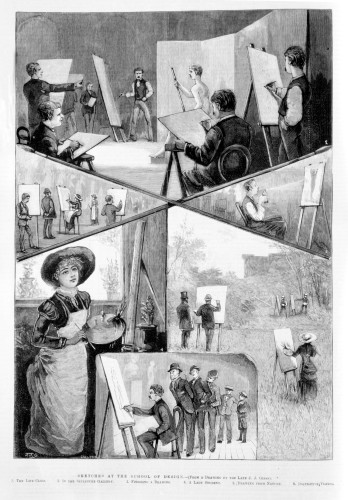 Federation Hall
Federation Hall
Grant Street
Map
More information
T: 0411 035 453
This free one-day symposium presents new perspectives on the National Gallery of Victoria's Art School.
Founded in 1867, the National Gallery Art School has remained the leading continuous centre of academic art training in Australia, becoming the first school of the Victorian College of the Arts in 1973, and later affiliating with the University of Melbourne in 1991.
You are invited to hear a group of experts, including Michael Varcoe- Cocks, Professor Catherine Speck, Dr Stephen Mead, Dr Bronwyn Hughes, Alex Ellem, Associate Professor Alison Inglis, Annelies Van de Ven, and David Belzycki, discuss different aspects of the history of this remarkable Art School, focusing on its early years from 1867 to World War One.
Many luminaries of Australian art history were students or teachers at the School during this time – including Eugene von Guerard, George Folingsby, Tom Roberts, Arthur Streeton, Jane Sutherland, Frederick McCubbin, Bernard Hall, Rose MacPherson (Margaret Preston), Hugh Ramsay, among others.
The links between the National Gallery School and Melbourne's lively bohemian culture will be a major theme of the symposium, with the keynote lecture on the famous "9 by 5 Impression Exhibition" of 1889 being presented by Terence Lane, an acknowledged expert in this field, and former Senior Curator of Australian Art at the National Gallery of Victoria.
After the keynote address, from 6.30-7.30 pm, there will be refreshments in the Margaret Lawrence Gallery at the VCA, with Fiona Gruber in conversation with Elizabeth Gower, and a viewing of 9 X 5 NOW Exhibition.
This symposium is organised by the Australian Institute of Art History (AIAH) in the Faculty of Arts in collaboration with the Victorian College of the Arts (VCA), as part of the celebrations in honour of the 150th anniversary of the Victorian College of the Arts.
Free, bookings required.
Image: Samuel Calvert, "Sketches at the School of Design [at the National Gallery School]", 30 April 1887, wood engraving, Illustrated Australian News; Source: State Library of Victoria