Michael George Clyne, AM, FAHA, FASA, was a passionate academic who dedicated his life to the pursuit of linguistic knowledge, and to its application for the wider benefit of society. Sadly, Michael passed away in October 2010, but he left behind a wonderful legacy.
Michael's breadth of research was remarkable. Over his long career, Michael pioneered or played a critical role in the development of many fields within linguistics and applied linguistics in the Australian and international contexts, including sociolinguistics, bilingualism and multilingualism, contact linguistics and pluricentricity, inter- and intracultural communication, pragmatics, second language learning, language policy, linguistic demography and German, Dutch and English (including Australian English) linguistics.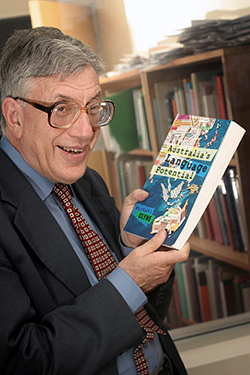 While Michael originally completed his BA (First Class Honours) in four languages (German, Dutch with French and Icelandic) in 1960 at the University of Melbourne, he then moved to the newly established Monash University, where he completed his PhD in 1965, entitled The language assimilation of post-war German-speaking migrants in Australia. It was this focus on sociolinguistics that would continue so successfully to drive much of Michael's research in subsequent decades. Continuing on in German Studies at Monash, and researching prodigiously, he opened up and led the Centre for Migrant Studies, part of the National Languages Institute of Australia, from 1974. Michael became Chair of Linguistics in 1988 and then subsequently set up the Language and Society Centre (LASC), which continues at Monash today. He remained at Monash until 2001, at which point he returned to the University of Melbourne as Professorial Fellow in Linguistics, and set up the Research Unit for Multilingualism and Cross-Cultural Communication (RUMACCC), within the School of Languages and Linguistics at the University of Melbourne. He remained as head of RUMACCC and a member of staff within the School until his formal retirement on January 1st 2005.
Academically, Michael not only had a prolific output (over 300 publications - download the Michael Clyne publication list) but he also had an enduring impact on his students (including over 20 doctoral students), co-researchers and colleagues, many of who have thrived in their academic careers due to Michael's patience, passion and collaboration. His dedication and enormous contributions to linguistics was recognised in a number of awards. Michael was awarded the Member of the Order of Australia (1993) and was also simultaneously Fellow of the Australian Social Sciences Academy (1982) and the Australian Academy of the Humanities (1983). He served as chair of the Academy of Humanities' Language Studies Committee from 1992 until 1996. Michael was also a Foreign Member of the Royal Netherlands Academy of Sciences. Recognition in the German-speaking world came with such awards as the Österreichische Ehrenkreuz für Wissenschaft und Künste, the German Cross of Merit, the prestigious Humboldt Research (2003) and Jacob and Wilhelm Grimm Prizes (1999), as well as an honorary doctorate awarded by the University of Munich. Michael also received the inaugural Monash Vice Chancellor's award for post graduate supervision (1995). He was also visiting professor at universities in Germany (Hamburg, Heidelberg, Stuttgart) and Italy (Verona).
While Michael's research was closely focused on the everyday use of language, of language in contact and migrant linguistics, he spent his life challenging what he termed the 'monolingual mindset' (Clyne, 2005) – a mindset which fails to recognise and capitalise on the existing linguistic potential in increasingly multilingual societies such as Australia. He was a passionate advocate for the linguistic rights of multilinguals and pursued an unwavering agenda to educate the broader community as to the personal and societal benefits that come from both monolinguals and multilinguals acquiring and maintaining other languages. Public advocacy was an unquestionable given for Michael and he worked for decades with ethnic communities, schools, parents, educators and state and federal governments, advocating for the linguistic rights of migrants, highlighting the importance of language maintenance for migrant communities in Australia, of language education programs in schools for all students, and of the benefits bilingualism provides for social cohesion and intercultural understanding at a societal level.
Tributes to Michael Clyne
In 2005 – when Michael Clyne retired from his professorial fellowship - friends and colleagues paid tribute to his life and career. This collection of tributes, edited by RUMACCC, can be downloaded as a pdf.
RUMACCC's 10th anniversary colloquium
RUMACCC's 10th anniversary colloquium on 23rd February 2012 - Challenging the monolingual mindset - was held in memory of Michael Clyne.
Obituary of Michael Clyne
Hajek, J. "Homage to Michael Clyne: linguist, colleague and advocate," in Muhr, R. (ed.,). Non-dominant Varieties of Pluricentric Languages. Getting the Picture. In memory of Michael Clyne. Wien etc.: Peter Lang, 2012, pp. 11-22
Sharifian, F. and Sussex, R. "Michael George Clyne (1939 - 2010): scholar and champion of languages," in Current Issues in Language Planning, 11 (4), 2012, pp. 371-377
Nettelbeck, C. "Michael Clyne (1939-2010)," in Webby, Elizabeth (ed.,). The Australian Academy of the Humanities Proceedings 2010 Vol. 35. Canberra: Australian Academy of the Humanities, 2011, pp. 98-103
Porter, Brian and Burridge, Kate. "Language the melody of his life," in The Age newspaper, 22nd November 2010
Vale Michael Clyne
A tribute to Michael Clyne, 1939-2010, who relished language as the fabulous tool that it is, through which he fashioned a life of immense richness, on Lingua Franca, the language program of ABC Radio National.