"Sharing" and "Gaming" in the Post-pandemic World
Dr Nicholas A. John and Professor Saugata Bhaduri
Hebrew University of Jerusalem and Jawaharlal Nehru University
How do we share online versus offline and what games can we play when limited within digital reality? What are the consequences on our health and well-being of non-stop digital sharing of our lives and emotions? And is it possible to transfer sport matches, games, and even such world sport mega-events as the Olympics into the digital world? The webinar will aim to answer these questions in conversation with Dr Nicholas A. John and Professor Saugata Bhaduri.
Watch the recording

About the presenters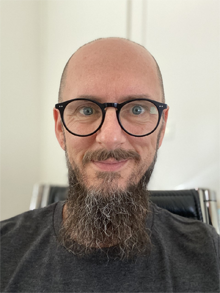 Dr Nicholas John is a Senior Lecturer at the Hebrew University of Jerusalem and his research interests include the interactions between technology and society, the Internet, social media, sharing, and unfriending. Author of The Age of Sharing (Polity Press, 2016), he has developed an innovative approach to sharing in social media, by linking it to sharing in other social spheres, namely, consumption and intimate interpersonal relations. In current research he studies disconnectivity, a neglected aspect of digital culture, and is investigating the political and social gestures of 'unfriending' on Facebook, particularly during the Israel-Gaza conflict in summer 2014 and the 2015 general elections in Israel.
Saugata Bhaduri is Professor at the Centre for English Studies, Jawaharlal Nehru University, New Delhi, India. His latest books are Polycoloniality: European Transactions with Bengal from the 13th to the 19th Century (Bloomsbury, 2020) and A Critical History of Bengali Literature (Orient Blackswan, forthcoming 2021) as well as publications on gender, comparative literature and globalisation. His research areas include literary and cultural theory, popular culture, translation studies, and the cultural history of colonial Bengal.
His edited books in the last ten years include Transcultural Negotiations of Gender: Studies in (Be)Longing (Springer, 2015), Literary Theory: An Introductory Reader (Anthem, 2010), and Perspectives on Comparative Literature and Culture in the Age of Globalization (Anthem, 2010). His research on 'Gaming', apart from the article in Digital Keywords (Princeton UP, 2016), comprises the collaborative projects 'Digital Narratives around the World', funded by Kule Dialog Grants, University of Alberta, Canada (2016-2017), and 'Computer Gaming across Cultures', funded by UKIERI, at West Virginia University, USA, and Bangor University, UK (2012-2015).