Consultancy Reports and Publications
List of reports and publications by the Research Unit in Public Cultures

The RUPC's sector engagement includes various forms of consultancy work. Below is a list of some of the outputs resulting from these consultative research collaborations.
Reports
2017
Khan, Rimi, Yue, Audrey, Papastergiadis, Nikos, Wyatt, Danielle. Multiculturalism and Governance: Evaluating Arts Policies and Engaging Cultural Citizenship [Final Report]. The Research Unit in Public Cultures, The University of Melbourne, 2017.
Cultural diversity in Australia continues to provide a challenge for the development of public policies. Forty-six per cent of Australia's population was born overseas or has an overseas-born parent (ABS 2012). However, government funding for the arts and cultural participation does not reflect this diversity.
This report presents a policy overview, a cultural citizenship indicator framework and models an arts value-creating ecology for culturally diverse artists.
This project is the first to develop an indicator framework for evaluating the three components of cultural citizenship – cultural participation, capacity and belonging. The framework provides a resource for arts workers and cultural policymakers to understand how cultural citizenship is generated in culturally diverse communities. While citizenship is defined as the formal, legal frameworks that underpin belonging to a nation, cultural citizenship refers to the informal, cultural dimensions that facilitate belonging and enable one to contribute to, and shape, the dominant culture.
The report also provides a current snapshot of cultural citizenship, and experiences of participation among people from migrant backgrounds.
Multiculturalism and Governance Report
Yue, Audrey, Trimboli, Daniella and Di Biase, Tia. Refuge 2016 Evaluation Report. University of Melbourne in association with Arts House 2017.
This document reports on the evaluation of Arts House's exercise Refuge, held 8-9 July 2016. Refuge was a collaborative investigation into the role of art and culture in preparedness and resilience in the face of climate change impacts and extreme weather events. Specifically, the investigation focussed on the role of the urban cultural centre as a physical place of refuge. To carry out this investigation, Arts House simulated a flood disaster situation, turning Arts House into an Emergency Relief Centre for 24-hours. e exercise was commissioned by Arts House, Melbourne's centre for contemporary and experimental performance. Arts House is a core program of the City of Melbourne, located in the North Melbourne Town Hall.
Refuge 2016 Evaluation Report was prepared by the Research Unit in Public Cultures in the School of Culture and Communication and funded by the Faculty of Arts.
2016
Smith, Kristen, Chenhall, Richard, McGuire, Scott, Kowal, Emma. Digital Futures in Indigenous Communities, Melbourne Networked Society Institute Research Paper, No 3, University of Melbourne, Parkville.
Aboriginal and Torres Strait Islander Australians are under-serviced by digital technologies, with indigenous Australians being 69% less likely than non-indigenous people to have any Internet connection and are about half as likely to have broadband access. This 'digital divide' contributes to and reinforces educational, income, employment and geographical disadvantage. While uneven access remains a particular problem for rural and remote Aboriginal communities, digital technology also provides a way of overcoming Indigenous social disadvantage.
This project examines how to foster provision of culturally relevant information to Indigenous communities enabled by broadband connectivity. The research focuses upon the network of 70 touch screen kiosks installed at key community locations in remote, regional and urban communities operated by HITnet. The HITnet network is designed to address 'information disadvantage' by using IT to improve and maintain community connectedness, digital development and digital social inclusion.
Digital Futures in Indigenous Communities Report
Evans, Jody, Skewes McFerran, Katrina, White, Tabitha and Yue, Audrey. Investigating Wellbeing Outcomes at the Melbourne Recital Centre. University of Melbourne.
This report examines the impact on individual audience experiences at the Melbourne Recital Centre have on audiences in terms of wellbeing outcomes (immersion, enrichment and community). The project seeks to identify the relationship between wellbeing outcomes and audiences preference for the Melbourne Recital Centre and their associated advocacy behaviours.
This cultural impact report was undertaken by RUPC director Associate Professor Audrey Yue, with Professor Katrina Skewes McFerran (Faculty of the Victorian College of the Arts and the Melbourne Conservatorium of Music) and new RUPC members Associate Professor Jody Evans and Dr Tabitha White (Melbourne Business School).
2015
Wyatt, Danielle, McQuire, Scott and Butt, Danny. Public Libraries in a Digital Culture. Research Unit in Public Cultures at The University of Melbourne in association with State Library of Queensland: Melbourne.
This report evaluates recent and existing State Library of Queensland (SLQ) initiatives in relation to information technology and communications using ethnographic techniques. The report gathers data collected from interviews with several stakeholders and considers contemporary developments in library practices and digital media.
Public Libraries in a Digial Culture report
Butt, Danny (ed). White Night: City as Event: Researching Melbourne's Festival of Illumination. Nikos Papastergiadis and Scott McQuire (general eds). Research Unit in Public Cultures, The University of Melbourne: Melbourne.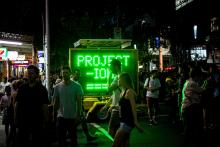 In this project we seek to examine the impact of a major public event - White Night - in the City of Melbourne. Through this event we witness a significant shift in the location and duration of artistic events as they move to inhabit the urban fabric. But the event is also conditioned by a central expectation that the public can engage and interact with art, and with each other. Is the quality of the art or the public experience more important in defining the event? Or does framing the question in oppositional terms miss the point?
White Night City as Event report
Cnossen, Boukje, Franssen, Thomas and de Wilde, Mandy. Digital Amsterdam: Digital Art and Public Space in Amsterdam. Danny Butt (ed), Nikos Papastergiadis and Scott McQuire (general eds). The Research Unit in Public Cultures, The University of Melbourne: Melbourne.
In this report we explore digital art interventions in public space in Amsterdam as part of the 'participatory public space' project lead by the University of Melbourne. We focus specifically on artistic interventions in public space, rather than on the more general ways in which public space is transformed by digital technologies: it is in these artistic interventions that the most radical innovations take place. This becomes the case, for instance, in augmented reality interventions - a technique in which smartphones render visible interventions in the virtual world. Of particular interest is the way these interventions redefine public space and participation.
Papastergiadis, Nikos, McQuire, Scott, Yue, Audrey, Gu, Xin and Trimboli, Daniella. Connecting Audiences: A Manual for Large Screens. The Research Unit in Public Cultures at The University of Melbourne, in association with Federation Square, Art Center Nabi and the Australia Council, Melbourne.
The 'Large Screens and the Transnational Public Sphere' project was a five year study of the potential of large video screens to build community in and across cities through artistic exchange and public participation. The primary aim of this project was to foster participatory public spaces by exploring the impact of new broadcast platforms and communications technologies on public life and urban experience. A key outcome of this project was this manual, distributed to key stakeholders in October. The manual provides pointers on how to proceed in this mediated cultural-context that we now all operate within, and acts as a how-to guide for producing large screen events, based on what we learned when curating these mediated public events.