'The Inner Scar': Garrel, Nico, and the Zanzibar era revisited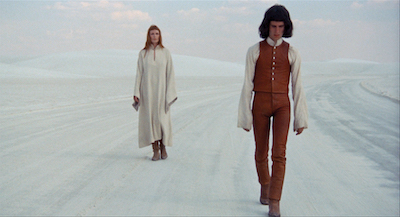 -
Celebrated for its obscure yet beguiling imagery, Philippe Garrel's late new wave masterpiece The Inner Scar (La cicatrice intérieure, 1971) returns to Australian screens on MIFF Play.
Filmed on location in the stunning expanses of America's Death Valley, as well as Egypt, Italy and Iceland, this oblique yet symbolically charged experiment in narrative cinema stars the mercurial singer-songwriter Nico, the iconic 'dandy' actor and activist Pierre Clémenti, and Garrel himself, as the cast take "a seductive and mysteriously existential ramble through various barren landscapes" (LA Filmforum).
On the 50th anniversary of the film's release, renowned film critic and Garrel scholar, Adrian Martin, will revisit The Inner Scar and place it in the context of Garrel's evolution as a filmmaker. With a directorial career that now spans close to 60 years, Martin will consider Garrel's affiliation with the post-Nouvelle Vague generation that includes Jean Eustache, Chantal Akerman and Jacques Doillon.
This presentation will also consider Garrel's close involvement with what became known as the Zanzibar group, a clique of avant-gardists with big ambitions across all the arts, whose work benefited from the economic largesse of a key figure in French feminism, Sylvina Boissonnas.
Presenter
Adrian Martin (Adjunct Associate Professor of Film and TV Studies, Monash University), is an Australian-born film critic and audiovisual artist living in Spain. His most recent books are Mysteries of Cinema (University of Western Australia Publishing, 2020) and the forthcoming Filmmakers Thinking (EQZE Film School, Spain, 2021). His website gathering over 40 years of his writing is www.filmcritic.com.au