The Economics of Music
Seminar/Forum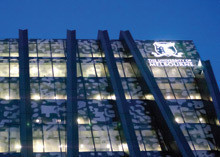 4th Floor Linkway
John Medley

Map
Professor Peter Tschmuck, University of Music and Performing Arts, Vienna, will give a guest lecture concerning his new book The Economics of Music. This will be followed by a panel discussion featuring industry and academic guests, moderated by Dr Guy Morrow (University of Melbourne).
The Economics of Music (Agenda Publishing) provides a concise and rigorous presentation of the economics of the music business. It highlights the economic principles that govern a business that is an economic good protected by copyright law. The core sectors of the industry – publishing, recording, live music – are examined in relation to how they operate together through a myriad of licencing arrangements. The book examines how a combination of established publishers, new promoters, and a new generation of music providers have created a heady mix of competing and collaborative economic models.
The book makes an important contribution to the field of music business research and is a valuable study aid for the graduate students in the Arts and Cultural Management program within the School of Culture and Communication at the University of Melbourne.
Presenters