This Woman is Hysterical: Meanjin @ the Australian Centre
Seminar/Forum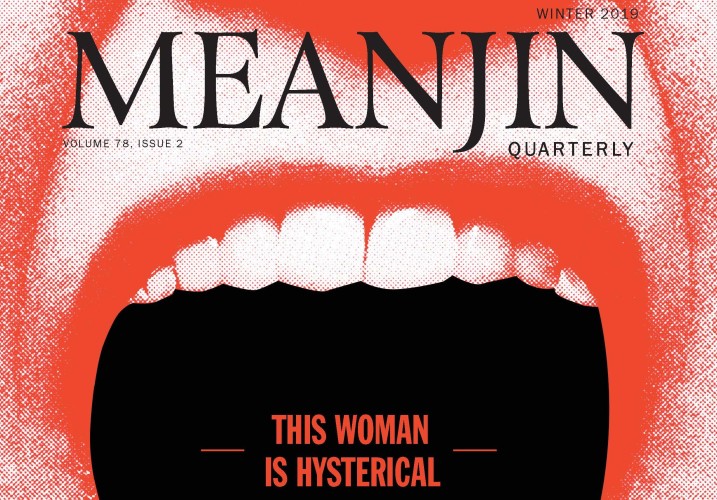 Forum Theatre, Level 1
Arts West

Map
More information
T: 8344 4071
Fiona Wright and Clem Bastow in conversation
In the lead essay for the Winter issue of Meanjin, titled 'This Woman is Hysterical', author Fiona Wright argues that it's high time we trusted women to know their own bodies and minds and that 'when women speak, is it important to actually listen'.
'I've been trying to decide which of my encounters with doctors, the ones from the early days of my illness, was the most mortifying, the most frustrating, the most burdened with assumptions about young women and their bodies and brains...'
Join Fiona and Clem Bastow as they discuss her powerful new essay.
This event will launch the Winter 2019 edition of Meanjin. Copies will be available to purchase after the event.
Presented by the Australian Centre and Meanjin Quarterly.
Presenters
Dr Fiona Wright

Writer, Editor, Critic


**Fiona Wright** is a writer, editor and critic from Sydney. Her book of essays *Small Acts of Disappearance: Essays on Hunger* won the 2016 Nita B. Kibble Award and the Queensland Literary Award for nonfiction, and was shortlisted for the Stella Prize and the NSW Premier's Douglas Stewart Award. Her first poetry collection, *Knuckled*, won the 2012 Dame Mary Gilmore Award, while *Domestic Interior* was shortlisted for the 2018 Prime Minister's Literary Award for Poetry. Her most recent book of essays, *The World Was Whole*, was longlisted for the 2019 Stella Prize.

Clem Bastow

Cultural Critic, Writer


**Clem Bastow** is an awardwinning cultural critic whose work appears regularly in *The Saturday Paper* and *The Guardian.* She has written about film and television for journals including *The Lifted Brow* and *Kill Your Darlings*, and books including *ReFocus: The Films Of Elaine May* (Edinburgh University Press, 2019) and *Copyfight* (NewSouth Publishing, 2015). She cowrote and copresented the 2017 ABC podcast *Behind The Belt*, a documentary "deep dive" into professional wrestling, and in 2018 she coproduced the first wrestling death match to be held on Tasmanian soil, *Night Massacre*, for Dark Mofo. She holds a Master of Screenwriting from VCA, and teaches screenwriting at University of Melbourne. Clem is currently undertaking a PhD in action cinema and screenwriting at RMIT University.